Meet Serie A's Lego-loving hitman who's set to announce himself against England
Franco Vázquez is one half of Italy's most profitable partnership this season – and now the Palermo striker is preparing to make his mark against the Three Lions, writes Adam Digby...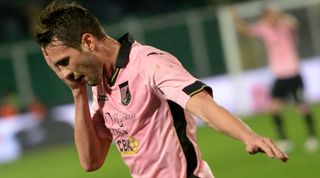 The 60-second story
FACT FILE
Date of birth: February 22, 1989
Place of birth: Tanti, Córdoba, Argentina
Height: 6ft 1in
Position: Attacking midfield
Club: Palermo (61 apps, 11 goals)
Country: Italy
Palermo's 2014/15 has mostly been summed up in just two words: Paulo Dybala. When the Sicilian club won Serie B last term, few were sure of what to expect upon the Rosanero's return to the top flight. Led by promotion specialist Beppe Iachini, they had proven a hard-working and resolute side, but one that sold leading scorers Abel Hernández and Kyle Lafferty over the summer and spent very little on replacements. Argentine Dybala has been sensational, no doubt, but he simply wouldn't be as effective were it not for Franco Vázquez alongside him. The Argentina-born striker, who is preparing to make his Italy debut against England on Tuesday, has created sublimely and regularly opened up space in which his partner has thrived.
Still, it's no surprise that he's remained in the background – the 26-year-old is known as El Mudo ('The Mute') in Argentina due to his quiet, unassuming nature. Even last year, when he was regularly left out of the starting line-up, he never complained.
Gennaro Gattuso had no time for the player who arrived in January 2012 and then endured most of the next five months on the bench. A loan spell at Rayo Vallecano the following season failed to ignite his career – but Iachini's appointment at Palermo did. Vázquez's obvious talents were finally recognised, and veteran Iachini was rewarded for his decision to make the old-fashioned playmaker the focal point of his side.
This season alongside Dybala, the understanding and interplay between the two Cordoba natives has been nothing short of incredible, having combined to either score or create 34 of Palermo's 38 league goals this term. Both have taken to Serie A instantly, with Vázquez leading all players in assists (9) and completed dribbles (3.4 per game). He could have added to his current tally of seven goals were it not for the fact he has also hit the woodwork more than any other player this term.
Why you need to know him
When the season got underway and Dybala stole the spotlight, racking up goals and headline inches in equal measure, his tally of 12 goals and seven assists saw him linked with the likes of Arsenal and Juventus.
Club president Maurizio Zamparini suggested he was worth in excess of €40 million, but anyone who has watched the Rosanero closely wouldn't begrudge team-mate Vázquez demanding a cut of any eventual fee.
TALENTSPOTTER The Premier League-linked star who'll be "better than Ronaldo within two years"
Having established himself as a major influence at Palermo, Vázquez joins a long list of successful South American imports to thrive at the Stadio Renzo Barbera. Unlike Pastore and Edinson Cavani, however, he has opted to represent Italy thanks to his mother's birthplace of Padova.
Having been called up by Antonio Conte but not making it off the bench in the 2-2 draw against Bulgaria, Vázquez could well announce himself against Roy Hodgson's England in Turin.
Reports suggest he's wanted by both Juventus and Napoli; no bad thing considering the friendly is taking place at the Bianconeri's home to add an extra layer of intrigue.
While he may still be a largely unknown quantity outside the peninsula, he might well be taking part in the Champions League as early as next season.
Strengths
Vázquez has displayed excellent all-round quality this season, demonstrating an ability to shine in almost every facet of his game. He has proven capable of scoring a variety of goals from inside the box and long range, with his lobbed effort against Atalanta in December particularly noteworthy.
His aerial prowess is surprisingly good, and his wonderful cushioned header to create Luca Rigoni's goal against Napoli recently demonstrated that perfectly.
He has proven to be a hugely intelligent player both on and off the ball, capable of spotting passes other players don't see and making runs nobody expects, creating space for either himself or a team-mate by distracting defenders. He has also worked hard when Palermo have lost the ball, averaging just under two tackles and one interception per game in his 27 appearances this term.
Weaknesses
His shooting has been occasionally inaccurate, having found the target with 42% of his attempts this term, while he has also gotten involved in a number of minor spats during games.
Only five players in Serie A have committed more fouls than Vázquez this season, earning him six yellow cards, although just five players have been fouled more often than the Argentine.
His rash challenges often stem from him losing the ball – only Sampdoria's Stefano Okaka and Paul Pogba of Juventus have been dispossessed more often in 2014/15.
They said...
At first Palermo insisted the player is not for sale, issuing a statement in response to reports claiming clubs had already opened negotiations with Vázquez. "There has not been, nor will there be, any contact between Juventus and Palermo, or between our club and Napoli, for Franco Vázquez," it read last month, adding: "The Argentine will be a reference point for our football next season.
"In any case, to discourage approaches, the price of the player is set at over €25 million," it concluded.
Nevertheless, president Zamparini went back on his word by claiming both Vázquez and Dybala could be offloaded and are both wanted by... well, everyone.
"Dybala and Vazquez will probably be sold this summer," he told Pianeta Milan. "Will they go to Milan? No, they certainly won't be joining the Rossoneri. They are being tracked by Juventus, Arsenal, Barcelona, Manchester City, Chelsea and Paris Saint-Germain." Hmmm. 
Did you know?
After revealing that he loves building Lego sets – "I've got five of them," he confessed – Vázquez admitted that the PlayStation remains his first love, and that he and Dybala regularly challenge each other to FIFA games. "But neither of us take Palermo," Vázquez told Sportweek magazine last month. "I play with Arsenal or Chelsea, him with PSG or Manchester United. I choose Arsenal because I really like their style of football, always keeping the ball on the ground." 
TALENTSPOTTER RATINGS
Shooting 6
Heading 6
Passing 9
Tackling 6
Pace 7
Dribbling 7
Creativity 9
Work-rate 8
What happens next?
It's difficult to imagine Palermo hanging onto Vázquez, given his club's need to maximise its profits and the excellent form he has displayed all season.
And with some of the continent's biggest sides now paying attention to Serie A's quiet man, the imminent Italy international could soon be representing them for real rather than pretending to in his virtual battles against Dybala.
Quizzes, features and footballing fun
Get the best features, fun and footballing frolics straight to your inbox every week.
Thank you for signing up to Four Four Two. You will receive a verification email shortly.
There was a problem. Please refresh the page and try again.