Nine big keepers who could hop on the net-minding merry-go-round this summer
With several big clubs potentially on the hunt for new No.1s this summer, Declan Warrington assesses who could be switching places during the transfer window...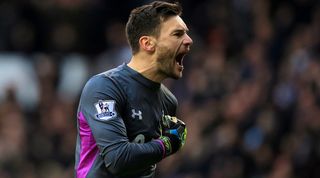 ALSO ON FFT.COM
The hiring and firing of managers will inevitably occupy plenty of column inches this summer, but this could be one transfer window where goalkeepers steal the headlines. If Real Madrid succeed in their reported pursuit of David de Gea, Manchester United's need for a replacement might take them to Tottenham's Hugo Lloris. Petr Cech, likely to move after a season as deputy to Thibaut Courtois at Chelsea, could emerge as Spurs' chosen successor, but they may have to rival Arsenal, where Wojciech Szczesny can no longer get a game.
Liverpool's Simon Mignolet has experienced greater struggles than Szczesny, Tim Krul is said to be ready to leave Newcastle, and Stoke could be vulnerable given Asmir Begovic remains a suitable successor to almost any of the above. Paris Saint-Germain and Inter Milan, where Samir Handanovic's future is uncertain, have also been credited with an interest in strengthening their last line of defence, meaning Cech or others could yet head to Europe. So here's a clutch of net-minders who may hop aboard the managerial merry-go-round this summer...
Hugo Lloris (28, Tottenham)
France's long-term No.1, Lloris is an obvious target for any team looking for a world-class goalkeeper. Obvious, because Tottenham haven't secured Champions League qualification again, and Europe's leading club competition is where the Frenchman should be. It's been reported that Real Madrid could target Lloris, at 28 and in his prime, should they not tempt De Gea to return to Madrid. Manchester United themselves could see him as a potential successor, and PSG's millions could tempt him back to France. Lloris is also proven in the art of sweeper-keeping, brave, and a capable commander of his penalty area.
The Frenchman hasn't made any noises about leaving yet, but it seems only unexpected loyalty will keep him at White Hart Lane. Having said that, someone will first need to match Spurs' hefty valuation.
Iker Casillas (34, Real Madrid)
The past three seasons haven't been kind to Casillas, but in retirement he'll almost certainly be remembered as one of the best goalkeepers in history. While inferior to the exceptional level he maintained from 2002-12, Casillas would still represent a significant improvement on all but a handful of first-choice goalkeepers elsewhere, and may also be available for a reasonable fee. His elite-level experience, leadership, winning mentality and ability to inspire with decisive saves could strengthen a team beyond its penalty area too, assuming he's prepared to leave the Spanish capital.
Petr Cech (33, Chelsea)
Cech rivals Casillas and Gianluigi Buffon as the best goalkeeper of the past 10 years. It's through little fault of his that he's now Chelsea's second-choice, as he's been incredibly successful at Stamford Bridge.
Given Courtois is at least as good as Cech, Jose Mourinho has taken the obvious option of making the Belgian his first choice – Cech has far fewer years left as an elite keeper than his 23-year-old rival, even if he's not yet quite as good as Cech was at his absolute peak (from 2004-06, before fracturing his skull).
Those hoping to sign Cech do so because he is a complete goalkeeper – as authoritative and reliable as he is experienced – and provides many of the important intangibles winning teams have but inexperienced ones lack. Arsenal have been linked, but manager Arsene Wenger has remained coy about a move. "We are not [focused] on Petr Cech at the moment," declared the fastidious Frenchman.
Asmir Begovic (27, Stoke)
The impressive Begovic may be the most attainable target for those seeking a new goalkeeper. Reports suggest he'll be on his way if a top-six club come in for him, so leaving Stoke – without European football, serious hopes of winning a major trophy and where he has little over 12 months remaining on his contract – could make sense. Bosnia's No.1, Begovic may not quite be of the standard expected at Europe's elite football clubs, but he's arguably the best first-choice Premier League goalkeeper outside of Courtois, De Gea, Lloris and Joe Hart, is consistent, and comfortable with the physicality of English football. In truth, it's difficult to spot an obvious weakness in him. For an added bonus, having moved to England at 16 he's also considered homegrown under the Premier League's present rules.
Jasper Cillessen (26, Ajax)
Being considered Edwin van der Sar's successor will understandably attract significant attention, but so far it's done Cillessen's career little harm. The 26-year-old is already a proven international keeper whose peak years are likely yet to come, even if he needs to continue improving to be considered truly world-class.
Over the 2013/14 season, the Ajax man – whose club manager Frank de Boer was a long-term team-mate of Van der Sar – was the only Eredivisie goalkeeper whose save percentage exceeded 80. He is, however, also known as an unconvincing penalty stopper (in that he's never saved one in his senior career), he's not the tallest of keepers (6ft 1in) and has also been caught flat-footed and out of position by long-distance shots.
Will he link up with Louis van Gaal again at Manchester United? "I have not heard anything," Cillessen said. "First I want to beat Latvia and then we will see, but I have not signed a new deal at Ajax for nothing."
Samir Handanovic (30, Inter)
ALSO ON FFT.COM
It would seem strange if Inter were willing to sell their goalkeeper just three years after he replaced Julio Cesar.
But it's not the Serie A side who want the 30-year-old Slovenian to leave: Handanovic wishes to pursue Champions League football, which remains out of Inter's reach for the foreseeable future. In 143 appearances for the Milanese giants, Handanovic had kept 43 clean sheets at a time when, through no fault of his own, the team's fortunes have largely been in decline.
Penalty-saving giant Handanovic is considered one of Inter's greatest assets. The extent of his authority and consistency was only highlighted by the reaction to a very rare mistake in Inter's 2-1 defeat to Juventus; it became a story because of how highly he is thought of, and is unlikely to deter his long-term admirers.
Neto (25, Fiorentina)
Fiorentina's Neto is the most unconvincing goalkeeper on this list, but that he's decided to leave when his contract expires this summer has helped him attract a considerable degree of interest.
It's often admirable when scouting networks discover economical signings who become top-quality players, but the suspicion remains that Neto's appeal largely comes from the absence of a transfer fee.
That the Viola hesitated in offering him a contract extension says much about his limitations, even if they remained loyal to him during previous poor runs of form.
The Brazilian isn't the solution for a team chasing honours, but might suit a manager with little money to spend or in need of competition for his current first choice.
Mattia Perin (22, Genoa)
As with Cillessen, should a club succeed in signing Italy and Genoa's Perin they'll have a goalkeeper for both the present and future. The 22-year-old has long been expected to succeed Gianluigi Buffon with the Azzurri, though for all of his natural talent the early years of his career were far from easy.
In the 2012/13 season, Perin's first full Serie A campaign, he conceded 66 goals in 29 games before losing his starting place while on loan at Pescara. In recovering to the extent that he became the first-choice at parent club Genoa, where he kept 11 clean sheets in his first season, Perin has in many ways passed the ultimate test. Fleet of foot and possessing outstanding reflexes, the 'new Buffon' won't come cheap.
Pepe Reina (32, Bayern Munich)
ALSO ON FFT.COM
Reina can be considered one of the most unfortunate players in history. The Spaniard has spent much of his career as Iker Casillas' deputy at international level, and today, at Bayern Munich, he is behind Manuel Neuer. In another era he'd have over 100 caps.
Casillas was arguably the world's best goalkeeper for much of the past decade and Neuer is the best now, but Reina has still been consistently among the world's finest in that position, and at 32 remains young enough to make an impact elsewhere. Leaving one of the world's leading clubs is rarely easy, but Reina did so before when departing Barcelona for Villarreal in 2002 and flourished as a consequence. Athletic and one of the very best at saving penalties, he'll also come at a reasonable price.
Reports of a done deal to Napoli are wide of the mark, says the man himself, but it looks like the Italians might land him again.
"Right now I can't exactly say what will happen, but are things are in progress," he said about a prospective return. "I am under contract for another two years, but things can change fast in football."
Thank you for reading 5 articles this month* Join now for unlimited access
Enjoy your first month for just £1 / $1 / €1
*Read 5 free articles per month without a subscription
Join now for unlimited access
Try first month for just £1 / $1 / €1
Get FourFourTwo Newsletter
The best features, fun and footballing quizzes, straight to your inbox every week.