The Player: "One assistant stopped a tunnel fight by windmilling between the players... then offering them out one-on-one"
Our man on the inside explains the importance of a respected No.2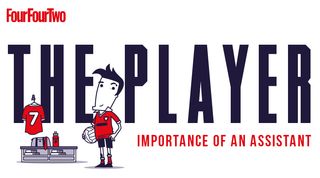 The Player has spent 15 years across all four divisions. He's played in the Premier League and for his country. (Illustration by Spencer Wilson.)
Each week we'll bring you a column from our mole...
My wife was visiting family, so I took my son to McDonald's and sat eating in the front window. I played well the following day, so I started returning to the same place to eat the same food before games. It was a risk, as we weren't supposed to eat fast food. Being recognised every two minutes wasn't ideal either, but the superstition lodged in my head.
On one visit, I saw the assistant manager's car out of the corner of my eye. It was definitely him because the manager called me into his office after training the next day and fined me for eating junk food. His assistant was a grass who couldn't be trusted.
The assistant will always side with the manager because he's almost always the person who gave him the job. If the manager does well, then the assistant does well – it's his meal ticket. Every player knows that, and they expect things to get back to the manager – but not everything. The assistant should have had a private word with me; explained that he'd seen tucking into a Big Mac and warned me not to do it again, rather than bleat to the manager.
The link man
An assistant should be the conduit between the players and the manager – a buffer. He should be trusted by both and can be used to great effect. If a manager isn't happy with a player, the assistant can say: "The manager doesn't think you're fit enough. I'm telling him that you are. Make sure you don't give him reason to doubt you." You see, a subtle message for a player to up his act.
The assistant is a crucial figure at any football club and they come in all shapes and sizes. One type is the BBC – that's balls, bibs and cones. They've got the coaching badges, they've known the manager for 20 years and they used to play with him. But they don't always act as a good foil to the manager because they're so far up his backside. We had one BBC assistant, who was actually very popular… probably because the manager wasn't. I went to have a word with this assistant after training about my role in the team.
"What is it, son?" he asked. "Is it a ball you want? Because I've got plenty. Or is it a bib? I have them too. Or is it a cone? Anything else, see the gaffer." He was half-joking, but in his eyes tactical talks were to be held with the manager, not his assistant.    
Brains behind the boss
That was strange, because the assistants are often the sharpest tactical minds at the club. They're excellent on the training ground; they can help the players by advising the manager to rest them if he thinks they need it; they can scout players; and they can have a vital influence during matches.
They'll see things the manager won't and have a quiet word in his ear, rather than a public one which could be seen as undermining him. If the boss trusts him as he should, two minds are better than one. And it's not like many assistants want to become a boss like Jose Mourinho did. Not that many could. Most are great in training but not so competent at decision-making, man-management or dealing with the media.
The assistant and manager can play good cop, bad cop, getting their messages across by playing off each other – and both knowing it. It's the assistant who will often cushion the blow of a player being dropped. "The gaffer wants a word with you after training," he'll say. "You know what it's about. Keep your head up, work hard and make sure you don't give him a reason to drop you next week." He's only confirmed what you expected, and you get to see the boss in a better frame of mind.
Hands-on approach
There's another type of assistant: the hard bastard who's on call to provide the muscle. I worked with one who suffered no fools. He called fans 'civilians' and thought they knew nothing. He stood by his boss (and still does) in the Premier League, backing him up when there were any touchline disputes. He once called one of the best-known managers a 'prick' and a 'charlatan' to his face.
He also stopped training when a player chipped the goalkeeper on the grounds that: "You won't have the balls to do that in a match, so don't do it now" and stopped a fight in a tunnel after a game by windmilling between the rival players, pushing them all into their respective dressing rooms. He then shouted to our opponents: "Take a breather and have a think if you want to fight me one-on-one."
 
They didn't. Just as his own players were agreeing, he turned on us and said: "The same goes for you lot. There's not a fight in any of you."
The one-man vigilante had just done what four police officers and six stewards had failed to do. To him, it was all part of being a good assistant.
Skipping training after a night on the lash
Quizzes, features and footballing fun
Get the best features, fun and footballing frolics straight to your inbox every week.
Thank you for signing up to Four Four Two. You will receive a verification email shortly.
There was a problem. Please refresh the page and try again.