Is the Premier League its own worst enemy? Why it's greed over glory where Europe is concerned
With zero English participation in any of Europe's big games this week, Nick Ames ponders how we got here – and why things may only get worse...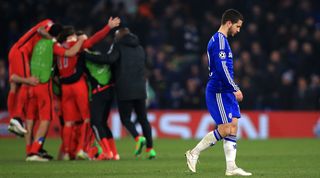 As 10 luminescent Paris Saint-Germain shirts swarmed around Stamford Bridge a month ago, you could have been forgiven for adjusting your television set. This was not part of the script: Blaise Matuidi was not supposed to be doing the work of a man with three lungs, making it seem as if his own side had the extra player; Marco Verratti was not supposed to be finding angles all over the pitch where there should have been none. And who knew Javier Pastore had this level of endeavour in him?
Chelsea had nowhere to go and, even if they ended up six minutes away from the result everyone had expected, in the evening's context it was no surprise when Thiago Silva looped home his team's second fabulous header of the evening towards the end of extra-time. The Ligue 1 champions had never stopped.
The Blues were not the last of the Premier League's four Champions League representatives to fall, but their performance epitomised what seems to be a very mid-2010s phenomenon. For the second time in three years there will be no English representatives in the quarter-finals, which will be played this week.
There will be no need to retune your TV when the two Madrid sides square up, as they did in last year's final; nor will there be many eyebrows raised when PSG host Barcelona for the second time this season.
HOORAY, THE ENGLISH ARE COMING
Chelsea (CL, L16 to PSG)
Man City (CL, L16 to Barcelona)
Arsenal (CL, L16 to Monaco)
Liverpool (CL, Grp; EL, L32 to Besiktas)
Tottenham (EL, L32 to Fiorentina)
Everton (EL, L16 to Dynamo Kyiv)
Too good for its own good
These are the rivalries studding continental football in Europe at the moment – and English sides, so dominant in the second half of the last decade, are on the fringes of the party.
Is the Premier League getting worse? Are others getting better? Is something happening that makes teams in the world's most popular league stand still? Or is something subtler happening; something that means the Premier League's global reach is, effectively, turning upon itself?
Manchester United's Champions League victory in 2008 – achieved against Chelsea, of course – came at the height of England's halcyon period. That year, and in the subsequent campaign, half of the last eight would be Premier League-based.
United won the league by two points from Chelsea that year: it was tight at the top, but only for a few – 11 points separated Liverpool, in fourth, from sixth-placed Everton.
United were tasked with defeating Lyon, themselves enjoying a purple patch of local dominance, in the last 16. They drew 1-1 away but the second leg, against a team boasting the likes of Karim Benzema and Hatem Ben Arfa, would be no sure bet. So Sir Alex Ferguson did what was then the accepted thing when they visited Fulham, who needed points in their battle against relegation, three days prior.
Out went Wayne Rooney, Cristiano Ronaldo, Nemanja Vidic and Michael Carrick – the spine of their side – for the match at Craven Cottage, and it mattered little. A routine 3-0 win later and United could look ahead to Lyon. The rest proved important: a Ronaldo goal, his 30th of the season, was eventually enough to see them through a tight, tense tie between two sides at their very best.
It is but one example but serves as a case in point. If another is needed, United played Ipswich Town in September 2001, between Champions League encounters with Lille and Deportivo La Coruna: they rested all 10 outfield players against George Burley's side, and still won 4-0 at Old Trafford.
Could that happen now? Eden Hazard played his 50th game of the season – internationals for Belgium included – at QPR on Sunday. He has started every league game, averaging just under 89 minutes per game. Cesc Fabregas has started 27 out of the 31 top-flight matches – all bar one of those for which he has been fit. Chelsea have used 22 players in the league this season; back in 2002, United called upon 28.
No rest for the wicked
These are not huge margins but it's a suggestive enough sample to wonder whether the Premier League has become its own worst enemy. Every so often a team will dish out a beating that questions the theory, but there are few occasions to go easy. Forty eight points separate top from bottom; in Spain it's 56 and the top two sides have scored 87 and 92 goals respectively. Chelsea and United have scored 64 and 63.
Four days after Chelsea's first leg draw at PSG they hosted lowly Burnley. It looked like an occasion to rest players, but nothing was left to chance bar a rare start for Kurt Zouma. They drew 1-1.
FEATURE Rotation, Rotation, Rotation: Why Mourinho might have caused Chelsea's European failure
The Premier League is all-consuming now, an arms race involving huge sums of money in which even the lesser teams are closer to competing financially with those at the top than bigger clubs in other countries.
It's a market that feeds upon itself and the commercial imperatives are omnipresent too: with television audiences rapt in all four corners of the world, you need your best player to be playing, visible and earning those broadcasting riches. You cannot switch off, whether on or off the pitch.
There is no rest – as Chelsea will find out if and when they embark upon a post-season tour to a region favourable to their sponsorship interests – and perhaps something has to give.
None of this is to suggest that English sides go easy in the Champions League, for which victory is worth around £40 million before the 'market pool' – a sum determined by a country's TV market – is factored in.
This has been more of a problem in the Europa League, in which England's representatives have all fallen and the problems Tottenham have faced in particular – losing at home to the likes of West Brom and Stoke straight after European games and severely compromising their own top-four hopes – have hit home.
Europa dopes
How far you should go to chase European success is less of a problem for the Champions League sides, who will generally remain in the top few places and see less potential variation in their Premier League prize money. But where the Europa League is concerned, the financial prizes are barely worth fighting for – Swansea trousered less than £3m for reaching the round of 32 last season, and saw their league form suffer.
FEATURE "He's playing who?!" The managers who fielded weakened sides in Europe
Simply, straining for success could be the difference between a scrap against survival and comfortable domestic safety. Finishing 17th is to be celebrated, hanging on in there for another year: after all, even bottom side Cardiff earned almost £63m from their top-flight sojourn last season.
Has greed overcome glory? Has physicality outdone freshness? It's a more complex question than these. Premier League clubs seem stuck in a chicken-and-egg situation whereby the relentless competitiveness that sets the league apart is visibly taking its toll in the arena where this should best be proved.
There is little obvious quick fix, although one or two practical aids spring to mind – why make teams play three days before a Champions League game, when other leagues reschedule games? Why loan so many players from bloated squads out when they could be deployed to give others a rest?
The one certain thing is that, when this week's games at the Vicente Calderon and Parc des Princes kick off, the extra spring in Europe's step will be evident in the simple fact that these fixtures are taking place.
Thank you for reading 5 articles this month* Join now for unlimited access
Enjoy your first month for just £1 / $1 / €1
*Read 5 free articles per month without a subscription
Join now for unlimited access
Try first month for just £1 / $1 / €1
Get FourFourTwo Newsletter
The best features, fun and footballing quizzes, straight to your inbox every week.