The ragtag bunch of Premier League cast-offs fighting Italy's biggest battle – and two who got away for Man United
Adam Digby looks ahead to the key battles of Sunday's table-topping clash between Juventus and Roma, starring several familiar faces...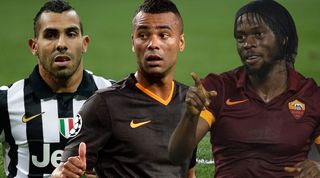 After five weeks of sparring at a distance, Italy's two heavyweights finally go head-to-head this weekend as AS Roma travel to Juventus Stadium to take on the reigning champions. Both teams have laid waste to those around them so far, recording perfect starts over the opening five games, and already enjoy a four-point cushion over the rest of Serie A. Last year's top two have marched on relentlessly while the peninsula's other big clubs struggle for consistency, with Milan, Napoli and Inter seemingly unable to discover their own identities.
With the knowledge that the chasing pack continues to fall further and further behind, the two will kick off on Sunday fully aware that their direct clashes are likely to determine the destination of this year's league title.
Looking at this contest more closely, there are a number of key areas in which the match is likely to be won or lost. Both will lament the loss of their most influential and recognisable midfielder, with Daniele De Rossi's calf strain seeing him join Andrea Pirlo – yet to play a single minute this term due to a hip injury – on the sidelines. However, there are still intriguing match-ups across the pitch featuring some familiar faces...
Patrice Evra vs Ashley Cole
The two left-backs need no introduction to English fans, boasting over 600 appearances between them and no fewer than seven winners' medals from their Premier League careers. Both chose Italy as their next destination, landing at the country's top two clubs and instantly making their presences known. Cole became an immediate cult hero (if inadvertently) in the capital, his 'lurking' presence at Roma's official team photo going viral and being mocked by captain Francesco Totti.
Winning over the club's passionate but notoriously difficult-to-please fan base has been made easier by some typically excellent performances on the pitch. Although the 33-year-old may no longer be the marauding force he was at Arsenal, he's started in all but one of their league games so far, averaging 1.8 tackles and 1.3 interceptions per game. His passing has been crisp and precise, quickly moving the ball into midfield, and the player himself says he will improve further as he grows accustomed to the style and pace of Serie A.
Lining up opposite him could be former Manchester United man Evra, although the Frenchman currently splits duties at left-wing-back with Kwadwo Asamoah. He too has settled instantly in Serie A, demonstrating the kind of leadership visibly missing from Old Trafford since he, Rio Ferdinand and Nemanja Vidic left in the summer. Fans and observers have been impressed with his calming influence in Turin, where he has been reunited with Carlos Tevez, and discussed how the Argentine has changed since their previous spell together.
Carlos Tevez vs Francesco Totti
"He is a lion," Evra said of Tevez in a recent interview with Juve's in-house TV channel. "He has matured even more now and has become a real team player. Despite that, he's still the same fun guy I knew in England."
Tevez is clearly happier now than during his doomed spell under Roberto Mancini at Manchester City, and his recent form for Juventus has been nothing short of sensational; his double against Atalanta last weekend took his tally to six in his last four outings for the club. It also saw him move onto 23 league goals in just 38 games for the Bianconeri. He has been so vital to everything positive for the Old Lady that there was no furore over him being handed Alessandro Del Piero's No.10 shirt, so seamless was his transition to life in Turin.
But if Tevez has been able to help Juve's fans move on from their iconic captain, the man in his opposite number has proved impossible to shift. Countless team-mates have passed through at Roma with varying degrees of success, but the indomitable Totti remains, as much a symbol of the club as their Giallorossi colours or the wolf on their crest.
Now the second-highest goalscorer in Serie A history behind only Silvio Piola, the 38-year-old recently passed 700 appearances for his hometown club and shows no signs of stopping. Playing with the same vision he's always demonstrated, Totti continues to serve up sublime assists; two in four games this term. His well-taken goal against Manchester City on Tuesday night has earned him yet more adulation, and also saw him surpass Ryan Giggs as the oldest player to net in the Champions League.
Gigi Buffon vs Gervinho
Lining up alongside Totti in the Giallorossi attack is another man Premier League fans will be familiar with, although the Gervinho playing for Roma is very different to the isolated and ridiculed figure seen at Arsenal.
The Ivorian has been reinvigorated by his reunion with former Lille boss Garcia, playing with an incisive intent that Gunners fans rarely witnessed during in north London. Last term the winger recorded nine goals and 10 assists, and he has already added to those tallies this season, netting four times in three starts.
But if there's one man able to deny him and Roma's irrepressible attack it's Italy legend Gigi Buffon, the goalkeeper yet to concede in the new campaign. While the defence ahead of him has ensured the 36-year-old has enjoyed a relatively quiet season – he has been called upon to make just 10 saves in the first seven matches – the veteran keeper has shown he remains among the world's best.
Last weekend Germán Denis became the latest player to be beaten by a player routinely named 'Superman', after the Atalanta striker's penalty was saved by Juve's caped crusader (OK, so he doesn't have a cape).
It's brilliance he's displayed since his debut. Like Totti the clock may be against Buffon, but he appears to be repelling the advances of Father Time just as he has denied countless shots over a stellar 20-year career.
Arturo Vidal vs Miralem Pjanic
If there was a distinct Premier League flavour to those previous head-to-head battles, the midfield match-up between Vidal and Pjanic pits two players extensively linked with Manchester United against one another. They have each established themselves as the major force behind the success of their respective teams, personifying the style of play and personality of each. Vidal was the leading goalscorer of the Antonio Conte era at Juventus, making more tackles than all but one other player in Serie A last term and embodying the tireless, relentless drive of the Bianconeri over their three title-winning seasons.
United's pursuit of him was ultimately fruitless, with both the player and club expressing no desire to see the Chilean leave Turin. Pjanic too was linked with a move to Old Trafford, but signed a new contract with Roma this summer, committing himself to the Giallorossi until 2018 rather than exploring alternative options. The capital club know how fortunate they are to retain a player of his talent, particularly after seeing the likes of Medhi Benatia, Marquinhos and Érik Lamela leave the Stadio Olimpico over the last two years.
After watching Pjanic curl a match-winning free-kick into the top corner against Parma recently, skipper Totti declared his love for the Bosnia international, declaring that "Pjanic is our little prince" in a radio interview. He also admitted "a real weakness for both the way he plays and the rapport we forged". Aww. That togetherness and camaraderie runs deep within both teams, and Sunday will be a very real test of Roma's championship credentials as they seek to knock Juventus off the top of Serie A.
Quizzes, features and footballing fun
Get the best features, fun and footballing frolics straight to your inbox every week.
Thank you for signing up to Four Four Two. You will receive a verification email shortly.
There was a problem. Please refresh the page and try again.