Ranked! The 10 best assists in Premier League history
At FourFourTwo, we believe that sometimes the pass is as beautiful as the goal – Amit Katwala counts down the Premier League's most dazzling set-ups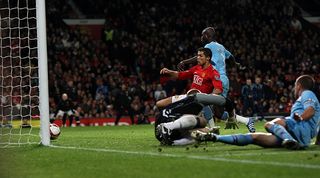 10. Kevin De Bruyne for Raheem Sterling
Man City 2-1 Arsenal, 2016/17
Ah, yes – the Belgian wizard himself. Much of De Bruyne's most eye-catching work is in the build-up to goals; the pre-assists – like the blind pass for Leroy Sané to square for Raheem Sterling in October's 3-2 win over West Brom.
He does pop up with plenty of assists, however, such as this smashing crossfield ball to set up Sterling against Arsenal last season. Like Xabi Alonso in a similar-ish assist for Liverpool, De Bruyne controls the ball on his chest and hits an instant, perfect pass to release the winger on the opposite side. There's still plenty for Sterling to do, but the pass makes it all possible.
9. Steven Gerrard for Daniel Sturridge
Fulham 2-3 Liverpool, 2013/14
At 1:35
The Liverpool captain produced a moment of class in a slightly slapstick game at Craven Cottage. Liverpool were behind after an own goal from Kolo Toure, who inexplicably sliced into his own net under absolutely no pressure. He would later knock referee Phil Dowd to the floor in an accidental collision.
The away side's goal to make it 1-1 came when the ball broke to Gerrard in the centre circle. He rushed onto it and – off-balance – played a curling outside-of-the-right-foot ball into the path of Daniel Sturridge, who broke Fulham's offside trap to finish off the post.
8. Luis Suarez for Dirk Kuyt
Liverpool 3-1 Man United, 2010/11
This goal wasn't just laid on a plate for Dirk Kuyt. It was sliced up, chewed and regurgitated in the manner of a mother bird feeding its chicks. Trust Luis Suarez to sink his teeth into something.
It was still 0-0 in a typically heated north-west derby when the Uruguayan collected the ball inside United's area with his back to goal. He was quickly swarmed by defenders, but rolled smartly into space before sashaying around a couple more challenges and attempting to finish. The ball ended up literally on the goal-line for Kuyt to poke home and then execute the classic 'point at provider' celebration that's customary on such occasions.
7. Olivier Giroud for Jack Wilshere
Arsenal 4-1 Norwich, 2013/14
This might just be the best goal in Premier League history, and Jack Wilshere will fight anyone who says otherwise. There's something about the timing of the three flicks leading up to his simple volleyed finish that lend it an air of unreality. It's almost too perfect.
Mesut Ozil likened it to watching a goal on the PlayStation, but to be honest you'd be hard pressed to move your fingers quickly enough to recreate it in a video game. The penultimate touch from Giroud is the pick of the bunch: an instant round-the-corner flick that leaves four Norwich defenders bewildered and helpless.
6. Frank Lampard for Didier Drogba
Chelsea 6-0 Man City, 2007/08
At 1:04
There was a version of FIFA – around 2002 – where you could hold down one of the trigger buttons to play ridiculous curled through-balls with either foot that were inch-perfect every time. Once you'd mastered this, it kind of ruined the game – not least because the motions of the animated players would defy the laws of human mechanics.
This pass, from Frank Lampard to Didier Drogba, is one of those goals. A post-Mourinho Chelsea hosted a pre-Robinho Manchester City in October 2007, on a fine run of form. Frank Lampard had already set up Michael Essien to put Avram Grant's team into the lead.
With half an hour gone, Lampard collected the ball on the halfway line and then threaded a long, outside-of-the-right-foot pass into the gap between Richard Dunne and Micah Richards, slicing through the heart of City's defence like a scalpel and spinning perfectly into Drogba's path. The Ivorian did the rest.
5. Frank Lampard for Didier Drogba
Bolton 0-4 Chelsea, 2009/10
Another notable combination for the most prolific assist-scorer duo in Premier League history. Lampard is third on the all-time assists chart, and 24 of the 102 goals he created were scored by Didier Drogba.
This one owed a lot to the invention of Portuguese artist Deco, who chested a cross from the edge of the area into Lampard's path, in the last minute of a comfortable win over 10-man Bolton. Lampard's simple yet sublime backheel flick left Drogba with an easy finish to make it four.
4. Mesut Ozil for Olivier Giroud
Arsenal 5-0 Aston Villa, 2014/15
Eight minutes into a home game against Aston Villa, and Mesut Ozil is exactly where you'd expect him to be if you listen to certain sections of the Emirates' faithful: standing in the centre circle, not doing a whole lot. But he always has a picture in his head.
As a long Gunners' ball forward arcs towards the German, Olivier Giroud sets off on a run. Ozil, facing towards his own goal, flicks a first-time volley with the outside of his left foot perfectly into Giroud's path, leaving the French striker clean through on goal.
There have been more spectacular assists in this genre – Zlatan Ibrahimovic does a good line in them, and Juan Mata set up Chris Smalling of all people with a similar flick in a Champions League game against Wolfsburg. But the fact that Giroud, who is not the quickest, couldn't be caught by the defence in time tells you something about the quality of the pass. Or the criminal slowness of Aston Villa's backline. Probably that, actually. 
3. Dimitri Payet for Michail Antonio
West Ham 2-4 Watford, 2016/17
The rabona is one of the few playground skills that you can actually get away with on a Premier League pitch, but it's a difficult one to execute – as David Dunn is all too painfully aware. That makes Dimitri Payet's perfect inside-out cross for Michail Antonio against Watford in September 2016 undoubtedly impressive.
The Frenchman advanced into the area down the right-hand side, cut back onto his left foot, then crossed the ball to back post with his right boot, where a stooping Antonio nodded in from close range.
It was actually the second rabona of the game – Manuel Lanzini had seen an earlier effort squirt just wide. So although Payet's assist helped put the Hammers into a 2-0 lead, it probably wasn't the best idea. "As a player I thought they were trying to mug us off a bit," said Watford's Troy Deeney after the game. "You see that in the playground with six- and seven-year-olds and we are grown men."
Watford eventually won 4-2, Deeney equalising with a fine lob – but really, Payet is lucky that the Watford captain didn't just crush his skull with his bare hands.
2. Dimitar Berbatov for Cristiano Ronaldo
Man United 2-0 West Ham, 2008/09
October 2008, and Manchester United were looking imperious. They were a goal up at home to West Ham when, with half an hour played, Anderson slid a pass down the inside-left channel which Dimitar Berbatov loped after in his languid way.
There didn't seem to be too much danger – James Collins was lumbering across to complete a foot race so slow it could be set to Chariots of Fire. But then, as the Bulgarian neared the dead-ball line, everything seemed to speed up.
Instead of shielding the ball and waiting for cover, Berbatov did something that – as the commentator describes – few other players would have thought of, let alone executed. He stops the ball with his right foot near the line and spins through 180 degrees, his momentum carrying him off the pitch. Then he nicks the ball past Collins' despairing lunge with his right foot, and runs back onto the field – now in miles of space inside the area.
From there, it was a simple square ball across the six-yard box for the onrushing Cristiano Ronaldo to slide home. You can tell it's a great assist because Ronaldo barely even celebrated – if anything, he looked annoyed at not being the centre of attention.
1. Eric Cantona for Denis Irwin
Man United 4-1 Tottenham, 1992/93
It's ironic that Eric Cantona's most lauded performance during his career as a serious actor is a film in which he plays himself. The French forward appears as a figment of a Manchester United fan's imagination in Ken Loach's Looking for Eric.
It features this lovely conversation with the main character, a beleaguered postman also called Eric, about Cantona's sweetest United moment. It's not – he concludes – a goal, a trophy, or even that kung-fu kick. It was a pass.
In January 1993, United hosted Tottenham on their way to a first Premier League title in 26 years. Cantona had already scored a hat-trick against Spurs for Leeds before joining the Manchester club, and opened the scoring here too.
Seven minutes into the second half, full-back Denis Irwin found him in plenty of space about 10 yards outside the area. Instead of controlling the ball, Cantona dinked a first-time return back to Irwin, who had continued his run and taken the entire Spurs defence out of the game with one touch.
The trajectory still widens the eyes, even as you rewatch it. Cantona's stabbed touch takes such a steep arc, it's like a pool hall trick shot. Irwin takes it in his stride, now clear on goal, and rifles it high past Erik Thorstvedt. It was a gift of an assist, says Cantona in Looking for Eric. "An offering to the football gods."
Quizzes, features and footballing fun
Get the best features, fun and footballing frolics straight to your inbox every week.
Thank you for signing up to Four Four Two. You will receive a verification email shortly.
There was a problem. Please refresh the page and try again.