Ranked! The 50 greatest Barcelona players of all time
Barcelona are more than a club, according to the motto – and this half-century of legends have written their names into Camp Nou folklore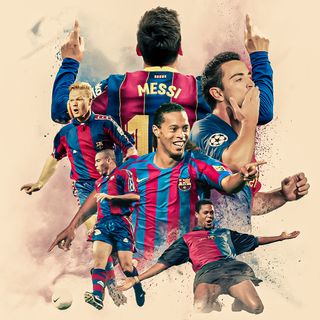 (Image credit: Future)
"Barcelona had history and culture, the coast, the weather, all wrapped around a wonderful football club that was the spiritual headquarters of a nation," Sir Bobby Robson said of the side he managed in the 1996/97 season.
Robson was right. Catalonia's unique blend of art and passion has come to be represented at Camp Nou. 'Mes Que Un Club' – "more than a club" – is painted on the stadium's seats and it's more than just hyperbole. This is not just a football team but an institution. So let's run through the greatest-ever half-century…
LOOKING FOR REAL? The 50 greatest Real Madrid players of all time
50. Yaya Toure
It's strange to associate the Manchester City legend with any other team these days, isn't it? But long before birthday cakes and Etihad screamers, the Ivorian was a schemer in the Barca midfield for Pep Guardiola, even slotting in at the back for the 2009 Champions League final. Barca never saw the heights he'd scale – but he was still magnificent for them.
49. Abelardo
He signed for 275m pesetas and Abelardo became an unlikely backbone in two league titles and two European trophies. His positional supremacy was unbelievable, seeing out the Cruyff years at the back before he was hampered with injuries. he left in 2002 for Alaves.
48. Marc-Andre Ter Stegen
A man who claims he doesn't particularly like football, Marc-Andre Ter Stegen has been one of the best and most under-appreciated goalkeepers throughout his time in Catalonia. The German has been a pillar of reliability through Barcelona's financial crisis and looks like a building block of the Xavi era. He'll no doubt go down as a great when he leaves.
47. Giovanni van Bronckhorst
He's more talked about as Rangers manager these days – and who knows whether he'll face his former side in the Europa League – but Gio van Bronckhorst was one of the most underrated full-backs of a generation. Winning the Champions League at the expense of former side Arsenal was his highlight in 2006.
46. Gary Lineker
Crisp flogger extraordinaire and the thorn in Alan Shearer's side during FA Cup matches on the BBC, Gary Lineker is still well-loved by Barcelona fans. He arrived after a World Cup in 1986 that he'd scooped the Golden Boot at – partly because English sides were banned from Europe – and scored 21 in his first season, the high point being a hat-trick in the Clasico. Linksy won win the Copa del Rey in 1988 and the European Cup Winners' Cup in 1989, before Johan Cruyff's penchant for playing him out right forced him to come back to Blighty.
45. Javier Mascherano
Javier Mascherano is not the most famous Argentinian to wear the Blaugrana colours – but he's one of the most important ones. A conventional Argentinian no.5 at Liverpool, the tenacious tackler adapted to become an excellent central defender and was a mainstay of the Barcelona side that swept all before them in the 2010s.
44. Lilian Thuram
One of the most intelligent and celebrated defenders of a lifetime, Lilian Thuram didn't even play 60 games for Barcelona. His displays were imperious at the back for the club, however, injecting a touch of class that he brought over from Serie A.
43. Eric Abidal
Even Maxwell arriving from Inter Milan couldn't force Eric Abidal out of the Barca team under Guardiola. The Frenchman was a player you could set your watch by and was adored by fans and teammates alike: perhaps best surmised when Carles Puyol let him lift the Champions League trophy at Wembley in 2011, following a liver tumour and transplant. A fitting gesture for a fantastic servant.
42. Rafael Marquez
One of the longest-serving international footballers of all time, Barcelona got the best of Rafael Marquez, who started out as a centre-back before being moved into midfield and back again. Marquez was the last Frank Rijkaard signing to stay at the club into the Guardiola years, winning four LaLiga titles and two Champions League trophies in his time in Catalonia.
41. Jordi Alba
It was plainly obvious at Euro 2012: Barcelona had made a mistake. Somehow, Jordi Alba slipped the La Masia net to end up at Valencia – but the left-back has returned to his home city to play over 400 times for the club who let him go as a youngster. One of the most consistent, energetic and dangerous left-backs of all time, Alba was a key component to Barca's success over 10 years.
Thank you for reading 5 articles this month* Join now for unlimited access
Enjoy your first month for just £1 / $1 / €1
*Read 5 free articles per month without a subscription
Join now for unlimited access
Try first month for just £1 / $1 / €1