Le Hand of God, 10 years on: Thierry Henry's handball that sent France to the 2010 World Cup – remembered by those who were there
​It's a decade since Henry's handball in Paris denied the Republic of Ireland a place at the World Cup. For both sets of players, it was a night they will never forget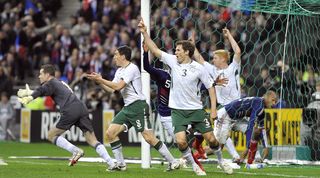 This article first appeared in the Autumn 2019 issue of FourFourTwo – buy it now for just £4.99 (opens in new tab)
The record books state that on Wednesday November 18, 2009, France defeated the Republic of Ireland 2-1 on aggregate to qualify for the 2010 World Cup finals.
But ultimately, with a moment of enormous controversy on the Paris pitch leading to many months of fallout off it, this was a football match where – somehow – everyone lost.
A month earlier, the draw for the play-offs had been held in Zurich. Giovanni Trapattoni's Irish team, having gone unbeaten in their group with four wins and six draws, could have been pitted against any one of Portugal, Greece or Russia for a place at the World Cup in South Africa. Instead, they got France – the draw that nobody wanted, against a squad that included Thierry Henry, Nicolas Anelka, Eric Abidal, Florent Malouda, Karim Benzema, Patrice Evra and William Gallas.
But that French team was far less than the sum of its parts. At Euro 2008, Les Bleus had picked up just one point from three matches. In qualification for 2010, they had landed in the play-offs by finishing behind Serbia in an otherwise weak group.
Then there was the head coach, Raymond Domenech, whose thoughts about life, the universe and everything had turned him into a figure of fun. It was said that he omitted Robert Pires from France's 2006 World Cup squad because the winger's star sign was Scorpio. Domenech, who had been shortlisted for the Ireland job back in 2003, later denied that he'd used star signs to select his party, but did admit to being fascinated by astrology.
Meanwhile, Ireland had finished second in their qualifying group behind Italy, the world champions. They lacked leading names and hadn't won a single group game by more than one goal, but they had quality and experience in Robbie Keane, Shay Given, Richard Dunne and Damien Duff. They were also, it seemed, a more cohesive unit than the French.
Although a goal from Anelka – deflected in off a defender – gave France a 1-0 victory in the first leg at Dublin's Croke Park, the mood in the Ireland camp remained pretty positive.
"We all felt that we were very much still in the game," Given tells FourFourTwo. "A lot of people in France and other parts of the world probably thought that the tie was over. But within the four walls of the dressing room, we thought that we could still go to Paris and get a result – we had nothing to lose."
Their optimism was justified. "We lost a lot of energy, playing that first match in Ireland," says Alou Diarra, who started both games in midfield for France alongside his namesake, Lassana. "It was a game with a great deal of intensity. Maybe we paid the price for those efforts during the second leg in Saint-Denis."
When, four days later, Keane levelled the tie by scoring after 33 minutes at the Stade de France, Les Bleus began to look ragged.
"I can remember exchanging looks with my team-mates," Diarra tells FFT. "We tried to talk to each other, but we were aware it wasn't a good day for us and we were going to have to grind our way through it. We struggled to cope with their high-intensity style of play, and we couldn't find our feet. With every minute that passed, the pressure of possibly missing out on the World Cup was increasing. All of that together meant we didn't play our best football. Ireland were in control, and they had the upper hand."
As the game drifted into extra time, Diarra was banking on France being able to tough it out and take the game to a penalty shootout. Then, in the 103rd minute, came the moment that changed everything.
France won a free-kick just inside Ireland's half and sent players forward. Malouda floated a hopeful delivery into the danger area, and it bounced through to Henry on the left of the six-yard box. Before the pass could run out of play for a goal kick, Henry stuck out his left hand, stopped the ball with his forearm, then gave it a second nudge with his hand. The ball dropped at his feet, allowing Henry to poke it back across goal for Gallas to nod home, as an incredulous Given looked on.
"The handball was so obvious and so blatant that I was just preparing to take the free-kick," recalls the long-serving shot-stopper, whose 134 appearances put him behind only Keane in the Republic of Ireland's all-time list. "I looked at the referee and he was pointing towards the halfway line to signal a goal. I ran after him and other players ran to the linesman. It was so blatant – whether it was the linesman or the ref, someone should have seen it. I think even Henry was a bit embarrassed – he knew himself that it was a clear handball."
To compound Irish anger, replays showed that Sebastien Squillaci was offside when the free-kick was taken and then interfering with play. But the linesman didn't flag, the referee's view of the handball was obscured and the goal was awarded.
"It was just a sense of disbelief," adds Given. "It was so disheartening, and so difficult to finish the game after that. If you lose a game to a goal with such a really bad mistake by the officials... I don't want to say 'cheated', as it's not the right word, but we felt very let down by the whole decision."
Some 20 minutes later, France had qualified for the World Cup. But that was far from the end of the matter. The furore that followed left a mark on Henry's otherwise brilliant career, and France's qualification had been tarnished. Even they felt sympathy for their opponents.
"It was a shame for Ireland," admits Diarra. "They were a very brave side and they fought really hard. We were harassed in the media afterwards and it was difficult to take. Thierry Henry was the main target and it was tough on him. I can't imagine how hard it must have been. I didn't really understand the reason for the harassment he faced."
Time magazine later named Henry one of the 'top sporting cheats of all time', rubbing shoulders with other upstanding figures like Tonya Harding – banned from professional ice skating after her ex-husband orchestrated an attack on a rival – and Ben Johnson, who took steroids to win a 100m Olympic gold medal.
Three days after the match, Henry issued a statement. "The fairest solution would be to replay the game, but it is not in my control," he said. "Naturally I feel embarrassed at the way that we won, and I feel extremely sorry for the Irish, who definitely deserve to be in South Africa. I said at the time and I will say again that yes, I handled the ball. I am not a cheat and I never have been. It was an instinctive reaction to a ball that was coming extremely fast in a crowded penalty area."
Although claims and counterclaims were made about the possibility of a replay taking place, it never really seemed likely that FIFA would let it happen.
Six years later, it emerged that football's international governing body had handed over $5 million to the Football Association of Ireland two months after the play-off tie. The official word from FIFA was that the cash would help the FAI to pay off an outstanding loan for the construction of the Aviva Stadium, which was completed in 2010. Had Ireland qualified for the 2014 World Cup, the FAI would have been contractually obliged to pay the money back.
But the FAI's chief executive, John Delaney, told a very different story. In particular, he referenced a comment made by Sepp Blatter at a media event soon after the match. "They have asked, very humbly, 'Can't we be team no.33 at the World Cup?'" said the FIFA chief, almost mockingly, unable to contain a chuckle as he spoke. "They've asked for that – really..."
Speaking later about the $5m payment, Delaney explained: "We felt we had a legal case against FIFA because of how the World Cup play-off hadn't worked out for us, with the Henry handball. Also, the way Blatter behaved, having a snigger and a laugh at us... When I went in, I told him how I felt about him. There were some expletives used and we came to an agreement. It is a very good agreement for the FAI, and a very legitimate agreement for the FAI."
Delaney, who has often been a controversial figure in Irish football, also had another run-in with Blatter. "He met Emma, my partner, in Vienna," said Delaney. "He stared at her for seven or eight seconds and said, 'I approve of your new girlfriend'. I asked him to move on."
As for the players, Given also moved on. But he has never watched the game back in full.
FROM MARCH Delaney leaves role as FAI chief executive to take up vice-president position
"You do look back and think you missed out on a World Cup in South Africa," he laments. "Of course, we would have had to score again, or it could have gone to a penalty shootout.
"But you feel let down by the whole thing, and you feel for all the fans as well – some people spent a week's wages to go to that game. It was gut-wrenching to lose in that manner. I've never watched it. Never. I've seen the handball, because for about two years afterwards it was on every time you turned on the television. But I've never sat down and watched the game. It's hard to watch. You know how it ends."
Diarra is philosophical about the goal. "Qualifying like this wasn't ideal, but it's part of football," he tells us. "Diego Maradona, Luis Suarez... it's part of the game."
At least, it was part of the game. Calls for FIFA to introduce video reviews grew in volume in the aftermath of Henry's handball. No such measure was incorporated into the World Cup that Ireland missed out on, but the appeals intensified after Frank Lampard was denied a legitimate goal against Germany due to the lack of video technology, and FIFA gradually – eventually – introduced VAR.
OPINION 5 things the Premier League should do to improve VAR
For France, the play-off success over Ireland became a Pyrrhic victory. Les Bleus headed to South Africa as a side on the brink of implosion. When Anelka was sent home after a bust-up with the coach (reportedly telling Domenech, "Go f**k yourself, you son of a whore"), Evra led a players' strike prior to a training session before France's final group game.
"A lot of people have said it was bad karma, like something bad happened for them to get there, but then when they got there nothing seemed to go their way," adds Given. "There were arguments with the players, the manager and the fitness coach – every day, there was something going wrong.
MORE IRISH WORLD CUP WOE
Keane, McCarthy and a divided nation: Miguel Delaney on Ireland's 'Princess Diana moment' at World Cup 2002
"I'm not sure there is such a thing as karma, but some people say it does come around."
For the second major tournament in a row, Domenech's France took a single point from three games and finished last in their group. Such was the critical opprobrium back home, Domenech's three-year-old son asked upon his return, "Dad, are you going to prison?"
Not quite, although he was soon fired by the French Football Federation, who also chose to suspend the World Cup squad for Les Bleus' next match, a friendly against Norway. Anelka, Evra, Franck Ribery and Jeremy Toulalan were banned from the national team for their roles in what happened in South Africa.
As for Henry's handball, no sanction was ever meted out. The Barcelona forward had been referred to a FIFA disciplinary committee, who concluded that they had 'no legal foundation' to hand out a suspension.
One of the most infamous incidents in recent football history went without any punishment whatsoever. In Ireland, however, 'Le Hand of God' will never be forgotten.
Additional reporting: Fabien Fougeray
This article first appeared in the Autumn 2019 issue of FourFourTwo – buy it now for just £4.99 (opens in new tab)
While you're here, why not take advantage of our brilliant subscribers' offer? Get the game's greatest stories and best journalism direct to your door for only £9.50 every quarter (opens in new tab). Cheers!
NOW READ
INTERVIEW Louis Saha: Why I 'needed to leave' Manchester United after Champions League win
QUIZ Can you name every English scorer in the 2019/20 Premier League?
GUIDE Premier League live stream best VPN: how to watch every game from anywhere in the world
Thank you for reading 5 articles this month* Join now for unlimited access
Enjoy your first month for just £1 / $1 / €1
*Read 5 free articles per month without a subscription
Join now for unlimited access
Try first month for just £1 / $1 / €1
Get FourFourTwo Newsletter
The best features, fun and footballing quizzes, straight to your inbox every week.