What next for free agents Jack Wilshere and Danny Welbeck? Premier League talents should consider a Championship move
Neither player is yet 30, and both are without a club. What kind of deal should they be looking at next?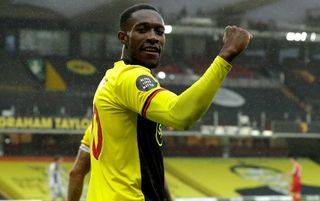 (Image credit: PA)
"We're in the market for a 28-year-old creative midfielder from Hitchin," tweeted Hitchin Town. Jack Wilshere, just released by West Ham, took it in good humour. Perhaps FC United of Manchester might advertise in similarly cheeky vein for a versatile 29-year-old forward from Longsight.
Like Wilshere, Danny Welbeck is newly without club. One or the other was in the England squad for every major tournament from Euro 2012 to the 2018 World Cup. It is safe to assume that neither will be in Gareth Southgate's group for the rearranged Euro 2020. Supposedly in their prime, they are, like all too many others, looking for new jobs.
SPECIAL OFFER Subscribe to FourFourTwo for just £9.99 a quarter
The temptation is to blame footballers for squandering their talent and their opportunities, as some have. But Wilshere and Welbeck seem luckless likeable lads, betrayed by their bodies rather than their own attitude. Their career choices could be questioned – was it really wise to join West Ham and Watford? – but fortune has not favoured either.
LATEST ISSUE
IN THE MAG Inside the new Manchester United, Pirlo the manager, Rush, Drogba, Bury, Belarus, latest signings and more
Their frail frames may deter potential suitors. Welbeck played 816 minutes in the Premier League last season, up from 148 in 2018/19. Wilshere mustered only 601 over two seasons at West Ham. Welbeck has played 20.3 per cent of possible minutes in the last five Premier League campaigns, Wilshere just 22.3 per cent in the last six years. Wilshere has one league goal in five seasons, Welbeck, from a more advanced role, only 18 in six.
They are not numbers their agents are likely to use to display their clients' merits. And yet their quality means their future is fascinating. They could have considerable appeal, but with a caveat: that any deal should shield their new employer from the danger of taking on an asset they cannot use. No club can repeat West Ham's mistake of giving Wilshere a £100,000-a-week deal, especially in the current climate.
Wilshere and Welbeck must be in the kind of fortunate position few others enjoy: of not needing the money. The midfielder's reported £3.3 million pay-off from West Ham should ensure that, but each has had much of a decade on supersized salaries. They ought to have the realism to recognise that either they should accept pay-as-you play deals, ones with a small basic salary or a combination; perhaps the pay-off could be a small release clause so that, if they prove their fitness, they are easy to acquire for anyone else.
Each offers intrigue. Proteges of Sir Alex Ferguson and Arsene Wenger could easily make for vanity signings for the sort of foreign leagues that double as retirement homes. Yet they also have the technique to tempt clubs in major European divisions; perhaps the less physical ones would also reduce their risk of injury.
Each has the ability to operate near the top of the Premier League, though it is a moot point if either needs further time as a squad player. Wilshere's most consistent football since 2010/11 came on loan at Bournemouth, a seeming demotion to one of the division's smallest clubs that proved beneficial. If finances are not the factor, there is a case for each to go to the Championship, in a move that could represent a loss leader.
Certainly it would be easier to parachute them into second-tier clubs' first teams and to build sides around them, to afford Wilshere special status as a playmaker and to turn Welbeck into a goalscorer and, in the process, to turn the season into an extended advertisement for their gifts. There are fewer vacancies at the higher level, where plenty of clubs already have too many players, even if there is an irony that West Ham released Wilshere when they are short of central midfielders.
But the prerequisite is to make themselves affordable. Becoming the sort of bargain when the buyer has to little to lose should be the first step to rebuilding careers that have been interrupted by injuries.
While you're here, why not subscribe to FourFourTwo? Just £9.99 every three months for 13 issues a year of the greatest football magazine in the world
ALSO READ
ON THE CHEAP The best free transfers Premier League clubs can still sign this summer
TACTICS Deadline day transfers: where will Premier League clubs' new signings fit in?
GUIDE Premier League live stream best VPN: how to watch every game from anywhere in the world
Thank you for reading 5 articles this month* Join now for unlimited access
Enjoy your first month for just £1 / $1 / €1
*Read 5 free articles per month without a subscription
Join now for unlimited access
Try first month for just £1 / $1 / €1
Get FourFourTwo Newsletter
The best features, fun and footballing quizzes, straight to your inbox every week.
Richard Jolly also writes for the National, the Guardian, the Observer, the Straits Times, the Independent, Sporting Life, Football 365 and the Blizzard. He has written for the FourFourTwo website since 2018 and for the magazine in the 1990s and the 2020s, but not in between. He has covered 1500+ games and remembers a disturbing number of the 0-0 draws.