Why Cesare Prandelli is the manager Tottenham have been looking for all along
Adam Digby on the man Spurs could appoint to displace Tim Sherwood at the end of the season...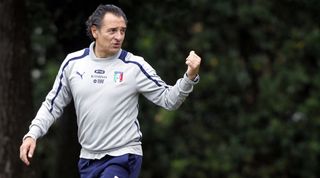 The strategy behind Tottenham's managerial appointments since the start of the Daniel Levy era is something of a Dr Jekyll and Mr Hyde plotline. Almost without exception, the Spurs chairman has gone from employing an insightful, studious thinker, to then replacing him with a member of what must politely be described as English football's 'old school'.
His first appointment saw Glenn Hoddle return to the club, who was then replaced by David Pleat. Then a whole new team – sporting director Frank Arnesen, manager Jacques Santini and assistant Martin Jol – were given free reign, only for Frenchman Santini to be gone by November. Jol stepped up before Juande Ramos took over and delivered the 2008 League Cup, the club's most recent trophy.
Famously, Tottenham were bottom of the league the following campaign when Harry Redknapp arrived to rescue them and banish the club's continental feel. Sporting director Damien Comolli had replaced Arnesen, but he too would be sacked as the former West Ham manager was given complete control of transfers.
After brief flirtation with the Champions League and countless transfers, Redknapp was replaced by Andre Villas-Boas, as Levy once again demonstrated a complete reversal of opinion. Narrowly missing out on a return to Europe's elite continental competition, Spurs sold Gareth Bale and invested millions in new players for the Portuguese, only to then sack him and hand the job to another former player in Tim Sherwood.
Hail Cesare
You can't have your cake and eat it, so we have long been told, but if the latest reports are true, Franco Baldini and Levy might be about to disprove the old idiom. Cesare Prandelli has been linked with the White Hart Lane job and speculation is increasing that the current Italy coach will arrive after the World Cup.
Initially it seems the 56-year-old is just a continuation of the pattern; yet another European tactician taking over from an Englishman as Tottenham lurch from one ideology to another. The truth, however, is very different, and the Azzurri chief could provide the club with the best of both worlds. His CV is as easily as impressive as those of Santini, Ramos and Villas-Boas, but there is also far more to Prandelli the man, than the list of his managerial accomplishments.
As a player he built his career carefully, starting out with Cremonese and then Atalanta, before arriving at Juventus as a reserve behind the great Michel Platini. He retired after 323 matches and began again, learning his managerial craft with the youth sector at Atalanta before moving on, first to Lecce and then Hellas Verona where he first came to the attention of a wider audience.
Lifting the Gialloblu to Serie A, he earned his chance at Parma and crafted a young squad which earned qualification to Europe. Next, Roma came calling, seeking a successor to Fabio Capello. Finally at a truly big club, we saw a first glimpse of the man now so greatly admired by almost all football fans on the peninsula. He walked away after just six weeks to take care of his gravely ill wife, Manuela.
That was back in 2004, and a year later he would feel up to working again, taking charge of Fiorentina and transforming the proud Tuscan side. Having endured a tough relegation battle, Prandelli's Viola would soon be competing in Europa League semi-finals and then the Champions League, becoming regulars in the upper echelons of Serie A.
By the time of Manuela's sad passing in 2008, Prandelli had built an extraordinary bond with the club and its fans, leading to an incredibly emotional minute's silence shortly after her funeral. He was named Serie A coach of the season in 2008 and would become the longest-serving coach in Fiorentina's history.
 
Azzurri glory
Then came his chance to lead the national team.
At that point, the Azzurri were at their lowest ebb for many years. The 2010 World Cup was an embarrassing failure, after previous successes had left an ageing squad with its few young players barely tested. If South Africa represented the death knell of the old Italy, Prandelli breathed life into the entire set-up, managing not only to restore faith in the players representing those famous blue shirts, but also to finally get the nation's fans behind the national team.
Abandoning Italy's stereotypical negative football, he filled the midfield with players who demanded the ball, and built his attack around Mario Balotelli and Giuseppe Rossi. These days Italy attack and enjoy doing so. They reached the final of Euro 2012, just two years after finishing bottom of a World Cup group containing New Zealand, Paraguay and Slovakia. Losing to Spain in the manner they did rightfully drew much praise, but Prandelli's team are much more than just a collection of fine players.
Instead, they are a shining example of what modern Italy can and should be. He has given them a sense of social responsibility, first by imposing a code of conduct that the players had to respect, and sticking to it firmly when the rules were broken by not selecting Balotelli and Daniele De Rossi. He has taken them to train on pitches seized from the local mafia, and to towns devastated by flooding or earthquakes. Amid the match-fixing scandal, Simone Farina – the one player who stood up and reported the bribery on offer – was invited to spend time with the squad.
Prandelli's rapport with his squad is superb, making each player feel valued, even those like Rossi coping with long-term injuries. He has proven himself able to reach difficult individuals, enjoying a relationship with Balotelli that not even Roberto Mancini could manage, and has been rewarded on the pitch. Super Mario's displays in the Azzurri shirt – particularly against Germany – are far better than anything he has shown at Manchester City, or even Milan. 
Prandelli is able to connect with players like Jol or Redknapp, while his résumé comfortably rivals that of Santini, Ramos or Villas-Boas, even before heading to Brazil this summer. His career in Italy – where transfers are routinely dealt with by sporting directors, with club presidents known to interfere in team matters – means the influence of Levy or Baldini on transfers or other issues would be nothing out of the ordinary.
In short, he looks like the man Spurs were looking for all along.
Quizzes, features and footballing fun
Get the best features, fun and footballing frolics straight to your inbox every week.
Thank you for signing up to Four Four Two. You will receive a verification email shortly.
There was a problem. Please refresh the page and try again.