Why does Romelu Lukaku still not get the credit he deserves?
The Manchester United striker's scoring record in big games is criticised, but his excellent and improving all-around contributions are underappreciated, writes Graham Ruthven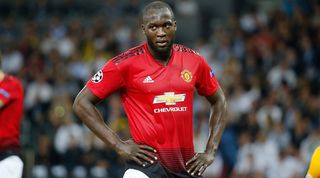 On the list of scorers who have bagged 100 or more Premier League goals, only four are still active. Jermain Defoe has 162, with Sergio Aguero ahead on 146 goals. Then there's Harry Kane on 110 and not far below him, with 105 goals to his name, is Romelu Lukaku. The 25-year-old Belgian is, at least by this measure, already a Premier League great.
Yet he still has doubters to win over. For some he's a flat-track bully; a goalscorer who only makes his mark against sides of a lower calibre. Others believe Lukaku's presence is a reflection of how far Manchester United, a club that has boasted some of the finest attackers of the Premier League era, have fallen from the top. Even those who recognise the Belgian's goalscoring prowess accuse him of being limited and one-dimensional.
But this is all extremely harsh on a player who is only getting better and better. Before this week's trip to Switzerland and Young Boys in the Champions League, Lukaku had scored seven goals in his last seven appearances for club and country. He has been red hot ever since the World Cup, when he scored four times on Belgium's run to the semi-finals.
A constant target
Despite this, Lukaku doesn't get the credit he deserves because so few, including his own manager at times, truly understand his game and what he brings to a team. He's much more than just a physical targetman or a six-yard-box poacher. Lukaku's track record is more often than not quantified purely by his scoring record, which certainly isn't bad, yet there's also a lack of appreciation when it comes to his wider skill set.
His performance against Young Boys in United's first Champions League game of the season illustrated this. The team display in Bern was patchy, but its best moments came in the counter-attacking assaults that United launched. The use of Anthony Martial and Marcus Rashford on the wings, with a resurgent Paul Pogba as a driving force through the centre of the pitch, allowed them to play in this way – but Lukaku was crucial as a spearhead.
United could never have played this way with Zlatan Ibrahimovic leading the line. For all the moments of brilliance that the Swede came up with during his time at Old Trafford, he slowed down United's attacking play and often operated with his back to goal. Mourinho has asked Lukaku to play in this way before, but the Belgian is at his irrepressible best when he's running towards goal at pace and disrupting defences.
In theory, Manchester United should be the perfect team for Lukaku; just one of the things that frustrates the United fans who believe Jose Mourinho should be getting more from his side. Flanked by the likes of Martial, Pogba, Rashford, Jesse Lingard and Alexis Sanchez, the Belgian has the ideal ecosystem to thrive.
Lukaku has previously claimed that he is Mourinho's "sergeant" on the pitch, and after a difficult relationship between the two at Chelsea, there is now a feeling that the Belgian is one of the few players at Old Trafford truly trusted by the United manager.
"I am very happy with something that represents for me the spirit of the team," said Mourinho after the 2-1 win over Watford this season, "which is Lukaku's sliding tackle after 50 metres running back to help the team." But while Mourinho might have faith in Lukaku, could the United manager do more to play to his striker's strengths by offering him better support in attack?
Value for money
Even with that caveat, Lukaku must go down as a successful signing for United. The £75m paid to sign him from Everton seemed like an inflated fee in 2017, but the market has altered even further in the 14 months since. On market value, Lukaku has proved himself to be well worth that kind of money, netting 20 goals in 39 Premier League starts and 31 goals in 57 appearances overall.
It's true that he could improve his scoring record on the big occasions, but his record against the Premier League top six and in Champions League knockout ties since the start of last season isn't much worse than some of his peers. Take Sergio Aguero, who has four goals in such games compared to Lukaku's three. Harry Kane's big-game record isn't much better either, with five goals in fixtures against the top six and knockout Champions League matches last season.
Lukaku's performances in the World Cup also exposed criticism of his big-game record as largely unfair, despite the fact he only netted in the group games against Panama and Tunisia. In the last-16 tussle with Japan, when Belgium looked to be crashing out of the tournament, Lukaku was the player who took a grip of the game, with his run and shrewd stepover creating the match-winning goal in stoppage time.
This, once more, demonstrated the depth and breadth of the striker's game – as did his dynamic display in Belgium's quarter-final win over Brazil. He's not just a goalscorer, but a frontline facilitator too.
There was also a game against Chelsea last season which also went some way to answering Lukaku's critics. With United's top-four chances seemingly on the line, the visitors to Old Trafford took a first-half lead. Lukaku scored an equaliser and then contributed an excellent assist to flip the script, keeping his team's season on track. A few more performances like that would surely dispel any lingering doubts that some may still have, and must be among the forward's personal objectives this season.
Having turned 25 in May, Lukaku still has time to grow and develop, but he has already flourished into a player few are willing to give him credit for. Some doubted whether he could carry over his Everton form to a club like Manchester United. He did. Others questioned whether he could win over Mourinho. He has. There's no reason to doubt that he will continue to work on and eliminate his deficiencies as a player, as overblown as they often are.
Thank you for reading 5 articles this month* Join now for unlimited access
Enjoy your first month for just £1 / $1 / €1
*Read 5 free articles per month without a subscription
Join now for unlimited access
Try first month for just £1 / $1 / €1
Get FourFourTwo Newsletter
The best features, fun and footballing quizzes, straight to your inbox every week.