Ancelotti: We move forward with or without Kaka
MILAN - AC Milan will move forward whether they keep hold of Kaka or not, coach Carlo Ancelotti said on Friday.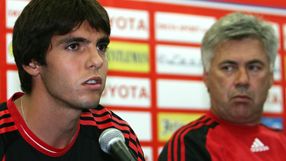 Manchester City are talking to Milan about a possible deal and media reports say the Premier League club have bid at least 100 million euros ($133 million) for the Brazilian.
Local media reports said dozens of Milan fans outside the club's city centre headquarters held up banners and shouted slogans in a protest against the possible sale of the playmaker.
"Talks are happening. I hope I can coach him for the long term. But if he leaves our objectives do not change," Ancelotti told a news conference. "Our squad remains competitive even if we must lose a great player."
Kaka said earlier this week he wanted to "grow old" at Milan but City have sounded confident that they can persuade the Serie A club to sell the 26-year-old.
"It is a decision that will have to be made by the club together with the player," Ancelotti added before naming Kaka in his squad for Saturday's home match with Fiorentina.
"The club is considering the offer that has been presented. It is normal that great importance is attached to him given the role he has at Milan."
Milan chief executive Adriano Galliani met City officials to discuss Kaka's future on Tuesday and media speculation has since gone into overdrive despite no outcome to the talks.
City, in the bottom of half of the Premier League and with very limited pedigree in England let alone Europe, are the richest club in the world after being taken over by the Abu Dhabi United Group.
Ancelotti said they deserved to bid for the world's top players as much as anyone else.
"You couldn't imagine it 20 years ago. Big investors are entering football and therefore it is normal and correct to consider (the bid)," he said.
Milan finished fifth in Serie A last season meaning Kaka, signed from Sao Paulo in 2003, is not playing in the Champions League this term having inspired the Rossoneri to the trophy in 2007.
"We must get back into the Champions League and win the UEFA Cup," added Ancelotti, whose side are third in Serie A.
Thank you for reading 5 articles this month* Join now for unlimited access
Enjoy your first month for just £1 / $1 / €1
*Read 5 free articles per month without a subscription
Join now for unlimited access
Try first month for just £1 / $1 / €1