Costa's Atletico return: Bonucci v Allegri, Beckham v Ferguson and more famous player-manager bust-ups
As Diego Costa prepares to leave Chelsea, we look at his falling-out with Antonio Conte amid other major player versus coach rows.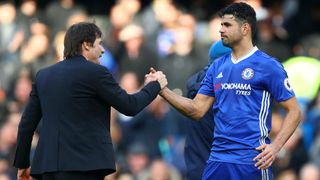 Diego Costa's impending return to Atletico Madrid has been confirmed and, for Chelsea head coach Antonio Conte, it has been a long time coming.
Speaking during pre-season, Conte claimed the matter of Costa's future had been "very clear" since January.
This was when speculation over a possible move to the Chinese Super League surfaced and, although Conte temporarily buried the hatchet, this can now be interpreted as a pragmatic call made to keep the Blues' successful title tilt on track.
But Costa and Conte are far from the only major names to have shown how strained relations can come between the stars of the dressing room and the man calling the shots.
MASSIMILIANO ALLEGRI v LEONARDO BONUCCI (17/02/2017)
Allegri has always had something of a temper but problems with Bonucci reached boiling point after Juventus beat Palermo in February.
Despite the Serie A champions boasting a comfortable 4-1 advantage in the closing stages, Bonucci appeared unhappy with some of the late changes his head coach was making.
The spat continued after the final whistle and television cameras picked up Allegri telling the centre-back: "Shut up, d*** head! F*** off!".
Allegri dismissed it as "a misunderstanding" but Bonucci was dropped from the squad for a subsequent Champions League clash with Porto.
The Italy international joined AC Milan in a shock €42million deal in July and later revealed the argument was "the final straw" in a long-running disagreement.
ANTONIO CONTE v DIEGO COSTA (14/01/2017)
Conte's decision to send a text message to Costa telling him he could leave Chelsea might have riled the striker in June but, in truth, their relationship soured permanently in January.
The Spain international reportedly had a heated argument with Conte and a fitness coach during training ahead of a Premier League match with Leicester City.
Conte – who is said to have shouted "go to China!" in reference to interest in Costa from Chinese Super League clubs – dropped him from the squad, citing a back problem, but the 28-year-old claimed last month the decision was "punishment" for his behaviour.
Costa also claimed Conte stopped the club offering him a new deal, and the Blues boss later admitted his mind was made up then that the former Atletico man would have no long-term place in his plans.
The striker recalled the incident in an explosive interview with The Daily Mail during his self-imposed exile in Brazil and accused Chelsea of treating him "like a criminal". The fact that Conte laughed off the comment suggests the pair are unlikely to make up soon.
Diego Costa: treated me like 'a criminal'Antonio Conte:The boss could not help but laugh at the striker's claims. August 18, 2017
ALEX FERGUSON v DAVID BECKHAM (16/02/2003)
Arguably the most infamous 'hairdryer treatment' of any Manchester United player by Ferguson involved Beckham in 2003.
The United manager gave Beckham and his team-mates a dressing-down in the wake of a 2-0 FA Cup exit at the hands of Arsenal – no great surprise in itself from the greatest manager in the club's history.
It was the following day that headlines were made, though, when Beckham was seen nursing a cut above his eye that was attributed to a boot Ferguson had kicked in his direction.
In his autobiography released in 2013, the Scot explained he accidentally kicked a row of boots between him and Beckham, causing one to find its mark. The midfielder promptly rose to his feet in fury and had to be calmed by team-mates.
"The next day, the story was in the press," Ferguson said. "In public, an Alice band highlighted the damage inflicted by the boot. It was in those days that I told the board David had to go."
Beckham was sold to Real Madrid at the end of the season but retains huge affection for his old manager.
ROBERTO MANCINI v CARLOS TEVEZ (27/09/2011)
Argentina forward Tevez enjoyed a prolonged and prolific run of superb form after Mancini succeeded Mark Hughes as Manchester City manager in late 2009, but the pair rarely seemed to see eye-to-eye.
A mid-season transfer request in 2010-11 was withdrawn only for Tevez to voice further disquiet over his future at the end of the season. To an extent, City called his bluff by making his compatriot Sergio Aguero their record signing and largely reducing Tevez to the role of substitute.
It was on the bench, during a 2-0 Champions League defeat at Bayern Munich, that Tevez and Mancini's relationship broke down entirely. The striker, slumped in his seat, claimed a misunderstanding, while Mancini was adamant he had refused to warm-up and come on. "If I have my way, he will be out. He is finished," the Italian said.
A prolonged period of gardening leave in Argentina followed for Tevez before a return to Manchester and an apology the next February. He joined forces with Aguero over the closing weeks of the season to help City secure their first league title for 44 years. Both the player and Mancini would be gone a year down the line after a fractured defence of their Premier League crown.
RUUD GULLIT v ALAN SHEARER (25/08/1999)
One sure-fire way to antagonise your club is to pick a fight with their best player and local hero.
That's just what Gullit did in August 1999, a year on from being handed the Newcastle United job at the age of just 37.
The former Netherlands star dropped Shearer and strike-partner Duncan Ferguson for a derby match with Sunderland, which the Magpies promptly lost 2-1.
Some years later, Shearer revealed he and Ferguson went separately to see Gullit the next day and "give him what for" over the decision.
Gullit left his post just three days later, while Shearer went on to score a record 260 Premier League goals before retiring in 2006. The two are friends today, though.
DELIO ROSSI v ADEM LJAJIC (02/05/2012)
The most violent of the confrontations in our list saw then-Fiorentina head coach Rossi strike Ljajic in an incredible pitch-side brawl.
Rossi was sacked days later after climbing into the dug-out, grabbing Ljajic by the throat and hitting him before being separated by staff and substitutes.
Ljajic had applauded his coach sarcastically after being substituted during the match – a 2-2 Serie A draw with Novara – and, according to Rossi, aimed a hugely offensive insult to him in Serbian.
Rossi accepted he was in the wrong after being fired and Ljajic declined to press charges. He spent a further year at the club before signing for Roma.
Quizzes, features and footballing fun
Get the best features, fun and footballing frolics straight to your inbox every week.
Thank you for signing up to Four Four Two. You will receive a verification email shortly.
There was a problem. Please refresh the page and try again.