England's Eric Dier: Fans should be able to enjoy World Cup 'with or without alcohol'
England defender Eric Dier says fans should be able to enjoy World Cup, despite a last-minute alcohol ban in stadiums at Qatar 2022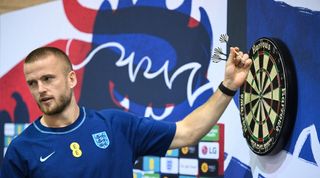 (Image credit: Getty Images)
England defender Eric Dier says fans should be able to enjoy themselves at the World Cup 'with or without alcohol' after FIFA announced a last-minute booze ban at Qatar 2022 stadiums.
It had been agreed that alcohol could be served at select areas in stadiums during the tournament, but FIFA changed those plans on the eve of the competition.
Alcohol sale is strictly controlled in Qatar and will now only be available in corporate areas inside the stadiums.
"I'd like to think you can enjoy yourself with or without alcohol," Dier said at a press conference on Saturday.
"It's up to us as a team and every team in the tournament to bring great football, exciting football and that's what is going to create a great atmosphere in the stadiums."
And he added: "Players and fans feed off each other and we need to be the ones to initiate that with good football.
"The football is the fundamental thing in creating that environment."
Earlier on Saturday, FIFA president Gianni Infantino was asked about the alcohol ban following his opening address in Doha.
"I think if, for three or four hours a day, you cannot drink a beer, you will survive," he said.
Thank you for reading 5 articles this month* Join now for unlimited access
Enjoy your first month for just £1 / $1 / €1
*Read 5 free articles per month without a subscription
Join now for unlimited access
Try first month for just £1 / $1 / €1
Ben Hayward is Weekend Editor for FourFourTwo. A European football writer with over 15 years' experience, he has covered games all over the world - including three World Cups, several Champions League finals, Euros, Copa América - and has spent much of that time in Spain. He currently divides his time between Barcelona and London.