FIFA starts disciplinary proceedings against Mexico and Ecuador over offensive fan chants at World Cup
Both nations' federations could face sanctions following fan behaviour in the opening games of World Cup 2022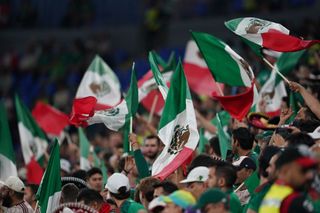 (Image credit: Getty Images)
Ecuador and Mexico are facing disciplinary action from FIFA, after their fans allegedly sung homophobic chants during the two nations' opening World Cup 2022 matches.
While beating hosts Qatar 2-0 in the opening match of the tournament, Ecuador fans were reportedly chanting homophobic chants aimed at Chilean people. Prior to World Cup 2022 kicking off, Chile's FA appealed the eligibility of Ecuador defender Byron Castillo, claiming he is Colombian playing under a false age.
Chile attempted to have Ecuador removed from the World Cup, but, in June, FIFA ruled Castillo was eligible to play for Ecuador.
FIFA disciplinary committee didn't give details about Mexico's chanting during their 0-0 draw with Poland on Tuesday.
In recent years Mexican fans have repeatedly chanted an offensive slur for a male prostitute, often directed at goalkeepers during matches. Indeed, the Mexican Football Federation has received twelve total sanctions related to this particular chant in previous years - two warnings and ten fines.
As a result, Mexico have had to play home matches behind closed doors.
FIFA said in a statement on Wednesday: "The FIFA Disciplinary Committee has opened proceedings against the Mexican Football Association due to chants by Mexican supporters during the Mexico v. Poland FIFA World Cup match played on 22 November.
"The proceedings were opened on the basis of article 13 of the FIFA Disciplinary Code."
Potential sanctions of breaking article 13 of FIFA's disciplinary code could include playing a game behind closed doors or a ban from certain stadiums.
Ecuador will face the Netherlands in their next group match on Friday, while Mexico are up against Argentina on Saturday.
Thank you for reading 5 articles this month* Join now for unlimited access
Enjoy your first month for just £1 / $1 / €1
*Read 5 free articles per month without a subscription
Join now for unlimited access
Try first month for just £1 / $1 / €1