Given seeking fresh challenge at Man City
Newcastle United boss Joe Kinnear has revealed that goalkeeper Shay Given is seeking a move to Manchester City.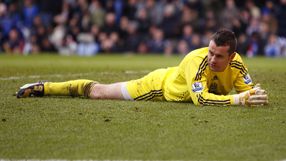 The 32-year-old has been not been included in the Magpies' squad to face City on Wednesday evening, with the glove-man expected to link up with Mark Hughes's side before the transfer window closes.
"I have bent over backwards to keep him, I've tried to make him stay," Kinnear told the Evening Chronicle. "He wants a new challenge and he wants to speak to Manchester City. He's done 11 years here and I think he wants a new challenge.

"I left Shay with owner Mike Ashley, club managing director Derek Llambias and Given's lawyer Michael Kennedy, and the talks went on for a few hours. It's out of my hands and I am still waiting for the final outcome.

"I would be heartbroken to see him go because he is one of the best keepers in the world. But Man City keep banging on the door to talk to him."
Earlier, Newcastle owner Mike Ashley had reportedly told the Irishman he wouldn''t be joining Manchester City unless the Eastlands outfit increased their most recent offer of £5 million.
Newcastle are thought to be demanding a fee similar to that paid by City for Craig Bellamy and Wayne Bridge - who cost £14m and £12m respectively - taking advantage of the mass wealth currently at the Blues''s disposal.
Meanwhile, the FA has fined Newcastle gaffer Joe Kinnear £500 after he described referee Martin Atkinson as a "Mickey mouse referee" following his side's 2-1 defeat to Fulham in November.
Kinnear is facing a seperate improper conduct charge after a touchline clash with Hull boss Phil Brown during an FA Cup Third Round replay on January 14, with both managers being sent to the stands by, referee, Phil Dowd.
However, the United manager was found not guilty of using abusive and insulting words towards a match official during his team's 2-2 draw with Stoke in December. The FA claimed that it could not be proved.
NEWCASTLE FANS! Check FourFourTwo.com's ever-expandinginterviews archivefor more stuff to read:
Web Exclusives Les Ferdinand
Q&A Joey Barton
One on One Michael Owen, Kevin Keegan, Les Ferdinand, Faustino Asprilla
Boy's A Bit Special Steven Taylor, Danny Guthrie
Ask A Silly Question John Barnes
Perfect XI Ruud Gullit
What Happened Next? Tony Cunningham
My Secret Vice Nolberto Solano, Sam Allardyce

Plus! Rate Newcastle players (and others) on Talentspotter (opens in new tab)
Thank you for reading 5 articles this month* Join now for unlimited access
Enjoy your first month for just £1 / $1 / €1
*Read 5 free articles per month without a subscription
Join now for unlimited access
Try first month for just £1 / $1 / €1