Premier League fixtures 2023/24: Who will be the first visitors to Luton's famous Kenilworth Road?
The Premier League fixtures are out, and Luton have learned their first home opponents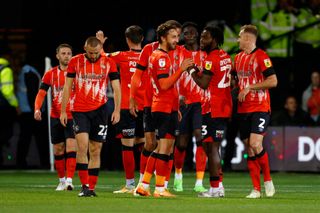 (Image credit: Getty Images)
The Premier League fixtures for the 2023/24 season have been released, and Luton Town have found out the first team they'll play at Kenilworth Road on their return to the top flight of English football.
Luton have had to spend over £10m this summer on renovating their home ground in order to get it up to Premier League regulation standard, with the famous stadium set to host the likes of Erling Haaland, Mohammed Salah and Harry Kane for the upcoming campaign.
Hatters fans are understandably full of excitement at the prospect of hosting the biggest names in football once again, especially at a ground that has become synonymous for its away end entrance.
But who will be the first visitors to Kenilworth Road to play Luton Town? FourFourTwo details their opponents below.
Who will be the first visitors to Kenilworth Road to play Luton Town?
Opening their season with an away trip to the Amex Stadium to face Brighton and Hove Albion on Saturday 12 August, Luton then return to Kenilworth Road a week later.
However, the first away side will be familiar with the surroundings, with Burnley making the first trip to Bedfordshire to face the Hatters. The pair were both in the Championship together last season, with Vincent Kompany's side nicking the three points at Kenilworth Road from an Ashley Barnes penalty, after Tom Lockyer was sent off for Luton.
Following Burnley's visit, Luton will then welcome West Ham United and Wolves before the first set of superstars roll into town in the shape of Tottenham Hotspur, on October 7.
From thereafter the big games keep coming, with Liverpool, Crystal Palace, Arsenal, Manchester City, Newcastle United and Chelsea all the away side and one after another in November and December. Indeed, just four days after playing Arsenal at home, Manchester City will roll into town as their next opponents.
The second half of the campaign at home might favour them better, though, with Brighton and Hove Albion followed by Sheffield United, Manchester United, Aston Villa and Nottingham Forest.
Once April and the business end of the season hits, Luton have four home games, against: Bournemouth, Brentford, Everton and a final day clash against Fulham. Those fixtures could prove crucial if they are to retain their Premier League status.
Luton Town 2023/24 home fixtures at Kenilworth Road
Burnley, August 19
West Ham, September 2
Wolves, September 23
Tottenham, October 7
Liverpool, November 4
Crystal Palace, November 25
Arsenal, December 5
Manchester City, December 9
Newcastle, December 23
Chelsea, December 30
Brighton, January 30
Sheffield United, February 10
Manchester United, February 17
Aston Villa, March 2
Nottingham Forest, March 16
Bournemouth, April 6
Brentford, April 20
Everton, May 4
Fulham, May 19
Thank you for reading 5 articles this month* Join now for unlimited access
Enjoy your first month for just £1 / $1 / €1
*Read 5 free articles per month without a subscription
Join now for unlimited access
Try first month for just £1 / $1 / €1