Supercomputer predicts Manchester City to walk the Champions League, en route to potentially historic treble
Manchester City have been tipped by a supercomputer to finally conquer the Champions League: you're welcome, Pep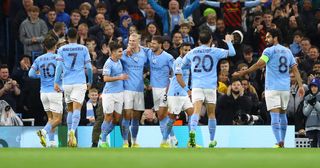 (Image credit: Michael Steele/Getty Images)
Manchester City will beat Bayern Munich in the Champions League quarter-final before disposing of Real Madrid and Napoli to lift the trophy.
That's the prediction made by a supercomputer, which reckons that the Citizens have this one in the bag. City have faltered every season under Pep Guardiola but will come up trumps this time around, with Chelsea getting knocked out of the last eight.
BonusCodeBets conducted the experiment – and it's good news for City, who are also still in the FA Cup and within touching distance of Arsenal in the Premier League.
Manchester City will win the Champions League, according to the supercomputer
In fact, Manchester City will face off against Napoli in Istanbul this summer.
There's set to be a rematch between City and Real Madrid – a repeat of the semi last season – though this time, the Premier League champions will hold on against the La Liga title holders. Wow, signing Erling Haaland really does make all the difference, doesn't it?
A BonusCodeBets spokesperson said: "Pep Guardiola will be delighted to see that Manchester City are predicted to win the Champions League, despite facing European giants along the way.
"With Arsenal's draw to Liverpool on Sunday, Manchester City now have the Premier League title in their hands if they win every game until the end of the season, which is a 14-game win streak which the Citizens managed before in 2018/19.
"With Sheffield United in the FA Cup semi-finals, they have a very good chance to make it to the final and will have one of their best chances of completing the treble."
No team has managed to win the treble in English football since Manchester United in 1999. They, too, are on for a treble, having won the League Cup already ahead of a quarter-final in the Europa League and, like their city rivals, a semi in the FA Cup.
Thank you for reading 5 articles this month* Join now for unlimited access
Enjoy your first month for just £1 / $1 / €1
*Read 5 free articles per month without a subscription
Join now for unlimited access
Try first month for just £1 / $1 / €1