Wembley to host 2011 Champions League final
LONDON - London's Wembley Stadium will host the Champions League final in 2011, European football's governing body UEFA said on Thursday.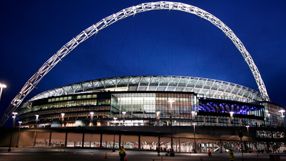 The 2012 final will be held at Munich's Allianz Arena, UEFA said in a statement.
Last year Wembley lost out on a bid to host the 2010 final after the British government was unable to provide assurance that players competing in the final would not be taxed. UEFA officials have told Reuters that issue has since been resolved.
"This is fantastic news for London and the UK and is acknowledgement of Wembley's ranking alongside the very best of football stadiums in the world," FA chairman David Triesman told the English game's governing body's website.
The German football association (DFB) said that as host of the 2012 final, Munich and the wider region could expect revenues from 50 million euros to 100 million euros ($65-130 million) according to UEFA estimates for the week leading up to the final.
The final of the 2011 Europa League -- as the UEFA Cup will be renamed from next season -- will be held at Lansdowne Road in Dublin, while Bucharest's National Stadium will host the final the following year.
"This is a magic day. It is probably our greatest achievement in football off the pitch," John Delaney, chief executive of the Football Association of Ireland (FAI) told Reuters.
"It will bring much-needed revenue of over 100 million euros to the local economy and boost out standing in international football."
It will be the first time the European Cup final has been staged in London since 1992 when Barcelona met Sampdoria at the old Wembley Stadium, and a record sixth time that the ground has been used to stage the finale.
It first staged the event in 1963 with AC Milan beating Benfica 2-1. Manchester United then defeated Benfica 4-1 after extra time in 1968, before Ajax beat Panathinaikos 2-0 in 1971, Liverpool defeated Club Brugge 1-0 in 1978 and Barcelona toppled Sampdoria by the same score-line in 1992.
Old Trafford, home of reigning English and European champions Manchester United, staged the final in 2003, when AC Milan beat Juventus on penalties after a goalless draw between the two Italian sides.
This year's Champions League final will be held at Rome's Stadio Olimpico, while Madrid's Bernabeu will host the 2010 edition. The UEFA Cup final in May will be in Istanbul and next year's will be in Hamburg, Germany.
Thank you for reading 5 articles this month* Join now for unlimited access
Enjoy your first month for just £1 / $1 / €1
*Read 5 free articles per month without a subscription
Join now for unlimited access
Try first month for just £1 / $1 / €1