World Cup 2022: Alex Scott protests FIFA armband decision live on the BBC
BBC pundit Alex Scott has taken to wearing the OneLove armband live on BBC One in the absence of Harry Kane doing so at World Cup 2022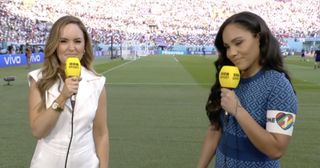 (Image credit: BBC One)
BBC pundit Alex Scott has protested the decision for England not to wear the OneLove armband at World Cup 2022 – by doing so herself.
Scott is pitchside at the Khalifa International Stadium in Al Rayyan for the corporation, as England take on Iran in their opening match of the tournament. Despite this, the build-up has been overshadowed today by the talk of the armband.
Captain Harry Kane was originally set to wear the armband, which represents equality but this morning, the decision was taken not to make the gesture – since Kane would be carded.
Instead of Kane wearing it, Scott has worn the armband pitchside in the build-up.
It's unknown as of yet as to whether the armband that Scott is wearing is the same one that Kane was set to wear for England. It could be that she received it from the team ahead of kick-off.
"We are very frustrated by the FIFA decision, which we believe is unprecedented," the statement read this morning backing down from wearing the armband. "FIFA has been very clear that it will impose sporting sanctions if our captains wear the armbands on the field of play."
"We were prepared to pay fines that would normally apply to breaches of kit regulations and had a strong commitment to wearing the armband. However, we cannot put our players in the situation where they might be booked, or even forced to leave the field of play."
Thank you for reading 5 articles this month* Join now for unlimited access
Enjoy your first month for just £1 / $1 / €1
*Read 5 free articles per month without a subscription
Join now for unlimited access
Try first month for just £1 / $1 / €1