World Cup 2022: Rainbows dominate stadium ahead of Wales vs Iran
Organisers of the World Cup 2022 initially issued a ban on rainbow symbols inside grounds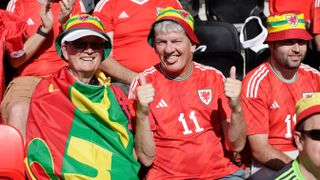 (Image credit: Getty)
Rainbows have been one of the surprise talking points at the World Cup 2022 following the decision from organisers to ban the symbol from inside stadiums.
Fans had their rainbow flags and hats confiscated on their way into grounds ahead of games, while captains of several nations were threatened with sanctions if they dared wear armbands sporting the image.
FIFA announced a u-turn on the outlawing of rainbow insignia on Thursday, yet debate rages over whether or not security will actually permit fans to bring rainbow themed items into games.
Turns out rainbows actually are allowed inside stadiums at #Qatar2022 🌈😉#WALIRN pic.twitter.com/rWIjyMLeLKNovember 25, 2022
Yet there were plenty of rainbows on show ahead of Wales vs Iran, the second Group B fixture for both nations. That's because the sunny weather and the stadium's sprinkler system combined, ahead of kick-off, to produce a stunning array of rainbows across the field.
Fans took to social media to declare the phenomenon a spiritual message at a tournament plagued by arguments over LGBTQ+ rights and statewide censorship.
Others have hit back, declaring it nothing more than sun and water. Whatever stance you take, it's hard not to see the poignant side.
Thank you for reading 5 articles this month* Join now for unlimited access
Enjoy your first month for just £1 / $1 / €1
*Read 5 free articles per month without a subscription
Join now for unlimited access
Try first month for just £1 / $1 / €1