Are the World Cup 2022 stadiums air-conditioned?
Qatar promised to deliver air-conditioned stadiums as part of their bid to host the tournament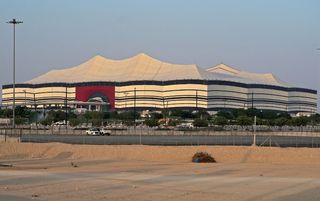 (Image credit: Getty)
There have been many criticisms levelled at FIFA over the decision to let Qatar (opens in new tab) host the World Cup.
There was a sense of shock and disbelief amongst the wider public when the outcome of the vote was announced at a meeting in Zurich in December 2010.
Beyond allegations of corruption, the appalling treatment of migrant workers and LGBTQ+ people, there were major practical issues too.
Not only did Qatar have little football pedigree or infrastructure, but its swelteringly hot summers also offered cause for concern.
The World Cup typically takes place in June and July where average temperatures of around 36°C could be dangerous for players, staff and supporters.
As part of their bid, Qatar outlined their intention to build eight air-conditioned World Cup stadiums that would enable games to go ahead as planned.
In March 2015, the FIFA Executive Committee announced that the tournament would be moved to November and December 2022 instead to mitigate the problem.
A statement was issued by the Supreme Committee for Delivery and Legacy in response to the announcement.
It read: "We welcome the decision of FIFA's Executive Committee in relation to the timing of the 2022 World Cup in Qatar. We are satisfied the process has reached its conclusion.
"Regardless of the change in dates, we will continue to develop the cooling technology promised during the bid, ensuring our commitment to deliver a true legacy as a result of the first World Cup in the Middle East remains."
Different cooling technologies have been implemented across the eight stadiums that will be used in the tournament.
The process was overseen by Dr Saud Abdulaziz Abdul Ghani, a professor at Qatar University, who claims that they will be cooled to between 18 and 24°C.
The tournament gets underway with a match between the hosts and Ecuador (opens in new tab) at the Al Bayt Stadium on November 20.
Thank you for reading 5 articles this month* Join now for unlimited access
Enjoy your first month for just £1 / $1 / €1
*Read 5 free articles per month without a subscription
Join now for unlimited access
Try first month for just £1 / $1 / €1