7 players who could sink under Mourinho... and 6 who'll thrive
Jose's brand of faster attacking football won't suit every member of a squad assembled by the possession-obsessed Louis van Gaal, writes Alex Keble. And you can have your say too...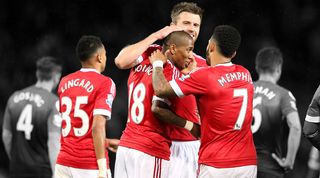 There is a pleasing Hollywood grandeur to the way in which both Jose Mourinho and Pep Guardiola have finally – after years of speculation – converged in Manchester. Arriving at the same time and in the same city, their rivalry has been reignited at clubs in almost symmetrical situations; both have depleted squads, and both have virtually unlimited transfer budgets.
But while Guardiola embarks on a summer of intense tactical reprogramming, Mourinho may find that this Manchester United group are surprisingly well prepared for his brand of swift counter-attacking football.
Mourinho is often regarding as a purely negative tactician, but his achievements at Chelsea and Real Madrid clearly reject this notion; his incisive counter-attacking style is more closely aligned with United's attacking traditions than many have assumed, which should favour the younger players in the side.
However, the tactical shift won't necessarily dictate which players flourish and which flounder. Mourinho expects the character that Louis van Gaal attempted to build, which means that many of United's recent signings could have a bright future under the Portuguese coach.
Juan Mata
The most obvious loser is United's Spanish playmaker, who left Chelsea just six months into the Mourinho regime after starting 11 matches in the 2013/14 season. Mata was singled out for criticism in September 2013 for not working hard enough defensively; as Eden Hazard will attest, Mourinho will punish any attacker unwilling to follow orders and track back.
Counterintuitively, Mata's best performances for United this season act as further evidence that he will not be wanted by the new manager; the Spaniard has been most effective when cutting infield from the right flank to become a floating playmaker, but this sort of positional drifting would infuriate Jose.
Ashley Young
There's little chance Mourinho will trust Young as a full-back, although on the bright side he won't trust him as a backup striker, either. Young's continued presence in the United first team was largely because Van Gaal had left himself with few other options, although the speed with which Young adapted to new positions suggests intelligence and discipline. This could save him, but the fact he's now 30 and among the least effective wingers at the club means it probably won't.
Bastian Schweinsteiger
The German has endured a difficult time in England. Slowed by persistent injury, Schweinsteiger has failed to adapt to the speed and intensity of English football; given that Mourinho lost his job in December thanks largely to the tepid performances of his central midfielders, he will have little time for meandering players who are past their peak.
Michael Carrick
Although his intelligence and leadership will earn him the respect of the incoming manager, Carrick's low-tempo, elegant passing style is not suited to the furious, blood-and-thunder tactics set to be instigated at Old Trafford.
Traditionally, Mourinho has played a powerful defensive midfielder alongside a more energetic, box-to-box presser at the base of midfield, and unfortunately Carrick is somewhere in between the two. At 34, he may be better suited to a coaching role at United soon.
Cameron Borthwick-Jackson, Timothy Fosu-Mensah & Guillermo Varela
Van Gaal handed 14 academy players their United debut while in charge of the club, but most won't feature again under Mourinho. Unlike Van Gaal, Jose holds the Machiavellian belief that a team should try to win at all costs; the ultimate pragmatist, he rarely nurtures for the future or broadens his perspective beyond the next match and the next three points.
Borthwick-Jackson has impressed the most of these three youngsters, but Mourinho likes to keep his back four consistent and indulges in minimal squad rotation. Luke Shaw will hold down the left-back spot long-term, leaving Borthwick-Jackson – along with Fosu-Mensah and Varela – to likely stagnate in the reserves.
Memphis Depay
At 22 years old and enduring his first season outside of his native Netherlands, it shouldn't have come as too much of a surprise that Depay didn't perform well in 2015/16. It's certainly far too early to write him off as a flop.
Van Gaal's low-tempo, possession-centric football does not suit explosive wingers because – as the opposition sit back and await the onslaught – they're not afforded room on the flanks to take on their opponents. In fact, Van Gaal reportedly told his wingers to always wait for the overlapping full-back instead of attempting to take on their man; it is no surprise that so many of United's young attacking players simply stopped listening to his instructions towards the end.
Mourinho, on the other hand, is the master of sharp and exciting counter-attacking football and, unlike Van Gaal (who once told journalists that he "does not want players to be intuitive"), the new manager will give much greater freedom to his attackers in the final third. As they pounce forward on the counter-attack in 4-3-3 formation, Depay's speed and trickery should flourish.
Anthony Martial
Like Cristiano Ronaldo at Real Madrid, Martial loves to cut inside and drive fearlessly at the heart of defence, which will undoubtedly impress Mourinho. As above, it's easy to envisage Manchester United counter-attacking menacingly via Martial and Depay. These two forwards were signed to conform to the ideology of Alex Ferguson-era United, and under Mourinho they will finally find the space, freedom, and managerial encouragement to take people on and conjure chances from the byline.
Morgan Schneiderlin
Schneiderlin should fit the industrious midfield orchestrator role that Mourinho has employed throughout much of the last decade. Similar to Sami Khedira or Nemanja Matic, the France international combines an assured passing range with a strong defensive instinct.
He averaged 2.7 tackles and 2.3 interceptions per game in 2015/16, only marginally lower than Matic's figures (3.6 tackles, 2.0 interceptions) in Chelsea's title-winning campaign. Schneiderlin may not have performed as competently as many United fans had hoped, but he was often part of a disorganised midfield trio and in a side that – venturing forward in small numbers – rarely provided him with the opportunity to show off his defensive skills.
Wayne Rooney
Mourinho is famously a fan of Rooney and will embrace the England captain's preference for an attacking midfield role. Mourinho expects his AMCs to work hard when the opponent has the ball, and to weave between the lines to create passing options during periods of sustained possession.
Rooney fits this description, and his recent tendency to switch the play with superb crossfield passes will be useful in sweeping the ball to the flanks as United look to counter. He should fill the same role Cesc Fabregas did during the early months of Mourinho's second spell at Chelsea.
Marouane Fellaini
A surprise Mourinho favourite could be the Belgian giant, who was frequently picked by Van Gaal because he followed instructions to the letter. In games against bigger teams, and when looking to grind out a win with 20 minutes remaining (or go Route One for a winner), Fellaini is the kind of player Mourinho might come to rely upon.
Fellaini's power in the air helped to create Mata's FA Cup final equaliser
Marcus Rashford
A world-renowned centre-forward is Mourinho's top priority, but this could help rather than hinder Rashford's development. Teenager Rashford, who might become burned out if relied upon week after week, could learn an awful lot from watching Zlatan Ibrahimovic, for example.
Rashford's calm distribution when dropping off the frontline and clever runs into the channels are in the mould of a classic Mourinho centre-forward; with an arm around the shoulder, he should progress nicely as United's backup striker next season.
Now your turn
Quizzes, features and footballing fun
Get the best features, fun and footballing frolics straight to your inbox every week.
Thank you for signing up to Four Four Two. You will receive a verification email shortly.
There was a problem. Please refresh the page and try again.