Why Antoine Griezmann really is the perfect signing for Mourinho and Manchester United
It's not just because he's an excellent player. The French star began life at Atletico Madrid as a breathless winger, but Diego Simeone has turned him into a well-rounded winner – as Thore Haugstad explains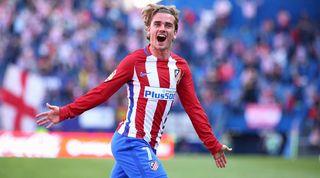 There are plenty of superficial reasons why Antoine Griezmann would make a suitable signing for Manchester United. The Atletico Madrid forward, strongly linked with a costly summer move to Old Trafford, is a prolific striker in his prime at 26 years old, with enough allure to woo fans and sell shirts. Ed Woodward, United executive vice-chairman and commercial king, would surely be pleased.
But so would Jose Mourinho, for very different reasons. Most observers will identify the Frenchman as one of the world's leading strikers, the top scorer and player of the tournament at the Euros last year, and the star of Atletico. Yet what makes him particularly attractive to United is that his qualities already seem tailor-made for the project Mourinho is trying to build.
One part of that is down to Griezmann's sheer talent and versatility. The other centres on the high degree of commonality between Mourinho and Diego Simeone.
Better than Zlatan
The 'technical' factors are the most obvious. Griezmann is both a sharp finisher and a playmaker capable of dropping deep. His goalscoring record at Atleti is not in the class of Lionel Messi or Cristiano Ronaldo, but it is consistent: he hit 22 league goals in each of his first two seasons, and has struck 16 this campaign.
All this for a team that use a more reactive style than Barcelona and Real Madrid, in which Griezmann has often operated as the deepest of two strikers.
Certainly, his efficiency is unquestionable. Over his three seasons at Atleti, the Frenchman has put away 23.4% of his shots, a superb average that would sharpen a blunt United attack. To compare, the much-lauded Zlatan Ibrahimovic has averaged 14.8% this season.
Griezmann would also give Mourinho versatility. He can play up front, behind the striker or on either flank. He can provide lively movement around Ibrahimovic, or feed Marcus Rashford from deep. Stats reflect his blossoming playmaking skills: Griezmann recorded one assist in his debut season at Atleti, but has made 12 over the subsequent two campaigns. Since his breakthrough year, his key passes per game have jumped from 0.6 to 1.6 and his passes per game from 23.9 to 35.3.
Adding to that is a surprisingly strong aerial game. That leaves you with an all-round attacker that would add new dimensions to this stale United attack.
And then you have the other crucial element: the mental qualities instilled by Simeone.
The Simeone parallel
Mourinho and Simeone have much in common. They are fiery motivators who prefer direct and intense football to slow possession play. They usually base their tactics on solid defending and counter-attacking. Intolerant of luxury players, they demand blood, sweat and tears.
At Atleti, Simeone has channelled this through punishing fitness work and mental growth. He parrots the virtues of fighting each day and never giving in – qualities few symbolise like Atleti. He instills in his players a phenomenal capacity to work hard and stick to a gameplan, which is partly how he has come close to bridging the vast financial gap up to Barça and Real Madrid. Looking at his team, there are no exceptions.
Even Griezmann can regularly be seen near his own penalty area, as in the recent semi-final at home to Madrid, harrying players and making clearances.
This is the kind of stuff that warms Mourinho's heart. The Portuguese manager's career has featured several disputes with talented attackers averse to defensive work, such as Cristiano Ronaldo and Eden Hazard. He has tried to change them, but has more often had to design the side so that it accommodates these players while compensating for the defensive imbalances they trigger. This never happens under Simeone.
It's therefore no surprise that Mourinho has targeted Atleti players in the past. There were no transactions when he managed Madrid, who rarely do business with their crosstown rivals, but the second summer after returning to Chelsea he snatched three players from the Vicente Calderon: Thibaut Courtois (recalled from a three-year loan), Diego Costa and Filipe Luis.
While Luis strangely fell out of favour, Courtois and Costa immediately fortified what became a title-winning team. Having worked with Simeone, they were primed for a similar kind of leadership, intensity and tactical approach.
Particularly Costa, who exemplified the street-fighting qualities Mourinho so admires. Few can have been shocked when Chelsea were later rumoured to want yet another Atleti player – the playmaker Koke.
Heavy changes
In this context, it makes particular sense that Mourinho is chasing Griezmann. Since joining Atleti from Real Sociedad in 2014, the forward has been moulded by Simeone, evolving from a threatening winger into an all-round forward.
The growth has not only been technical and positional. The brutal training regime initially left him with heavy legs and an even heavier breath, and he did not get his first league goal until November. But he has adapted. He has credited Simeone with turning him into a winner, and his concentration and endurance now match the high demands Simeone sets.
"Simeone has great rigour, discipline and intensity in workouts," Griezmann has said. "It changed me completely."
This means Griezmann has already endured the kind of physical and mental transition that might have been necessary under Mourinho. More than once, Mourinho has sealed a big transfer, only to drop the player because he is not physically or mentally ready; a concept that applies not only to arriving in a new country, but also to a new regime.
One example was Henrikh Mkhitaryan, who got benched at the start of this season even though he was fit, and was only gradually brought into the team once he had spent a few months under his new coach.
The similarities between Mourinho and Simeone would thus reduce the chances of Griezmann failing to adapt at United, which is crucial in a potentially expensive, high-stakes transfer. The required qualities are all there – technically, physically and mentally – and there should be no reason why Griezmann could not have a similar effect to that Costa had at Chelsea in 2014/15.
The match is close to ideal. Now they only need to actually get him.
Quizzes, features and footballing fun
Get the best features, fun and footballing frolics straight to your inbox every week.
Thank you for signing up to Four Four Two. You will receive a verification email shortly.
There was a problem. Please refresh the page and try again.