Why Jose Mourinho should be MORE defensive at Manchester United
Wait, what? It may not be what the fans want, but as Thore Haugstad explains, the Portuguese would be best served shunning entertainment for the football he knows best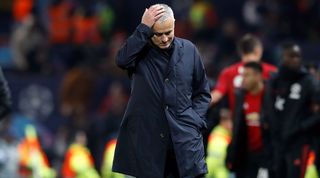 If Jose Mourinho had things his way, Manchester United would have been even worse to watch. 
They would have bored their fans with passive pressing, mechanical passing and a claustrophobic gameplan based on avoiding mistakes. They would have hunted 1-0 wins via set-pieces and counter-attacks. They would have offered the opposite of what Old Trafford want. 
But they would probably also have been more successful than they currently are. 
For this is the way Mourinho won when he was the toast of European football. Nobody does it better – or at least nobody used to. Since then one of the greatest defensive coaches in history has tried to play in a more attacking way, and failed miserably. Many believe the game has changed, and that Mourinho has failed to change with it.
Yet it may just be that Mourinho has changed too much. 
Defensive champs 
Football has come to favour attacking teams more since Mourinho reigned. He won the Champions League with Porto in 2004, the same year Greece won the Euros, and then succeeded at Chelsea as the average of goals per Premier League game fell. 
But by the time he led Inter Milan to the treble in 2010, Pep Guardiola's Barcelona had begun inspiring coaches to keep the ball and play out from the back. Eight years on referees allow less, slick surfaces favour possession-based teams, and Mourinho is the only coach in the Premier League top six who is primarily a defensive one. 
Still, does that mean defensive football can't be effective?
Diego Simeone has overachieved for years at Atletico Madrid with a dense 4-4-2 fuelled by blood, sweat and tears. Massimiliano Allegri's Juventus top Serie A by eight points in part because they're schooled in the dark arts and deep defending. Three of the last four Premier League titles have gone to coaches who know how to patch up a leaky backline: Antonio Conte's Chelsea brushed teams away with an armour-plated defensive block; Claudio Ranieri's Leicester didn't even want the ball; and before him the winner was Mourinho. 
The game hasn't changed so much that defensive football has gone out of date. Mourinho could still succeed with it. The question is whether he wants to.
Winning is easy
Mourinho has changed his style, after all. He used to be a coach who knew how to defend, but has since merely become one who doesn't know how to attack. Recall the Chelsea side that took 95 points in 2004/05: they were physical, cynical, solid, defensive. Mourinho played a hard-running midfield trio of Tiago, Frank Lampard and Claude Makelele. 
There was nothing extravagant, nothing flashy, and the same was true of the band of warriors that won the Treble with Inter in his last historic stint. Since then all the clubs Mourinho has joined have had one thing in common: they've expected him to play entertaining football. 
Nobody parks the bus at Real Madrid after all, and when Mourinho returned to Chelsea, Roman Abramovich was done with winning at all costs. Nor do United's fans tolerate stale play, as Louis van Gaal found out. And yet Mourinho has taken these jobs, perhaps believing he'd be able to adapt. Too often, the result has been a team that can neither attack nor defend. 
At times Mourinho has not even seemed to believe that attacking is the best way to win. When Chelsea had lost a League Cup tie at Sunderland in December 2013, he said: "We may have to take a step back in order to be more consistent at the back. It's something I don't want to do, to play more counter-attacking, but I'm giving it serious thought. If I want to win 1-0, I think I can, as I think it's one of the easiest things in football."
Mourinho told us he could win 1-0 with ease. But he was trying to win in a certain way.
SEE ALSO The 7 best Premier League night games
Jose the poet 
When Mourinho started out at United, the story was similar. In December 2016, with his team 13 points behind Chelsea, he was asked what pleased him the most about United's game. "The dominancy, the quality, the beauty of our football," he replied, contradicting his own taunts of "poets" who play nice football but never win.
"We are not a team that defends and waits for an opponent's mistake," Mourinho continued. "I know how to build these teams, I did before. Being very pragmatic, that was not our choice. That is not something that Manchester United fans and owners want, that is not something I want for this project. So we are going in a different direction and we are not going to change." 
Though Mourinho reverts to type at times, he has stayed true to his promise. The United squad is far more attacking than his previous ones. He used to protect his backline with two defensive midfielders, but now Paul Pogba plays in the holding role. Strikers Anthony Martial and Marcus Rashford play out wide; former wingers Antonio Valencia and Ashley Young cover the full-backs. Mourinho sold Juan Mata from Chelsea, but uses him at United. The priorities have changed.
And yet Mourinho seems unable to devise the kind of cohesive attacking that others coaches pull off. This has led United to an unhappy middle ground: they lack the fluency to entertain, but also the players to carry out a proper defensive plan. No wonder they are seventh.  
One wonders whether Mourinho longs for the days when winning was all that mattered. He may well struggle to motivate the current generation of players, but to brand his style as outdated seems unfair given how much it has changed.
The day he leaves United, how fun it would be to see him at a club where he could field hatchet men and scrape to 1-0 wins, entertainment be damned. Then we could see whether he really has lost it, or whether he's just tried for too long to be something he's not. 
SEE ALSO 5 essential Fantasy Premier League tips to help you through the busy festive season
Quizzes, features and footballing fun
Get the best features, fun and footballing frolics straight to your inbox every week.
Thank you for signing up to Four Four Two. You will receive a verification email shortly.
There was a problem. Please refresh the page and try again.