10 goalkeepers who properly fell out with their managers
Forget Pep Guardiola dropping Joe Hart for a couple of games, some shot-stoppers have really had it out with their bosses. Tim Ellis picks out some of the best bust-ups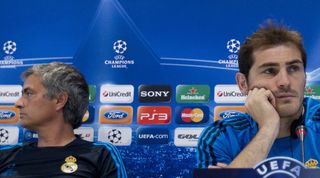 1. Pepe Reina vs Brendan Rodgers (Liverpool)
Reina got the hump with Rodgers in 2013 when the Liverpool boss decided to loan him to Napoli after a permanent move to Barcelona had fallen through. "It's only natural that I would be disappointed that the Liverpool management agreed to loan me to Napoli without telling me first," Reina wrote in an open letter to the club's supporters.
"He's already written his (goodbye) letter hasn't he? I was surprised at the letter when you are a loan player," Rodgers retorted. The Spaniard never played for the Reds again.
2. Alex Ferguson vs Mark Bosnich (Manchester United)
There's no way back when you get on the wrong side of Fergie: just ask Ruud van Nistelrooy, David Beckham or Paul Ince. In his autobiography, the Scot branded the Australian keeper "a terrible professional", claiming he "turned up three hours late for his first day's training and he was overweight".
It didn't end there. "We played down at Wimbledon and Bosnich was tucking into everything: sandwiches, soups, steaks," Ferguson added. "He was going through the menu." The keeper defended his record, and reminded everyone that he was the only player the manager ever signed twice at Old Trafford.
3. Victor Francoz vs Mike Ford (Oxford City)
Peter Bonetti was known as 'The Cat' but non-league Oxford City keeper Francoz was more interested in saving a feline than leaping like one – and he subsequently paid the price.
In 2014, the Frenchman suffered a bad calf wound when he fell out of a tree while trying to reach the stranded pet. The 23-year-old ended up in the doghouse with boss Mike Ford, who blasted: "It's ridiculous. You just don't get professional players climbing trees." Francoz went back to France for treatment with his tail between his legs. He should have asked Leonid Slutsky for advice first.
4. Jerzy Dudek vs Rafa Benitez (Liverpool)
Dudek ended his Liverpool career on the highest of highs, saving two Milan penalties in a dramatic shootout as the Reds won the Champions League in 2005. The Pole soon grew unhappy when a move to Cologne stalled, though, and manager Rafael Benitez was the target of his ire.
"To be completely honest, I genuinely considered punching Rafa in the face," Dudek later admitted. "Then the consequences of doing so flashed through my mind. Punching a Liverpool manager who had won the European Cup only a few months earlier wouldn't have looked too good on the CV, I guess, but I was still angry." Wise choice, Jerzy.
Dudek wins Liverpool the Champions League
5. Louis van Gaal vs Victor Valdes (Manchester United)
The former Barcelona custodian fell foul of Van Gaal after refusing to play for Manchester United's under-21 side last term; the authoritarian Dutchman responded by ordering the Spaniard to train alone.
"What if I were to hit the post and were to lose consciousness, and if I swallowed my tongue?" the melodramatic Valdes asked academy coach Alan Fettis, who told him to use his mobile phone to call for help. At least somebody loves you, Victor.
6. Trevor Francis vs Alex Kolinko (Crystal Palace)
Giggling when the opposition score is never a smart move, but that's how Kolinko reponded when Bradford netted against Crystal Palace in 2002. The smile was quickly wiped off the substitute goalkeeper's face when boss Trevor Francis stormed over and gave him what for.
"I was not laughing in the dugout," Kolinko said afterwards, pleading his innocence. "The manager punched me on the nose. I have not been given an explanation why he did it. My nose is very sore and bruised."
Francis played the incident down, dismissing it as a "cuff around the ear" and a "bit of fun". The FA disagreed, fining him £1,000, but at least Kolinko decided against pressing charges.
7. Iker Casillas vs Jose Mourinho (Real Madrid)
Mourinho dropped Real Madrid icon Casillas from the first team in December 2012, just a few months before his turbulent tenure in the Spanish capital came to an end, and installed new signing Diego Lopez as his new No.1 in January.
"Would I do anything differently if I had the chance to do the past three years over again?" Mourinho pondered upon his exit. "I should have bought Lopez after my first year."
Casillas revealed that a civil chat with Barcelona stars Xavi and Carles Puyol tipped Mourinho over the edge. "It didn't sit well with him that I spoke with someone from Barcelona to ease the tension in the national team," the keeper explained. That doesn't sound like Jose...
8. Heurelho Gomes vs Harry Redknapp (Tottenham)
Redknapp initially backed Gomes despite some horrendous clangers against Chelsea and Real Madrid, but as the gaffes mounted the Tottenham boss responded by promoting Brad Friedel and Carlo Cudicini above him in the pecking order.
"He doesn't like South Americans much, Brazilians mainly," Gomes wailed. Redknapp, ever the diplomat, opted to keep his thoughts on the matter private: "It's hard, it's awkward. What can I say? I'll tell the wife when I get home."
9. Thibaut Courtois vs Marc Wilmots (Belgium)
As Belgium's golden generation underwhelmed at a major tournament once again this summer, Chelsea's Courtois made it clear where he thought the blame lay. "I said what I had to say in the dressing room after the game. I pointed the finger where it had to be pointed," he said after the Red Devils' 2-0 defeat by Italy, and later criticised Wilmots' tactics after the quarter-final loss to Wales.
"Do not talk to me, get out!" was Wilmots' response. The two men exited stage right and continued their verbal spat in a small private room near the changing room. Perhaps it's best to get it out of your system.
10. John Hendrie vs Lars Leese (Barnsley)
Goalkeeper Leese's career in professional football lasted only three years. At 26, he was working as a buyer of computer products in Germany and playing part-time in a minor league near Cologne. Barnsley bought him without ever having seen him play, but that didn't stop him being catapulted into the Premier League, where he became the hero during the club's famous 1-0 victory at Anfield in 1997.
Striker John Hendrie took over as player-manager following relegation at the end of the season – an appointment which didn't impress Leese. "The year before he hadn't said a single serious word, and now all of a sudden he was talking about discipline and order," he raged.
Hendrie didn't take well to the criticism, threatening to sue the shot-stopper after his book came out. "Lars Leese is a shambles. He's a loser who never achieved anything. What he did in his two years at Barnsley was mercenary." Strong words.
Thank you for reading 5 articles this month* Join now for unlimited access
Enjoy your first month for just £1 / $1 / €1
*Read 5 free articles per month without a subscription
Join now for unlimited access
Try first month for just £1 / $1 / €1
Quizzes, features and footballing fun
Get daily World Cup 2022 news, updates and other football frolics to your inbox
Quizzes, features and footballing fun
Get daily World Cup 2022 news, updates and other football frolics to your inbox
Thank you for signing up to Four Four Two. You will receive a verification email shortly.
There was a problem. Please refresh the page and try again.