15 outrageous dives that somehow conned referees
From Ramos to Robben, Adam Washbrook looks at the fiendish players who did the crime then didn't do the time – since they totally fooled the officials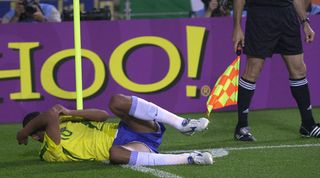 Brazilian wonderkid Malcom took a spectacular dive to earn his Bordeaux side a penalty against French giants Lyon (below).
Not bad at all, but the 20-year-old still has a way to go before he catches up with these impressive performers...
15. David Luiz vs Manchester United
Picture the scene: Chelsea are a goal up with only moments to go in this 2013 Premier League match, so they're winding down the clock in the corner of the park. A frustrated Rafael da Silva loosely swings a leg, and Sideshow Bob goes down like a lamp. Not without a smile for the cameras, of course. Result? Red card for Rafael.
14. Sergio Ramos vs Juventus
It's the 2017 Champions League Final and Real Madrid are cruising at 3-1 up. Juventus have fallen apart in the dressing room at half-time, and substitute Juan Cuadrado is the only one showing any fight. He gives renowned good guy Ramos a cheeky nudge after a heavy tackle from the Spanish defender. Cue the theatrics - and a second yellow card for Cuadrado.
13. Sergio Busquets vs Inter
Pretty much a repeat of our previous offender Ramos, but in Busquets' defence, the Barcelona midfielder does take some contact to the face – and he gets Jose Mourinho smiling with a peek at the officials as he writhes on the pitch. So, who's really the loser? Aside from Thiago Motta, who sat out the 2010 Champions League Final victory over Bayern Munich because of this sending off. Oh, and Busquets, since Barça lost anyway.
12. Fernando Torres vs Chile
2010 World Cup, and Spain are breaking upfield. The ball is switched out to the left, David Villa to Andres Iniesta... goal! La Roja are now 2-0 up in their group stage match against Chile. But what's that? The referee has sent off Marco Estrada for… something. Answers on a postcard, please.
11. Luis Suarez vs Aston Villa
You didn't think the football's most famous modern villain was going to escape this list, did you? Here, Liverpool are a goal behind but looking to continue their unbeaten run in 2014. Luis Suarez is around the onrushing Brad Guzan... and then goes down for a penalty. Steven Gerrard converts it, the Reds are level and it's business as usual for wee Luis.
10. Jordi Alba vs Eibar
The first of two marvellous entries from one La Liga match in 2017, and Jordi Alba slides into the top 10 for creativity. The Barcelona full-back takes a shot, scuffs it, nails a corkscrew spin some two or three yards from his closest opponent – and wins a penalty. Superb. Spoiler alert: he gets his just deserts, as the penalty is saved.
9. Emerson Acuna vs America
You probably don't know about Emerson Acuna, but the devil certainly does. The Colombian striker is in acres of space – and possibly offside – when the invisible pitchfork-wielding maniac from the netherworld tries to drag him all the way to hell. For which the referee compensates him with a penalty. Only fair, right?
The resulting goal earned Atletico Junior a draw in the 2008 Clausura tournament, but America had the last laugh and went on to win the reverse fixture – then lift the trophy.
8. Cao Yunding vs Yanbian
Footballers like to go down on the edge of the area and fall into the box, desperately hoping to trade in that free-kick for a penalty. Cao Yunding took that idea and literally ran 10 yards with it in this Chinese FA Cup match for Shanghai Shenhua. His reward? A spot-kick. Do Shanghai score it? You better believe they don't.
7. Fred vs Croatia
The score is level in Brazil's 2014 World Cup opener, and poor old Fred's legs have deflated as he backs into Dejan Lovren. The referee, seeing Lovren's involvement, immediately figures there must be foul play. Who can really blame him?
6. Neymar vs Eibar
The second of that aforementioned pair from Barcelona's 2017 match with Eibar. This time, Neymar's got defender Ander Capa sent off and even has the commentator fueling the fire by claiming that the Brazilian was knocked over. He wasn't (and the second replay is worse). Lionel Messi converts from 12 yards, and Big Bad Barça have overturned a 2-0 deficit.
5. Rivaldo vs Turkey
It's the group stage of the 2002 World Cup and Brazil are leading 2-1 with moments to go. Not only did the wonderfully talented and super-snide Rivaldo clutch his face in agony after the ball struck his thigh (resulting in a red card for Hakan Unsal), he admitted to doing so after the game and even had the front to apologise and sum it up with: "That's football." Ah, OK then.
4. Cristiano Ronaldo vs Celta Vigo
Good old CR7 didn't disappoint anyone but a set of travelling fans (and anyone with a sense of fair play) when he hit the deck after his arm was brushed against Celta Vigo in 2015. Fortunately, there was someone in the Real Madrid team tough enough to face up to the pressure of taking such a contentious set-piece in this important La Liga match. Guess who?
3. Kevin Strootman vs Lazio
It took an entire 12 minutes of this match before Roma midfielder Kevin Strootman pulled out some of the most glorious mischief you'll ever see in a local derby, sending the ultras wild. Here the Dutchman went for the full 360-degree spin: just minus the ball, and with no contact.
Next up? A one-on-one showdown with the keeper. Roma equalised, still lost 3-1, and Strootman was suspended for two games. Not quite how he'd hoped this one would pan out.
2. Arjen Robben vs Mexico
The high-flying wideman put on a wonderful air show to earn Holland a match-winning penalty in the 94th minute of this last-16 2014 World Cup game against Mexico. He did admit to it – but insisted this particular instance was a foul. No one's buying what you're selling, Arjen. No one.
1. Aaron Hunt vs Nurnberg
Hunt has done the ultimate double turn. He's played the villain with a win-at-all-costs attitude, sprawling in the box untouched to win the penalty. Having proved his point, he turns to the referee and comes clean – quite possibly out of sheer embarrassment.
Perhaps Hunt's attitude would have been different if Werder Bremen weren't already 2-0 up in this 2014 Bundesliga clash. Whatever – he takes top spot anyway for a dive so rancid he couldn't even con himself into going through with it.
Bonus: Luis Suarez vs Norwich
He's back, but fooling no one – not even himself. Watch Luis go down in agony, before realising the counter-attack is still on. Still, he's a straight shooter and was just shaking the injury off. Probably.
Now read...
Thank you for reading 5 articles this month* Join now for unlimited access
Enjoy your first month for just £1 / $1 / €1
*Read 5 free articles per month without a subscription
Join now for unlimited access
Try first month for just £1 / $1 / €1
Quizzes, features and footballing fun
Get daily World Cup 2022 news, updates and other football frolics to your inbox
Quizzes, features and footballing fun
Get daily World Cup 2022 news, updates and other football frolics to your inbox
Thank you for signing up to Four Four Two. You will receive a verification email shortly.
There was a problem. Please refresh the page and try again.