Can you conquer Europe without a defensive midfielder? Real Madrid will try...
All of the sides to have triumphed in Europe's primary club competition this century have fielded at least one defensive-minded player in the engine room. Kiyan Sobhani examines whether los Blancos could be about to usher in a new era...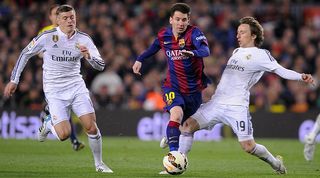 Real Madrid's acquisition of Toni Kroos in 2014 was highway robbery. The Spanish giants dished out €25 million - peanuts in today's inflated market - and in return they received a young, up-and-coming talent with potential through the roof. At the tender age of 23, Kroos had already won the World Cup with Germany and the Champions League with Bayern Munich, triumphs in which he was an instrumental part.
To compensate for their loss, Bayern pried Xabi Alonso from Madrid's hands. While undoubtedly an excellent player, Alonso was eight years older than Kroos, at the tail end of his career and seemed to be, at best, a very short-term fix. The swap deal, in essence, was bizarre, and Madrid were the hands-down winners.
Or were they?
Anchorman
The factor that wasn't really considered was that Xabi Alonso is a defensive midfielder, and Real Madrid replaced him with Toni Kroos - a central midfielder accustomed to playing a more advanced role with at least one or two defensive-minded central players behind him. Nearly two seasons later, Madrid have yet to properly replace Alonso: they still don't have a pure defensive midfielder in their ranks, something that could be problematic as they aim for an 11th Champions League title in the coming months.
RECOMMENDED How Roma can spring a surprise on Real Madrid
Since the turn of the century, not one team who has lifted the European Cup has played without a proper defensive midfielder. Even if destroyers in the mould of Claude Makelele have slowly been phased out as modern football turns to more dynamic and technical holding players, the role itself remains loaded with defensive duties.
Alonso is a midfielder anchor, a vocal organiser and supreme tackler, but it helps massively that he can also distribute the ball with tremendous accuracy. Sergio Busquets is superb at applying pressure on opposing attackers while creating space for others when Barcelona are in possession, while John Obi Mikel, Champions League winner with Chelsea in 2012, is a deep-lying midfielder who does the dirty work. The list goes on.
All-rounder
Toni Kroos is sitting on a comfortable contract which makes €12m a year, and Real Madrid seem happy to have him in the squad. Luka Modric continues to dazzle in the Spanish capital, but he would be wasted if asked to simply wait on the halfway line and break up opposition attacks. Casemiro has faded out of the picture since Rafael Benitez's exit; although the Brazilian is certainly a naturally defensive-minded player, he's yet to learn how to channel his aggression for the good of the team.
RECOMMENDED Forget your Galacticos: Why Luka Modric is Zinedine Zidane's main man
There's also the question of whether Madrid should even bother restructuring the team to play with a midfield anchor. The Makelele role has slowly morphed into a hybrid of destroyer and creator, with a further evolution likely in the next few years. Perhaps, then, Madrid view Kroos as the instigator of this evolution, and are therefore prepared to stick with him.
Kroos nicks the ball and moves it on
Going forward, the Germany international is as good as they come. His passing is intricate, yet simple and incisive. He can shoot, is terrific at getting out of tight spaces and links well with the likes of Modric, Isco, and James Rodriguez.
In the other phase of the game, he's shown major signs of improvement; Kroos, indeed, is intelligent enough to overcome the fact that he did not grow up with defensive tendencies. Madrid are increasingly benefiting from Kroos' capacity to adapt, with his positioning and awareness now far better, so too his covering of team-mates.
Sharing duties
That Madrid are masking Kroos in a scheme which has no pure defensive midfielder is not due to his intelligence alone, though. Head coach Zinedine Zidane has surrounded Kroos with players who complement him and assist in the defensive duties. Modric is diligent when it comes to recovering loose balls, while Isco has surprised many with his willingness to track back. Mateo Kovacic, the heir to Modric, is the epitome of the box-to-box midfielder and gets up and down the pitch with regularity. With all of these pieces in place, it's possible for Kroos to excel as a deep-lying midfield organiser.
Madrid are therefore reliant on this combination if they are to lift the Champions League trophy at San Siro in May; without it, the system is doomed to fail.
And therein lies the recipe for success in getting away with playing a central midfield as the defensive anchor: surround him with diligent box-to-box midfielders who will drop back and help suffocate opponents while staying in close proximity without the ball to provide passing outlets for a quick counter-attack.
Gone are the days where Madrid could deploy Makelele in a diamond formation with three attacking midfielders and two strikers as they did in the Champions League final in 2002. Football has changed and Kroos is not the wall that Makelele was, so a system that sees him share the defensive duties with others is an astute one.
A sign of things to come?
What Madrid are doing is quite fascinating, though perhaps not intentional. Their galactico-gathering transfer policy has forced multiple managers' hand in terms of tactics and shaping their XI around players who have to be accommodated due to business and branding philosophy. It would have been more reasonable to assume Kroos would be replacing Di Maria's midfield duties in 2014, not Xabi Alonso's, but Madrid aren't really known for making sensible signings based on football needs.
If Zidane's men can get their hands on the Champions League trophy this season, they'll be the first of this century to do so without a pure defensive midfielder. If they're able to succeed, Madrid may even start a new era, one in which three box-to-box midfielders contribute in both phases of play and negate the need for a specialist destroyer.
Quizzes, features and footballing fun
Get the best features, fun and footballing frolics straight to your inbox every week.
Thank you for signing up to Four Four Two. You will receive a verification email shortly.
There was a problem. Please refresh the page and try again.