How Roma can spring a surprise on Real Madrid
Luciano Spalletti is hoping to repeat history with the Giallorossi on Wednesday and Blair Newman thinks the coach's tactics could surprise the Spanish giants...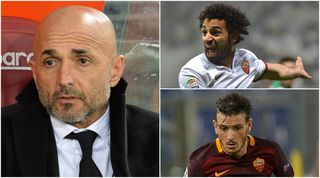 In 2008, Luciano Spalletti led Roma to a remarkable victory over Real Madrid in the Champions League last 16. The 56-year-old coach returned to the Giallorossi dugout in January after a five-year spell managing in Russia with Zenit and, on Wednesday night, he has the opportunity to repeat past heroics.
His side will once again face Real Madrid at the same stage, though the circumstances are vastly different now – Roma are significant underdogs. Spalletti will relish the chance to upset the odds, but to defeat the Spanish giants for a second time he will have to pull off a tactical masterclass...
1. Go three at the back
While not quite in the same league as Pep Guardiola when it comes to in-game formation modifications, Spalletti is a master at altering systems to suit specific situations. Since returning to Roma he has evidenced this by rotating between three- and four-man defensive lines, sometimes in the middle of matches.
While he prefers attacking football built upon fluidity, speed and movement, he will have to compromise on these ideals at least slightly if he's to guide Roma to another momentous win on Wednesday night. Real Madrid are used to having the ball for a reason and they possess some of the finest technicians on the planet. Roma's first priority must be how to stifle their attractive opposition.
In terms of the defensive setup, Spalletti would be wise to opt for a back three with wing-backs on either side. This is important for several reasons.
The primary reason is that – unlike with a straight back four, which only includes two centre-backs – this enables Roma to always have four men in defence at any one time, with one of the wing-backs dropping back to create a four-man line when they don't have the ball. This creates a potentially valuable numerical advantage over Real Madrid's front three, which will probably entail Karim Benzema, James Rodriguez and Cristiano Ronaldo.
RECOMMENDED Forget your Galacticos: Why Luka Modric is Zinedine Zidane's main man
Another reason for this setup is that it also allows for counter-attacking opportunities. In a back three, Alessandro Florenzi can be utilised as a right-wing-back where his speed and crossing ability make him a strong wide outlet. Given Ronaldo – who isn't exactly well known for his tracking back – will play on the left of Real Madrid's front three, Florenzi could exploit the Portuguese's defensive disinclinations if and when Madrid's attacks break down.
2. Forget about Dzeko
One of Roma's major concerns during Spalletti's time away from the club was how they should deal with an ageing Francesco Totti. At 39 years of age, the Roman icon is simply no longer able to impact games in the way he did at his best. Edin Dzeko arrived at the Stadio Olimpico last summer as the latest proposed solution, though he has posed more problems so far.
The Bosnian has suffered a severe downturn in form, posing questions about his aggression as well as his ability to play up front without a strike partner. Whatever the reason for his poor return of four goals in 20 Serie A appearances, he has undoubtedly lacked confidence of late.
The 29-year-old scored last Friday as Roma defeated Carpi but, once again, his overall performance was devoid of inspiration. He spurned several chances before tucking home a tap-in that would have been harder to miss. However, irrespective of Dzeko's profligacy, Spalletti might be well advised to ignore a centre-forward completely here.
3. Bring back the false nine
Spalletti's major tactical innovation during his first spell with Roma was the re-popularising of the false nine role, something that inspired Guardiola's usage of Lionel Messi in the same role at Barcelona from 2009 onwards. Spalletti used Totti in the role back then and has occasionally done the same with Diego Perotti upon his return.
Perotti arrived at Roma not long after Spalletti did, towards the end of the January transfer window, and is perfectly suited to the false nine specialism. His gliding movement, refined technique and ability to connect with team-mates make him a particularly dangerous proposition when given a freer role, and Spalletti should assign the Italian such freedom against Real Madrid.
The use of a true No.9 in Dzeko could work against Roma in several ways. One is that the use of a central reference point is unlikely to trouble los Blancos' centre-back pairing of Raphael Varane and Sergio Ramos. Another is that Dzeko offers significantly less in the defensive phase, which is where Roma are likely to spend a lot of time on Wednesday night.
Instead, Spalletti should go for a striker-less system, using Perotti in a false nine role which could confuse Real Madrid's central defenders by leaving them without an assigned player to mark. This could also allow Roma to overload in midfield, with Perotti dropping back to harry Toni Kroos in an attempt to disjoint the Spanish side's possession game.
4. Salah to find inspiration in Robben
Whatever way Spalletti chooses to line up his Roma side, ex-Chelsea man Mohamed Salah will start. That is, if he's fit. The Egyptian took a knock in Roma's win over Carpi but, assuming he recovers, his pace will be crucial to Roma's counter-attacking strategy.
Salah should take inspiration not from a previous performance of his own, but from 2014's World Cup clash between Spain and the Netherlands. In that match Louis van Gaal lined his Dutch team up in a similar manner to how Roma may approach Real Madrid: with a back three and wing-backs. He also harnessed Arjen Robben's blurring speed by deploying him as a sort of second striker.
That day Robben tormented Ramos, who was playing in central defence for Spain, as the Netherlands shocked the world with a 5-1 win. Salah could do similar things with his speed and directness on the break in this game.
Roma are likely to cede the majority of ball possession against Real Madrid but, if they retain their shape defensively and transition to attack effectively, Salah's raw athleticism could be a crucial weapon, allowing him to burn through any gaps that may appear between the Spanish team's attack-minded left-back Marcelo – who has been named in the squad for Wednesday night's game – and Ramos, their left-sided centre-back.
RECOMMENDED
Roma vs Real Madrid LIVE ANALYSIS with Stats Zone
More features every day on FFT.com • Analysis
STATS ZONE Free on iOS • Free on Android
Thank you for reading 5 articles this month* Join now for unlimited access
Enjoy your first month for just £1 / $1 / €1
*Read 5 free articles per month without a subscription
Join now for unlimited access
Try first month for just £1 / $1 / €1
Get FourFourTwo Newsletter
The best features, fun and footballing quizzes, straight to your inbox every week.