Carrick's key role, Newcastle's defensive weakness: Stats Zone's weekend battles
Alex Keble looks at the key battles that will determine some of the weekend's big Premier League fixtures...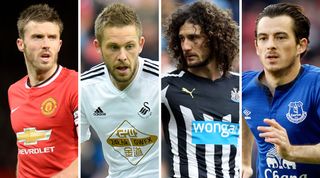 Carrick vs Southampton pressing
In three straight home victories, Man United have averaged 71.1% possession and made 694 passes per game; with tentative optimism gradually replacing the uncertainty of the early weeks of the season, Louis van Gaal has finally begun to rebuild the fortress that is Old Trafford.
Unfortunately, this emerging confidence is yet to spread to their away form, which (aside from a perhaps slightly fortunate victory at the Emirates) remains abysmal. Van Gaal has been frequently criticised this season for an absence of coherent playing style, despite the fact that, on the road, they have been very consistent; at 81 per match, United have played more long balls than any other team.
Unlike traditional 'long ball' teams, however, United are deft in their delivery, distributing the ball into wide areas and retaining possession (53.8% average), as indicated by the infrequency of aerial challenges in United matches (38, 3rd lowest in the division).
Man United persistently bypass central midfield and throw the ball into wide, advanced areas. Wayne Rooney, increasingly playing a deeper role, often orchestrates this strategy.
United expect their wingers to provide the vast majority of the creative threat; they rarely pass the ball through the middle. Making dozens of accurate long passes requires time and space on the ball for the distributor; against Southampton, who utilise a high pressing system that minimises space at the base of the opposition's midfield, United will have to work extremely hard.
Note how often Southampton attempt tackles and interceptions in the opposition half, their regular fouling indicating constant harassing; picking out a long pass will be extremely difficult for Rooney & Co.
With this in mind, the impact of Michael Carrick will be key; his assurance in possession and calm distribution have been vital to United's successes in recent years, as he regularly tops their charts for passes made (74 per game) and completion rate (88%). It is no coincidence that his return from injury has coincided with United's upturn in form; United have collected 12 points from the five games in which he's started.
Carrick has calmly controlled the midfield since his return, averaging 71.6 passes per game at 90.2% completion. His intelligent passing and controlling influence have been the backbone of United for years; the decisive battle of this match will be whether he can outmanoeuvre Southampton's well-structured pressing game, and release his fellow midfielders.
Southampton vs Man United LIVE ANALYSIS with Stats Zone
Alex Song vs Gylfi Sigurdsson
Sigurdsson – with 8 assists and 2.6 key passes per game – is arguably the league's most prolific playmaker, having rediscovered the form that defined his first spell at the club. Spurs, fielding him sporadically (14 league starts last season) and in unfamiliar positions (largely in deep-lying midfield roles or on the wing), can only blame themselves for his failures in north London.
Playing predominantly at the base of midfield (vs West Ham) or on the wing (vs Chelsea), Spurs stifled his natural creativity. Note how rarely he made forward passes or created chances.
Returned to his natural position, Sigurdsson is thriving in a creative role at Swansea, where – facilitated by the explosive threat of Routledge and Montero on the wings – he has the freedom to roam into dangerous positions and pick out the killer pass.
Preoccupied with Swansea's agile wingers and Wilfried Bony's physical threat, Sigurdsson is often left free to drift into the space between defence and midfield. Against West Ham, Swansea's orchestrator will face his biggest challenge yet; Song, averaging 2.9 tackles per game, has been instrumental to West Ham's successes, consistently out-muscling attackers and breaking-up play. Given the mismatch of speed and agility between Sam Allardyce's centre-backs and Swansea's wingers, Song's performance will be crucial.
Song's strength in the tackle, and his reading of the game, have been vital to West Ham. Note how frequently he breaks down play around the edge of the box, where Sigurdssen is often found lurking.
West Ham vs Swansea LIVE ANALYSIS with Stats Zone
Costa vs Coloccini
As West Ham's Cheikhou Kouyate slipped a pass through Newcastle's defence to set up the winning goal last weekend, Newcastle's rich vein of form was not just ended in a literal sense, but also symbolically. It was the fifth time this season that a killer pass had cut through their defence and led to a goal.
Newcastle have frequently conceded goals from one-on-one opportunities created by through-balls that catch out their slow, disorganised defence. Despite the optimism surrounding Alan Pardew's revival, statistical analysis shows it was opposition goalscoring weaknesses – not their own strengths – that characterised their five successive wins. During this period, Newcastle conceded an average of 11 shots per game; this weekend, they face a Chelsea side who – averaging a goal every 7 shots – will not be so forgiving.
Opposition sides have been frequently wasteful against Newcastle; Chelsea, on the other hand, are ruthless. Newcastle's defensive lapses from through-balls played in behind, such as Aaron Cresswell's goal, are caused by a combination of a high, stretched defensive line and some chaotic, disorganised defending (exemplified by their 1.1 offsides caught per match, the league's fewest). Chief among the offenders is Fabricio Coloccini, whose lack of speed has only exacerbated Newcastle's ill-discipline.
Against quick opponents, Coloccini struggles to keep up with attacks; note how infrequently he influences play within Newcastle's penalty area. Cesc Fabregas (10 assists, 3.4 key passes per game) should be able to find the killer ball, and when he does, Diego Costa (11 goals, 3.1 shots per game) will surely score. Newcastle can expect their defensive frailties – hidden by opposition weakness of late – to be exposed. No matter who the foe, Fabregas always manages to split the defence at least once, where Costa is ready to collect.
Newcastle vs Chelsea LIVE ANALYSIS with Stats Zone
Man City's fragile confidence vs Leighton Baines
Manchester City continue to be overly reliant on Sergio Aguero and Yaya Toure to drive them forward, and despite a recent surge in wins, still look uncertain against confident teams.
Matching them for the majority of the game, Southampton's boldness last weekend suffocated Man City creatively, their high tempo pressing preventing a side – whose confidence is still fragile – from finding fluidity; it took a deflected effort to finally break them down.
Before Toure's deflected opener, City had struggled to create chances, looking distinctly average against a side willing to take them on. Unfortunately for Manuel Pellegrini's side, this weekend's visitors to the Etihad are always brimming with confidence. Even in away games, Everton have stuck ruthlessly to their manager's high pressing, short passing philosophy (57.7% average possession).
Undaunted by the venue, Everton set the tempo at White Hart Lane (61% possession) and Old Trafford (51% possession), pressing high up the pitch and intimidating their opponents.
With a little luck, there's no reason why Everton can't win and Roberto Martinez, famed for tactical adjustments and deep scrutiny of opposition flaws, will know exactly where the game's key battle will be.
5 of Leighton Baines' 6 assists this season have been crosses into the box, while 7 of Man City's 13 goals conceded have resulted from the type of low, whipped-in crosses that are Baines' speciality. Expect Martinez's team to exploit these statistics to full effect.
Due to Martinez's philosophy of possession control, Baines does not cross the ball too often. However, since this is City's primary weakness, he will most likely be instructed to attempt crosses as often as possible.
Man City vs Everton LIVE ANALYSIS with Stats Zone
Analyse all the weekend's Premier League matches with Stats Zone
Thank you for reading 5 articles this month* Join now for unlimited access
Enjoy your first month for just £1 / $1 / €1
*Read 5 free articles per month without a subscription
Join now for unlimited access
Try first month for just £1 / $1 / €1
Get FourFourTwo Newsletter
The best features, fun and footballing quizzes, straight to your inbox every week.