Every European Super League proposal included Stoke, frustrated memos reveal
The Potters somehow offered a seat among the elite in secret talks, Back of the Net reports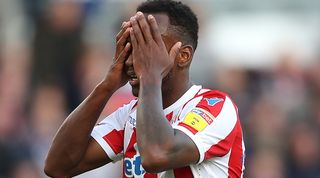 Leaked memos have revealed that talks between Europe's top clubs over a European Super League were repeatedly derailed by an inability to remove Stoke City from their plans.
According to the latest shocking documents, emails were repeatedly exchanged by the chairmen of football's superpowers discussing the potential benefits of leaving their national leagues and associations in favour of a Super League – proposing a start date of 2021 – and asking forcefully why Stoke would be a part of the aforementioned competition.
"We are all in agreement that [a dystopian conglomerate of greed] would benefit all of our clubs," an email from Manchester City officials seen by FourFourTwo reads.
"I see no reason why a competition for the likes of Juventus, Bayern Munich, Barcelona and Stoke couldn't succeed."
Potty
The email, which appears to have been sent to the top brass at seven top European clubs, and Stoke, seems to have then been followed up almost immediately by another, apologising for the inclusion of Stoke but still copying in Potters chairman Peter Coates.
"The whole point [of this money-grabbing exhibition of scumbaggery] is to stop teams like us having to visit Stoke on a wet Tuesday night.
"Honestly, why should a club like Manchester City, or Chelsea, or Stoke have to stoop to playing teams like that," City's follow-up email reads.
A third email within an hour clarifies that Stoke had been typed again in error and that 'there must be some kind of autocorrect thing going on here'.
A series of increasingly frustrated responses from Europe's elite echoed Manchester City's sentiments that Stoke should not be included in a breakaway competition, but no apparent move has been made to take them out of the chain, and emails a month later show that the Potters remain integral to plans.
"As far as I'm concerned, we keep it simple," an email from Paris Saint-Germain president Nasser Al-Khelaifi insists.
"It's us [PSG], Manchester City, Barcelona, Real Madrid, Juventus, Chelsea, Bayern Munich and Stoke. No changes to that, no newcomers, no glaringly inferior teams."
Green light
All teams appear to have given their approval, with the exception of Stoke's Coates whose jaunty email calls into question Chelsea's credentials for such a prestigious competition.
"All I'm saying, I guess, is that they're playing in the Europa League right now and that's not quite the type of image we'd like to project. Am I right, guys?" an email from Coates, largely written in emojis and wingdings insists.
All of the teams involved refused to comment when approached by FourFourTwo, but sources suggest that a giant 'European Super League' banner was delivered to the bet365 Stadium last week.
Please note: This satirical news story is not real. Because obviously.
More Back of the Net • New features you'd love on FourFourTwo.com
Quizzes, features and footballing fun
Get the best features, fun and footballing frolics straight to your inbox every week.
Thank you for signing up to Four Four Two. You will receive a verification email shortly.
There was a problem. Please refresh the page and try again.