Five young goalkeepers who'll soon be eyed by bigger clubs
Andrew Gibney picks out the most promising shot-stoppers who should be on the radars of Premier League clubs...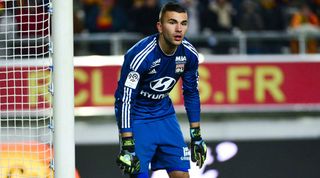 Tottenham's Hugo Lloris is arguably the best goalkeeper in the Premier League; Manchester United's David de Gea has impressed for much of the season; David Ospina has forced his way past Wojciech Szczesny at Arsenal; Thibaut Courtois is already decorated with La Liga and Europa League titles, and now well on his way to the English equivalent at Chelsea. Sensing a pattern? With only a handful of current first-choice Premier League goalkeepers hailing from Britain, it's clear that scouts are constantly scouring mainland Europe for new talent. Here are five who could become stars in England's top flight...
Anthony Lopes (24, Lyon)
Alexandre Lacazette has received most of the attention for Lyon's run to the top of Ligue 1, but look beyond his goal record and you will see that Les Gones are far from a one-man team.
Behind every team's great success is a fine goalkeeper, and Lyon are no different. Lopes has kept 12 clean sheets in Ligue 1 this season, and before Zlatan Ibrahimovic's twice-taken penalty on matchday 24, the Portuguese goalkeeper had gone six league games without conceding.
When Lloris was sold to Tottenham Hotspur, the Lyon management didn't panic over signing a replacement because of the faith they had in Lopes. He made his league debut at 22, and four months later the youngster was first choice at the Stade de Gerland.
It's not just his superb reflexes and shot-stopping that have made him indispensable, but a vital knack of making huge saves when Lyon need them most. Keeping the opposition out when games have been close has helped Lyon push in front of Marseille and Paris Saint-Germain.
Already a star for Portugal at under-21 level, Lopes is close to making his full international debut. Neither club nor country need to worry about the player's long-term abilities, although it won't be long until Lyon have to fend off suitors.
Mattia Perin (22, Genoa)
Whisper it quietly but someday, someone will have to replace Gianluigi Buffon for both Juventus and Italy.
Perin is one goalkeeper who is gradually improving each season and making a claim to succeed the Azzurri legend between the sticks.
The 22-year-old has started every game for Genoa this season, and his ability to stand tall and stop shots, combined with an authority to come and claim balls rather than punch them clear, helps the 6ft 2in long-haired keeper stand out from the crowd.
He is slowly but surely eliminating errors from his game and, with his big frame and superb reflexes, is the obvious heir to Buffon's throne.
Loris Karius (21, Mainz)
Bundesliga battlers Mainz are still not out of the woods where relegation is concerned, but in 21-year-old Karius, Die Nullfünfer have one player who should help them stay up this season. Only seven teams have conceded fewer goals this season, with Karius having kept six clean sheets and often been the difference between his team winning points or coming away empty handed.
One of his best performances came away from home against Bayer Leverkusen. With his defence leaving him exposed, the young keeper put in a wonderful performance and earned his side a crucial point at the BayArena.
Karius looks extremely comfortable racing off his line to close down attackers. Always alert, he narrows the angle quicker than the forwards can react and snuffs out chances regularly.
Arsenal and Liverpool were linked with the player this winter, but Karius signed an extension to his current deal until 2018. Either way the former Manchester City youngster looks destined for a big future, and it's easy to see why so many are monitoring his progress.
Sergio Padt (24, Groningen)
It's not unusual for young players to start their careers at Ajax before moving on and excelling elsewhere in the Eredivisie. After two loan spells away from Amsterdam, it took Padt three years at Gent in Belgium before he would become a name in Holland.
When Marco Bizot was sold to Racing Genk last summer, Padt returned to the Eredivisie as his replacement. Even though Groningen have struggled this season, the 24-year-old's performances have been eye catching.
There are obvious issues with the defence in front of him, so he has only managed four clean sheets. However, no one in Holland has made more saves this season.
His tall frame, at just over 6ft 3in, helps him dominate in the air. Padt will always try to catch rather than punch, but it's his athleticism that makes him stand out. Despite his size, the former Dutch Under-21 international is quick to get down low and make saves along the ground.
His speed and agility give him an advantage in that he can cover an incredible amount of ground with ease, giving him a significant presence. With Groningen failing and Padt excelling, it surely won't be long until he makes a step up the ladder.
Benjamin Lecomte (23, Lorient)
In their first season under Sylvain Ripoll, Lorient's results have been frustratingly inconsistent. However, one star has emerged in 23-year-old Lecomte, who showed in his side's recent 1-1 draw with Lyon that he can be a big player in Ligue 1.
Lecomte has spent four seasons at Lorient, including a loan spell at Ligue 2 side Dijon, and it was that time away which has benefited him most. Until this campaign the young Parisien's game time had been severely limited, but after grabbing the No.1 shirt at the start of the season, he hasn't looked back. He is already superbly athletic, but game by game his confidence grows, as does his ability to command his area.
86 - Benjamin Lecomte has made 86 saves in Ligue 1 this season, more than any other keeper. Menhir. February 16, 2015
In his 25 appearances this season, Lecomte has made 86 saves for Lorient, more than any other goalkeeper in Ligue 1. At first there were signs of nerves and uncertainty, but he has grown with stature. As Les Merlus struggle to create chances, their young shot-stopper is providing the club with a solid last line of defence.
Thank you for reading 5 articles this month* Join now for unlimited access
Enjoy your first month for just £1 / $1 / €1
*Read 5 free articles per month without a subscription
Join now for unlimited access
Try first month for just £1 / $1 / €1