How the Clásico was won: 5 things from Real Madrid 0-4 Barcelona
Thore Haugstad was in the Bernabeu for FFT to analyse a thumping win for Barça which plunges Rafa Benitez into yet more trouble...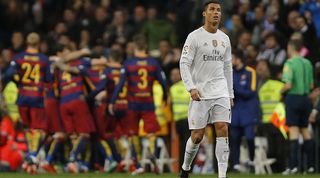 1) Barça outnumber Madrid in midfield
Considering Rafa Benitez's obsessive relationship with video analysis, we can only imagine how many hours will go by on this particular post-match examination. The embarrassing 4-0 defeat to Barcelona at the Santiago Bernabeu on Saturday night evoked memories of the 6-2 ordeal against Pep Guardiola's side in May 2009, an ill-wanted comparison for Benitez on his Clásico debut. 
The plan was to attack Barça from the off, using a precipitously attacking 4-2-3-1 line-up that featured Gareth Bale, Karim Benzema, Cristiano Ronaldo and James Rodriguez. They seemed a lethal quartet providing Madrid had the ball. Unfortunately for Benitez, that didn't happen too often in the opening stages. 
Ostensibly, the 4-2-3-1 should have matched Barça's 4-3-3, but the forwards lacked the defensive diligence to close down and track players efficiently. Bale should surely have watched Sergio Busquets better, Ronaldo was never likely to man-mark Dani Alves, while Benzema seemed sluggish. With Sergi Roberto also moving inside from the right flank, Barça outnumbered Madrid centrally and exchanged passes for long spells with ease. One such move led to the first goal, on 11 minutes, when Roberto burst past Sergio Ramos and found Luis Suarez, who had moved into the space left by the outrushing Madrid captain. 
The graphic above shows how Barcelona combined out wide, with Neymar and Roberto linking up with the full-backs before cutting their way through. Rather than pressing coherently, Madrid seemed disjointed and they never managed to shut off the angles and options for Barça's midfield maestros. Benitez tends to champion a more compact and patient style, and it was surprising to see Toni Kroos and Luka Modric concede space in front of their own defence. Within 22 minutes, the visitors had enjoyed 67% of the possession. 
Amid such spells, the Catalans attacked swiftly when discovering gaps. Several players bypassed the slack pressure from Madrid, who completed just 11 out of 20 attempted tackles in the first half. 
2) Passive Madrid denied in final third
One equally depressing statistic for Madrid was that they tried just one shot in the first half. Ronaldo had launched a dangerous counter and Benzema had sliced a shot, but otherwise they offered little. Barcelona were structured and solid, completing nine out of 10 tackles. 
Madrid also pulled off just one dribble before the interval. Good initiatives were rare. At one point Marcelo visibly despaired when being unable to find anyone with a pass down the left. Even worse was the movement before Barça's second goal. It may have arisen from Modric being tackled inside his own half, but at the moment the Croat received the ball, five Madrid players were loitering in an offside position. There were no options available. 
STATS ZONE
The lack of cohesion was also evident. Whereas Suarez, Neymar and Iniesta combined fluently, the Madrid frontmen exchanged fewer passes. In fact, the most frequent passing combination that involved either Bale, Benzema, Ronaldo or Rodriguez was linked to Keylor Navas, who sent the ball to Ronaldo seven times. That's unlikely to have been the attacking partnership Benitez had in mind. 
As the graphic indicates, Madrid did have decent possession inside Barça's half, but rarely managed to break through. In the first half, they actually attempted more passes in the final third than their rivals despite seeing far less of the ball overall. But that hardly mattered. Not once did a Madrid player receive a pass inside the opposition box. 
3) Neymar and Iniesta run the show
The same didn't apply to the guests. With Roberto occupying the right flank, much of the creative responsibility fell to Neymar. With Iniesta also playing close, Barça focused on this flank: the most frequent pass combination was Jordi Alba to Neymar, which happened 27 times. The second-most frequent was Alba to Iniesta, which happened 18 times. 
So much revolved around Neymar and Iniesta. They exploited Modric's error for the second goal, Iniesta slipping a pass through for Neymar to score. Just before half-time, Neymar orchestrated a sensational piece of play; he skipped past two Madrid players down the left, played a one-two with Suarez and then back to the Uruguayan, whose finish was cleared off the line by Marcelo. On 53 minutes, Neymar combined with Iniesta again, leaving the ball for the captain hammer into the top corner. Cue handkerchiefs at the Bernabeu. 
The Brazilian kept creating. By full-time he'd engineered six chances, twice as many as anyone else, and had also completed the most passes in the final third, underlining his influence. As the diagram shows, he rarely received the ball in central positions but created opportunities on his own through direct running and quick passing. For all this, his pass-completion rate still hit 91.1% – an impressive number for such an inventive player. 
4) Modric and Kroos left on their own
Before that third goal, Madrid felt they were still in the game. They flew out of the blocks in the second half, unleashing three shots in three minutes, with the most dangerous coming from Marcelo who hit the side netting after a run down the left. 
But as Madrid attacked, the gaps grew bigger. This had already been an issue in the first half; at one point just before half-time, Bale, Benzema, Ronaldo and Rodriguez could be seen jogging back as Barça launched another assail. 
Indeed, as the second half progressed, Madrid often defended with just six players. It was an unforgiving task for Modric and Kroos, who had to put out a series of fires in wide positions. When Iniesta scored Barcelona's third, the duo had been outnumbered in the centre, and a similar situation soon led to Suarez hitting the side netting.
Whether this was instructed or not is difficult to tell, but it was strange to see such a broken team from Benitez, who is a disciple of Arrigo Sacchi and who has built his managerial career on defensive discipline and a compact team shape. This display provoked the exact situations that he is normally so determined to prevent. 
5) Messi adds to Madrid's troubles
The Madrid pressure did yield some chances: Ronaldo had two dangerous efforts saved by the excellent Claudio Bravo, who also stopped a Benzema header. But by then the game was over anyway. Madrid had not been helped by Lionel Messi, who had increased Barça's domination in the centre after replacing Ivan Rakitic in the 57th minute. 
Though coming on as a right winger, the Argentine wandered wherever he pleased, making the latter stages of the second half resemble a leisurely ball-keeping exercise. One curled pass found Suarez, before his own shot was deflected wide. Another pass to the right led to Suarez squandering an angled shot. The No.10 was also involved in the long move that culminated in the fourth goal, Alba releasing Suarez who nonchalantly chipped Keylor Navas. 
That cool finish seemed representative of how Barça had toyed with Madrid, on a night when Benitez's team selection and tactics backfired. 
More features every day on FFT.com • Analysis
STATS ZONE Free on iOS • Free on Android