Lucas Perez: The 'Spanish Vardy' who Arsenal are taking a big risk on
Arsene Wenger's finally located his wallet, with the Deportivo La Coruna forward on the verge of moving to the Emirates. David Cartlidge provides the lowdown on the Spanish hotshot...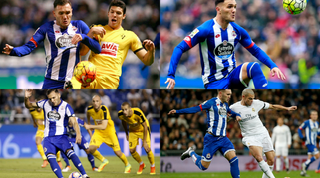 Better late than never, as the old adage goes, and Arsenal have indeed left it very late to secure Lucas Perez from Deportivo La Coruna. But have they got the right man?
In short: probably not. He's not the elite striker they crave, nor an up-and-coming young player with mounds of potential. Instead, he's a gamble, and it's difficult to predict how he'll fare on the bigger stage that is the Emirates Stadium.
The timing of the deal raises questions, too; the fact the Gunners have made their move just days before the window closes suggests Lucas has only recently become part of their plans.
The early journeyman
With just a single prolific season behind him - he struck 17 goals in 36 games last term - Lucas isn't someone with a proven track record. His early career in Spain was disappointing, with spells at Alaves, Atletico Madrid and Rayo Vallecano ultimately proving unsuccessful, before he opted to move abroad at the age of 23 in 2011.
Ukraine was his destination, but things didn't work out at all well. A spell at Karpaty Lviv was bad enough, but Lucas' subsequent swtich to Dynamo Kyiv was a disaster, with the player himself describing it as the worst experience of his life. Things were a little better in Greece with PAOK, but Lucas was still fed up enough to push through a return to Spain on loan, with the forward joining boyhood club Deportivo La Coruna in July 2014.
Things felt right for Lucas at Depor, and the Spaniard repaid the club's faith with some promising performances in the 2014/15 campaign. Six goals in 21 appearances may look like an underwhelming return, but it was actually an impressive tally given that he spent three months on the sidelines through injury.
Depor moved quickly to secure Lucas on a permanent deal, and he didn't disappoint: the local lad's all-action style was a massive hit with the fans, who also enjoyed his 17 goals in all competitions. Lucas even secured a place in the history books at Depor when he netted in seven successive matches, matching a record set by Bebeto, the great Brazilian. There was even talk of a Spain call-up ahead of the Euros, although in the end it didn't come.
The Spanish Vardy
It wasn't all about the goals, though: as previously mentioned, Lucas' non-stop running and willingess to press from the front earned him a number of plaudits from right across Spain. He offered the type of on-field aggression that few can match, with his speed and energy allowing him to salvage something from several seemingly lost causes. Comparisons have been made with former Arsenal target Jamie Vardy - and they're not wide of the mark, either.
Both players like to pounce on direct balls out of defence and prefer passes to be played five or so yards in front of them. Lucas is excellent on the chase and, like Vardy, he's happy to run the channels and sprint in behind backlines which are stationed high up the pitch.
He's already proven he can finish, too, and from a variety of different angles and positions: one-on-ones, headers, close-range finishes. Lucas is clinical in front of goal, with his deadly left foot capable of both powered strikes and controlled placements.
Lucas scores at the Camp Nou
Smaller fish, bigger pond
There are a number of clear concerns about this transfer, however. Lucas is now 27 and has just come off the back of his best ever season; he never even came close to matching it in previous years, and the fact that he was playing for his hometown club would've greatly helped, too.
Arsenal are unlikely to give him the freedom he was afforded at Depor, where Lucas was the leader of a team working to his tune. At Arsenal he'll be a small part of something bigger, and it's doubtful whether he can thrive in that type of role.
Deportivo are also a pure counter-attacking outfit, designed to spring forward quickly and make use of Lucas' pace; Arsenal, conversely, regularly face opponents who defend deep and deny them space in behind, and the 27-year-old could struggle to adapt.
It could also be the case that Deportivo - a mid-table La Liga outfit - is Lucas' level and the club he needs to be at. The Spaniard's no Karim Benzema or Pierre-Emerick Aubameyang. and he's more of a winger than a striker anyway - if Arsenal fans are looking for a line-leading centre-forward who guarantees a glut of goals, Lucas might not be their man.
Late risk?
There's also the issue of the transfer's timing; if Arsenal really wanted Lucas, they surely would've moved much earlier in the summer. His €20m release clause is cheap in the current climate and easily attainable for most Premier League clubs - Everton, for instance, notified Depor of their willingness to pay it just hours before the Gunners.
Arsenal's move certainly seems like a gamble, particularly as their rivals got their business done much earlier in the window. Lucas is a solid alternative to Giroud, largely in that he offers something completely different, but in terms of improvement - the thing that Arsenal really need - he isn't the right signing.
Thank you for reading 5 articles this month* Join now for unlimited access
Enjoy your first month for just £1 / $1 / €1
*Read 5 free articles per month without a subscription
Join now for unlimited access
Try first month for just £1 / $1 / €1
Get FourFourTwo Newsletter
The best features, fun and footballing quizzes, straight to your inbox every week.