In the mag: Season Preview! Plus Pulisic, Souness and the football team destroyed by Chernobyl
Get your hands on the September 2019 issue of FourFourTwo and Season Preview – available in print or on iPad and iPhone – from August 1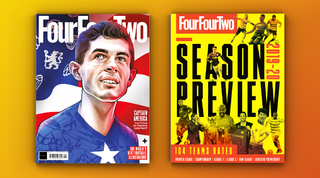 If the new domestic season is anything like the last one, then FourFourTwo can't flippin' wait. At the top, the highest-quality title race in Premier League history. In the Championship, the remarkable promotion race, featuring the roller-coaster ride of Marcelo Bielsa's Leeds. In Scotland, competitive Old Firm matches. In Birmingham, someone threw a cabbage at Steve Bruce.
So how do you follow that? In the nine months of mystery that lies ahead, we'll find out.
If you're not feeling quite so optimistic about your team's prospects (the FFT staff includes supporters of Newcastle and Bolton, so we sympathise), have a read of our feature on the worst season ever: Doncaster Rovers 1997/98. No matter what happens, it can't get any worse than that.
There's plenty more in this issue, too. Harry Redknapp sits down to answer your questions, Tony Evans interviews Graeme Souness about his glory days at Liverpool, Rio Ferdinand ponders robot butlers, and Frank Skinner reviews Mick McCarthy's urinal skills. FFT also drove all the way to Luxembourg and back to meet the first British university team ever to play in the Europa League.
Then, when you've read all of that (and much more besides), get stuck into our additional pre-season preview supplement which profiles 104 teams in England and Scotland. We hope you enjoy reading this issue – we've certainly enjoyed making it. To buy FourFourTwo for even less, and bag yourself some free earphones worth £49.99, check out our latest subscription offer here – five issues for £5!
Let the 2019/20 season begin!
Christian and the chocolate factory
After a childhood living by a Willy Wonka-esque theme park, Christian Pulisic has been given a golden ticket by Chelsea – but, boy, he's earned it.
The football team destroyed by Chernobyl
FC Pripyat were preparing for a cup semi-final in April 1986 when Chernobyl changed everything. Their former captain recalls how a town and its football team came to an abrupt, tragic end.
'Champagne Charlie' Souness
After Diego Maradona told FFT that Graeme Souness was one of the best British midfielders of his generation, we caught up with the Rangers and Liverpool legend known as 'Champagne Charlie'.
Athletico Mince
Andy Dawson and Bob Mortimer talk FFT through the genesis of Athletico Mince, the podcast that's like no other, and how it all came about over a couple of pints and a portable plastic greenhouse…
Rodri
Manchester City's record signing isn't your typical footballer. FFT learns how the man who lived in university halls of residence during his Villarreal days became Europe's most wanted midfielder.
Shamrock's survivors
Both were tipped to become football's 'next big thing' but both suffered personal tragedies. Now Stephen McPhail and Stephen Bradley are using their experiences to rebuild Shamrock Rovers.
Worst. Season. Ever.
Played 46, won 4, lost 34, conceded 113. FFT revisits Doncaster's 1997/98 campaign, featuring funeral processions, pitch invasions and a tally of league losses that still hasn't been topped.
"Happy hour at the S.U. bar!" 

We hit the Europa League trail with the students of Cardiff Met.
The Players Lounge
Benni McCarthy, Gus Poyet, Faye White and John de Wolf sit down to discuss dodging bullets, jumping on tractors, agreeing contracts at McDonald's and eye-watering knee injuries.
You Ask The Questions
Harry Redknapp tackles your posers about managing with Bobby Moore, swapping Portsmouth for Southampton, missing out on the England job, and betting on horses in Alex Ferguson's office.
The Mixer
This month's best football clobber from around the world, including a retro referee-related timepiece, Oakland Roots' new outfit, some font-tastic Typekits and Pele-inspired prints.
The September 2019 issue of FourFourTwo magazine is brought to you by Harry Redknapp, Shaka Hislop, Rio Ferdinand, Lucio, Paul Merson, Christian Pulisic, Graeme Souness, Stephen McPhail, Stephen Bradley, Benni McCarthy, Gus Poyet, Faye White, John de Wolf and Scott Sinclair.
Order a copy, then subscribe! 5 issues for £5
Quizzes, features and footballing fun
Get the best features, fun and footballing frolics straight to your inbox every week.