PHOTOS: A frosty warning for Spurs from Chelsea's past
Spurs won't want to follow in Chelsea's footsteps as they head to Norway.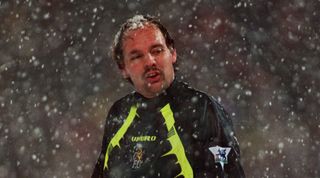 Back in October 1997, Chelsea were far from a dominant force in Europe: in fact, the Blues had had just one continental campaign in the previous 25 seasons. That would change with their 1997/98 Cup Winners' Cup run, which climaxed in a 1-0 win over Stuttgart in the Stockholm final.
But the road to Sweden wasn't without its obstacles - including some snow.
The second round draw pitted them against Norwegian side Tromso, based above the Arctic Circle. Against a team picked from part-timers, and Chelsea were predicted to all but seal their progress in the first leg in Norway. What actually happened was quite different.
Ruud Gullit's side were poor throughout, and despite two late goals from Gianluca Vialli, they lost 3-2. This was, at least according to Gullit, largely down to the drifts of snow that layered the pitch during the interval. The game had to be delayed twice so the pitch could be cleared, with volunteers clearing snow from the two penalty areas when the ball was at the other end of the field.
However, if you believe then Tromso midfielder Bjorn Johansen, the conditions actually helped Chelsea more than the hosts. After the match he replied to Gullit's assertions that the game shouldn't have gone ahead. "The snow saved them. If it hadn't come down so heavily during the interval, we could have scored five goals. They should not be complaining about the conditions because it helped them and levelled up the match."
Tromso's third, scored shortly after Chelsea had pulled the score back to 2-1, was a particular point of controversy. Chelsea had dragged Frank Leboeuf over to the side of the pitch in anticipation of bringing on Andy Myers in his place, but the UEFA officials prevented a quick switch, and whilst the Londoners were a man light Tromso pounced and made it 3-1.
After the game Gullit raged that the fixture shouldn't have been allowed to go ahead, calling the match a "farce". The controversy was soon forgotten as Chelsea won the return leg 7-1. The Blues aren't the only team of note to falter in Norway, though: Turkish giants Besiktas and Galatasaray have both been bested by Tromso in recent years.
Things are slightly different now as Chelsea's rivals Tottenham prepare to make the chilly trip north for their Europa League group stage fixture on Thursday evening. For one, Tromso are now a professional outfit and have enjoyed some success domestically in recent seasons - they finished third in 2008 and 2010, and runners-up in 2011. Yet Tromso were relegated to the second tier at the conclusion of the 2013 league season, prompting a look into the club's finances and the release of a number of players.
October and November have always been problem months for Norwegian sides and their pitches, but Tromso are much better prepared than in 1997. They now have an artificial pitch which can cope far better with the unpredictable and often harsh weather. There was some heavy snow in Tromso on Wednesday and more is forecast for Thursday, though whether it settles or not remains to be seen.
Andre Villas-Boas must be hoping his players don't freeze on the night and put in another "embarrassing" performance just days after their 6-0 thumping at Manchester City. The Portuguese could certainly do without being shown up in a similar fashion to his former employers all those years ago.
Quizzes, features and footballing fun
Get the best features, fun and footballing frolics straight to your inbox every week.
Thank you for signing up to Four Four Two. You will receive a verification email shortly.
There was a problem. Please refresh the page and try again.