Quiz! Can you name the last 30 English managers in the Premier League?
From Big Sam to, er, Big Sam, who are the most recent coaches from England to manage in the top division?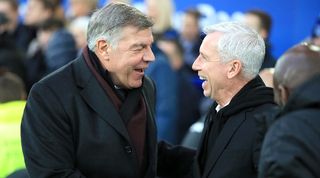 Frank Lampard may not yet be a Premier League manager – his move to Chelsea somehow becoming this summer's long-running saga – but there are already some English gaffers knocking around the top flight.
Along with Lampard, there will be three English managers lining up in a Premier League dugout for the first time next month.
That makes a change from the usual merry-go-round we see, with the same few domestic managers getting whatever job comes up.
That's why, while the headline may say 30, there are actually only 23 managers listed below. Naming Big Sam will bring you in a bonanza score from the off.
To make things simple, we haven't included any interim or caretaker managers who didn't subsequently get the job, no matter how long they were in charge for (sorry, Gary Megson). 
We're giving you six minutes to name as many as you can – giving you the club they managed, and the month of their last game in charge.
Send us a screenshot of your score to @FourFourTwo once you're done (don't include any answers please, that spoils the fun) and then challenge a mate to do better...
THEN TRY…
LIST 11 players who re-joined their former clubs for (much) more money
QUIZ How many of the 100 most expensive Premier League transfers can you name?
---
More great football quizzes on FourFourTwo.com