Scouted: Iver Fossum, the next Martin Odegaard on Real Madrid's radar
The young Norweigan is two years Odegaard's senior but could yet be just as big, writes Kris Heneage...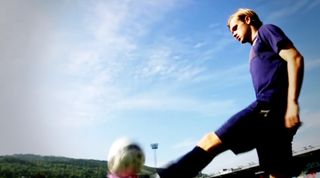 The 60-second story
FACT FILE
Date of birth: July 15, 1996
Place of birth: Drammen, Norway
Height: 5ft 11in
Position: Central midfielder
Current club: Strømsgodset (35 apps, 4 goals)
International: Norway U21 (4 caps, 0 goals)
A product of the Strømsgodset IF academy, Iver Fossum is the quiet story bubbling under the surface of the Norwegian Tippeligaen.
The first glimpses of his precocious talent at the age of 14 with Godset-B drew attention from the country's biggest club Rosenborg, who subsequently tried to sign him. However, Fossum spurned their interest and instead chose to stay loyal to Strømsgodset, who had been close to liquidation only a few years prior.
The teenage midfielder made his debut in 2013, and after a handful of substitute appearances emerged onto the first-team scene in 2014.
Having played more than 25 games and recorded a handful of goals, the 18-year-old has already attracted glances from clubs across Europe, including Real Madrid – the home of his former team-mate Martin Ødegaard who moved there in January.
Why you need to know him
Reports in the Norwegian press said that when officials from Real Madrid arrived in Drammen to tie up the Ødegaard deal, they also spoke to director of football Jostein Flo about Fossum's availability.
More importantly, the young midfielder represents an exciting new generation of Norwegian talent alongside Ødegaard and Mats Dæhli, who recently joined SC Freiburg after a spell with Cardiff City.
As his current manager and former Strømsgodset striker David Nielsen said: "When people see the YouTube video [of Iver] they will think: 'Wow what a good player!'"
Becoming a mainstay of the Strømsgodset side last season, he did so while firmly ensconced in the shadow of fellow wonder-kid Ødegaard: "I live well with it," he chuckled.
In many ways that quiet space has benefited Fossum, as it has allowed him to grow without any pressure as the team finished fourth in the Tippeligaen.
Playing in a side that seeks to play a quick, short-passing style has brought his game on no end, with Fossum admitting that he feels the style shift is why the club has exceeded expectations in the league.
Strengths
Consistency is by far one of Fossum's greatest strengths. The midfielder rarely has a bad game and has often lifted his team-mates to play better football. Fiercely loyal to his local club, he also displays brilliant awareness and an impressive football brain when operating in midfield.
He may not always produce a Hollywood pass that splits open the defence, but he does make smart choices, even if they are simple passes that maintain possession for his side.
Fossum contributes in both penalty boxes, and is a versatile player who has shown an impressive passing ability from the middle of the park. The Norwegian is smart in his positioning, which sees him regularly find dangerous pockets of space that can hurt the opposition. Eager to work hard and contribute to the team, Fossum really is a driving force behind the Strømsgodset team, an impressive feat for a player so young.
Weaknesses
So far the most glaring one is his composure in front of goal, as he wasted a handful of good chances to score last season. But overall Fossum is an important contributor at both ends of the pitch, with his positioning and work-rate both good assets which often see him find good positions in the final third. However, for all his assets the midfielder needs to begin recording more goals and assists.
They said...
Boss Nielsen is a big fan of the midfielder's potential. With all of the Strømsgodset talk of late being about Ødegaard, it would be easy to ignore Fossum's contribution. His manager, however, has not.
"What people fail to remember is that the the clubs who come here to watch Martin returns with Iver's name on their list as well," he said.
Speaking about Fossum's contributions this season, he added: "Iver has probably been our best player this season. He keeps it simple. It is more fun to watch players like Martin Ødegaard and Gustav Wikheim because of the pace and dribbles, but Iver is just as talented," he told Drammen Tielended.
Did you know?
Fossum's life has been far from a easy. At just 14-years-old he lost his father in a devastating car accident. Showing tremendous mental strength, Fossum has not let the situation and chronic grief overcome him.
In fact, the teenager said that he has used football as a form of therapy, telling VG: "Football has been extremely important to me. It was a sanctuary, a place I could go to think about anything else. It has helped very much. It is hard, that's what. But you have no choice. You just have to put it down and move on."
What happens next?
A stay at Strømsgodset is most likely. At just 18, it makes sense for Fossum to continue learning his trade and flourishing in comfortable surroundings alongside fellow young prospect Martin Rønning Ovenstad.
Reflecting on his first full season in the first team, he said: "For my part, I am very satisfied. I had not expected to play as much as I have done."
If he can build on his first season success in 2015, suitors may finally come calling. Godset cannot hold onto him forever – they know that – but what's important is that he keeps improving his game and working on improving his goal contributions.
As for the long-term, there are a number of routes open to the teenager. While Real Madrid have registered an interest, Fossum is a Manchester United fan. With the Red Devils having let one Nordic talent go in Dæhli, perhaps they will not make the same mistake twice.
Thank you for reading 5 articles this month* Join now for unlimited access
Enjoy your first month for just £1 / $1 / €1
*Read 5 free articles per month without a subscription
Join now for unlimited access
Try first month for just £1 / $1 / €1
Get FourFourTwo Newsletter
The best features, fun and footballing quizzes, straight to your inbox every week.