Why Alvaro Morata would be perfect for Manchester United
published
Manchester United look set to tie up a move for the Spanish striker imminently, and Ryan Baldi thinks he would provide the ideal solution to Jose Mourinho's forward issues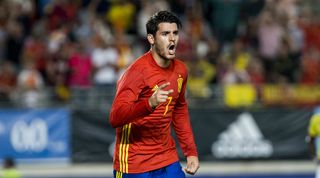 It was set to be the transfer saga of the summer, but in the end it was over before it had really begun. When the Court of Arbitration for Sport decided to uphold Atletico Madrid's transfer ban, Antoine Griezmann elected to stay with the club for another year rather than join Manchester United, feeling it would be unfair to leave Diego Simeone's side while they could not replace him.
With that, United switched focus and will instead look to bolster their attacking options with the addition of a more conventional No.9. Romelu Lukaku and Andrea Belotti have both been mentioned as potential targets, but it seems the Red Devils are closing in on the capture of Alvaro Morata from Real Madrid.
That Zlatan Ibrahimovic will not be given the chance to extend his Old Trafford stay into a second season has only served to intensify the Red Devils' search for a striker.
Morata, who was handed his professional debut by Jose Mourinho in 2010 when the pair worked together at the Bernabeu, has divided opinion among United fans. Some see the 24-year-old as a high-quality striker capable of sharpening an attack that was far too profligate last season, others think that the 20-time champions of England should not be forking out a reported £64m for a player who struggled to crack the Madrid starting XI in 2016/17.
Perfect solution
The truth is, however, despite the fact that he may not have been the main man for Zinedine Zidane's European champions, Morata is absolutely perfect for both United and Mourinho.
Throughout his managerial career, Mourinho has always favoured totemic frontmen to lead the line in his team – think Benni McCarthy at Porto, Diego Milito at Inter, as well as Didier Drogba then Diego Costa at Chelsea. Tall, physical and athletic strikers, strong in the air and not afraid of a challenge.
Though far from a brutish battering ram, the 6ft 2in Morata is a physical presence in the opposition's penalty area, while his tremendous athleticism and mobility gives him an edge over the man who acted as the figurehead of the United attack last season.
For all his many virtues, Ibrahimovic, at 35 years of age, is no longer able to get around the pitch as he once did. The towering Swede brought leadership, a winning mentality and goals – 28 of them - to Old Trafford last season. His contribution to the club's League Cup and Europa League successes cannot be overestimated.
But Ibrahimovic could also be a frustrating figure. Lacking movement and mobility in forward areas, the former Milan and PSG superstar would often slow attacks down and, tied to his advanced central station, became a funnel through which all of United's attacks ran (and with whom they usually culminated too).
That meant that if Zlatan wasn't scoring, United as a whole struggled to find the net. Having arrived on the red side of Manchester with no shortage of doubters writing him off, his 17 league goals in 28 games silenced the critics. But the fact that the second-highest Premier League goal-scorer for Mourinho's men was Juan Mata with just six strikes shows that Ibrahimovic had become a vacuum for scoring opportunities.
With Morata, that wouldn't be the case. Willing and able to run the channels and unselfish inside the penalty area, he would all but guarantee a more democratic spread of goals throughout the team.
Collective gains
Anthony Martial, the 21-year-old French forward who promised so much in his early United career but delivered disappointingly little last term, could stand to benefit most from Morata's presence. The Spaniard is accustomed to playing alongside the likes of Cristiano Ronaldo and Gareth Bale at Madrid. Although he may be the team's striker when he starts, his remit is just as much about accentuating the impact of his superstar colleagues as it is scoring himself.
With an average of 24.2 passes per 90 minutes last season to Ibrahimovic's 38.5, the Madrid man isn't as used to dropping from the frontline to link play as the veteran Swede, but the Spaniard's movement off the ball is key to how he aides those around him.
By pulling wide, Morata helps stretch the space between the opposition's full-back and centre-back and creates more defined openings for the wingers to move into than would otherwise be the case. As a converted striker, Martial – and indeed Marcus Rashford, as and when he's deployed on the flank – loves nothing more than to cut inside onto his stronger right foot and look to threaten the goal.
The above Stats Zone image, taken from games against Everton and Sunderland in April last season, show Ibrahimovic's activity throughout each fixture. Aside from occasionally coming deep to look for the ball and link the play, the majority of the Swede's actions are confined to the penalty area.
Here we see Stats Zone graphics from Madrid's games against Deportivo La Coruna and Granada towards the tail end of 2016/17. Note the completed dribble icons for Morata in the wide-left zone - his overall activity is far less concentrated into one area than Ibrahimovic.
Both men performed well in these games, with Ibrahimovic netting two goals and registering an assist and Morata scoring three and assisting one. But the difference in the approach each player takes to their role is evident.
Morata is also willing to pick out a better positioned team-mate rather than taking a low-percentage strike at goal himself. His return of four league assists last season is just one shy of Ibrahimovic's total, despite the fact that the Swede played 1,103 more minutes of football.
Yet if there's one overriding facet of Morata's game that will have attracted Mourinho to him, it will be his workrate. The 24-year-old presses from the front relentlessly - something ingrained in him from his two years at Juventus under Massimiliano Allegri - and never shirks his defensive duties, always happy to track back and augment the midfield when necessary.
His average of 1.7 attempted tackles per 90 minutes last term was better than that of Ibrahimovic, Martial, Jesse Lingard and Marcus Rashford.
Missed in Turin
It was this workrate that endeared Morata to Juventus supporters during his time in Turin, and also why they were so disappointed to lose him when Madrid elected to exercise the €30m buyback option they held on the player last summer. If he demonstrates similar levels of commitment in England should he move to Man United, he'll soon be equally adored inside Old Trafford.
But the area in which Morata will prove of most worth to Mourinho's side - above his work ethic, unselfishness and ability to bring the best out of those around him - is his finishing.
Manchester United ranked fourth in the Premier League for chances created last season, having conjured 447 scoring opportunities. Yet they were only eighth-best when it came to goals scored, hitting the net a less than impressive 54 times. That's fewer goals than Bournemouth (55).
No team in the division missed more 'big chances' than United either (50), while no player wasted as many opportunities as Ibrahimovic (17). Indeed, Mourinho's men ranked a lowly 17th in the top flight for chance conversion (13%), ahead of only Southampton, Middlesbrough and Sunderland.
Such profligacy was a major contributing factor to United's sixth-place finish, and largely responsible for their 15 draws – many of which came against weaker opposition in games within which chances were wasted.
Morata hasn't always been a regular goal-scorer throughout his career. In fact, the 20 all-competitions goals he netted last term is comfortably his highest single season return to-date. But with limited first-team game time, stuck behind Karim Benzema in the pecking order at the Bernabeu, the 20-cap Spain international's average of one league goal every 89 minutes in 2016/17 could only be bettered by Barcelona's five-time Ballon d'Or winner Lionel Messi.
Furthermore, Morata's stunning 27.27% conversion rate for last season not only easily outstrips every United player – Ibrahimovic scored just 15.45% of his opportunities – it also tops Lukaku (22.72%), Andrea Belotti (20%) and even Premier League Golden Boot winner Harry Kane (23.36%).
This kind of lethal touch in front of goal is desperately needed at Old Trafford, and would create an instant upturn in Manchester United's results.
Long-term form
However, the only caveat to Morata's remarkable numbers is that it remains to be seen whether last season's statistical performance was an anomaly or a sustainable improvement. He'd never previously managed a one-in-two scoring rate, but has likewise never been given the confidence to lead the line on a regular basis at club level.
Morata's goals last season were largely the product of a growing comprehension for intelligent forward play and a maturing finishing technique. The improvements in his game were notable and, as yet, there's no reason to believe that they are not permanent.
His second-fiddle status behind Benzema should also not be held against him. The French forward is not necessarily any more gifted than Morata on an individual level, it's just that he has forged a near-telepathic understanding with Bale and Ronaldo over the years. Dropping him now would represent a significant risk for Zidane, the kind which he can ill afford in the high-pressure post he occupies.
At 24, Morata is itching to be given the confidence of his coach, ready to be the main man for a top club. That doesn't look to be a realistic possibility if he stays where he is, but he has all the tools to be a resounding success at Manchester United.
Thank you for reading 5 articles this month* Join now for unlimited access
Enjoy your first month for just £1 / $1 / €1
*Read 5 free articles per month without a subscription
Join now for unlimited access
Try first month for just £1 / $1 / €1
Quizzes, features and footballing fun
Get the best features, fun and footballing frolics straight to your inbox every week.
Thank you for signing up to Four Four Two. You will receive a verification email shortly.
There was a problem. Please refresh the page and try again.