Perez: Villa arrival merely a matter of time
MADRID - Real Madrid will be patient in their pursuit of Valencia striker David Villa, president Florentino Perez said on Thursday.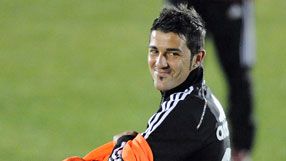 "(Valencia president) Manuel Llorente is clear about what he has to do and so am I. The operation is a question of time," Perez told television station Canal Nou.
"We have the whole summer in front of us and it will be important to explain the signing very well to both sets of fans."
Perez has already spent around 68 million euros to land Brazil playmaker Kaka from AC Milan and has had an 80 million pounds offer accepted for Manchester United's Portugal winger Cristiano Ronaldo.
Negotiations for Spanish international Villa's transfer to Real ran into problems last weekend, with differences over his value the main sticking point according to media reports.
"Kaka and Cristiano Ronaldo are two strategic pillars of this project," said Perez.
"These are players that have won the Ballon d'Or and FIFA world player of the year, who I describe as 'investment' players because they have an international reach which others maybe haven't reached."
Financially-troubled Valencia have debts of more than 450 million euros, according to media reports.
Spanish sports daily Marca said last week a deal was in place under which Real would sign Villa for around 37 million euros, with striker Alvaro Negredo moving in the opposite direction to Valencia.
NEWS: Villa: I know where my future lies
NEWS: Villa would only leave Spain for LiverpoolNEWS: Torres tells Rafa: Go get Villa
Thank you for reading 5 articles this month* Join now for unlimited access
Enjoy your first month for just £1 / $1 / €1
*Read 5 free articles per month without a subscription
Join now for unlimited access
Try first month for just £1 / $1 / €1