Tottenham to ban fan who attacked Arsenal goalkeeper Aaron Ramsdale after derby
Spurs have released a statement saying they will identify and ban the fan who attacked Arsenal's Aaron Ramsdale after the derby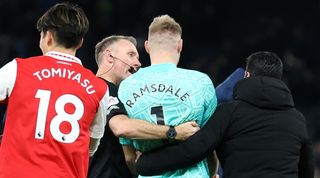 (Image credit: Getty Images)
Tottenham say they will identify and ban the supporter who attacked Arsenal goalkeeper Aaraon Ramsdale following Sunday's north London derby.
Arsenal won 2-0 to move eight points clear at the top of the Premier League, but tensions boiled over at the final whistle as one of the Spurs fans climbed over the advertising hoardings and kicked out at Ramsdale, before being pulled back by stewards.
"We are appalled by the behaviour of a supporter that attempted to attack Arsenal goalkeeper Aaron Ramsdale at the end of today's match. Violence in any form has no place in football," Spurs said in a statement.
"The Club has reviewed its CCTV footage to identify the supporter and will be working with the Met Police, Arsenal and Aaron Ramsdale to take the strongest possible action, including an immediate ban from Tottenham Hotspur Stadium."
The Football Association and The Professional Footballers' Association also condemned the fan's actions.
"We strongly condemn the incident involving a spectator that followed today's Premier League fixture between Tottenham and Arsenal," the FA said in a statement.
"This is wholly unacceptable behaviour and we will work together with the police, the relevant authorities and the clubs to ensure the appropriate action is taken."
And the PFA said: "Violence towards players is completely unacceptable. These types of incidents are happening far too often," the PFA said in a statement.
"Players have a right to be safe in their place of work. When a player is attacked, we expect the laws and regulations that are in place to protect players to be properly enforced.
"As the players' union, we treat this as a priority issue. We will continue working with the authorities to demand that players and staff are better protected in their place of work."
"It's completely out of order and unacceptable"Jamie Redknapp reacts to scenes that saw a fan try to kick Arsenal goalkeeper Aaron Ramsdale after the full-time whistle 👇 pic.twitter.com/aWMqKJec5yJanuary 15, 2023
Ramsdale also spoke about the incident after the match and admitted he was disappointed by the actions of the fan in question.
"The Spurs fans gave me some throughout the game," he said. "I was giving some back. The people I did give it to greeted it in sportsmanlike terms, but one fan tried to give me a little punch on the back.
"It is a shame as it is just a game of football at the end of the day. Both sets of players tried to bring me away, but thankfully nothing too drastic happened. It is a sour taste, but I'm sure we will enjoy it when we go back into the dressing room."
Meanwhile, Tottenham manager Antonio Conte called for 'respect' from the club's fans.
"In every moment we have to show respect," he said. "If we want respect, we have to show respect. Honestly, I didn't see this. But if it happened, this type of situation for sure, I didn't like it."
Thank you for reading 5 articles this month* Join now for unlimited access
Enjoy your first month for just £1 / $1 / €1
*Read 5 free articles per month without a subscription
Join now for unlimited access
Try first month for just £1 / $1 / €1
Get the best features, fun and footballing quizzes, straight to your inbox every week.
Ben Hayward is Weekend Editor for FourFourTwo. A European football writer with over 15 years' experience, he has covered games all over the world - including three World Cups, several Champions League finals, Euros, Copa América - and has spent much of that time in Spain. He currently divides his time between Barcelona and London.
Get the best features, fun and footballing quizzes, straight to your inbox every week.
Thank you for signing up to Four Four Two. You will receive a verification email shortly.
There was a problem. Please refresh the page and try again.