How Gareth Bale and Zinedine Zidane reached the point of no return at Real Madrid
The pressure is on all parties to find the Welshman a new club after the weekend's slanging match – but how did we get here? Kiyan Sobhani explains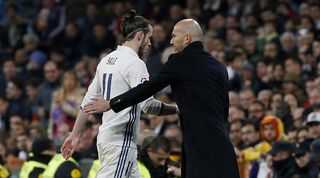 Something happened in the 24 hours leading up to Real Madrid's first pre-season match against Bayern Munich in Houston which changed Zinedine Zidane's stance on Gareth Bale dramatically.
On Friday night, in a pre-match press conference, the Frenchman was coy. "Bale is not a problem," he began. "I will never say that one of my players is a problem. Anything can happen, he's under contract. We'll see. Nothing has changed since last June. Nothing at all." 
Almost immediately after the match, Zidane dropped a bomb. "Bale didn't play because he is very close to an exit," he admitted. "We hope he can leave soon, it is even possible tomorrow. We are working to finalise his move to a new team."
What ensued was a whirlwind of chaos. Bale's agent, Jonathan Barnett, called Zidane  "ungrateful" and "a disgrace". Zidane's quote – one that many only read the shortened version of online – spun out of control. His full comments (which we'll get to) weren't actually too strong – but his decision to go public was an interesting twist from a manager who has always expertly navigated his way out of controversy with quick, political answers.
So what happened between Zidane's conflicting comments? Well, on the surface, not much. Real Madrid wanting to hawk Bale around is nothing new. It has been no secret that the club would have sold him earlier in July, had the right offer materialised. Madrid already had to shed players to trim their squad down after a miserable 2018/19, and Bale – a winger Zidane sees as superfluous – occupies an already-stacked position. Nothing concrete has been reported in the last few days to indicate that Real Madrid are close to striking a deal with any particular club. 
It's unlikely that a deal fell into their lap on Saturday. What Zidane sees and what his club sees are two different things. The manager's public torpedo was fired with the sole aim of aligning all parties' views. Zidane wants Bale gone, full stop, and the club are ready to give him they keys to build his own team. 
But finding a suitor is difficult, and Florentino Perez will eye the economics more than his manager will. Having a Chinese team pay Bale's wages likely means Real Madrid will receive no transfer fee. Sending him to Tottenham would result in continuing to pay him over 50% of his wages. Zidane publicising the ordeal, however, puts pressure on the club to sell Bale anyway – and take a financial hit if necessary. 
Bale is comfortable living in Madrid on the salary he's on. Who wouldn't be? For Zidane, that's frustrating. The Welshman's comfort takes up space that his boss would rather allocate to someone else. Zidane isn't interested in 'making it work' with a player he doesn't want in the squad, though it should be noted that he was instrumental in recruiting Bale at Madrid in the first place, as Perez's advisor in 2013. The two share fond memories together in a player-manager relationship that helped Real Madrid win a ludicrous amount of trophies. 
So how did we get here?  
Zidane wasn't the first person in this soured relationship to air things in public. You can rewind to Kiev in 2018, when Bale – minutes after Real Madrid won the Champions League against Liverpool and fans had barely begun celebrating – went on live international television to express his disappointment at not starting, and that he'd have to review his options with his agent for the following season. 
Bale later revealed that he and Zidane didn't speak after the game – or indeed, until his manager returned. In the lead-up to that final, Zidane used Bale sparingly and often out of position. Bale played well in those cameos. The team looked more balanced as the Welshman helped out Dani Carvajal defensively and freed up Luka Modric to pull strings more centrally. Bale's entrance into the Champions League final will remain one of the best substitute appearances in competition history. All of this work, he believed, justified more appreciation and playing time. 
Then Zidane left – and for Bale, that changed everything. With Cristiano Ronaldo's departure, the Welshman had his chance to become the team's alpha, and was vocal about rising to the challenge. It was a fresh start, and he started the season well under Julen Lopetegui.
But then came the deep funk. 
Bale no longer had Zidane as an excuse. His nemesis wasn't at the club when Madrid's season went south, and the turmoil dialled up to alarming levels. 'Alpha Bale' showed worrying signs of passivity. His 40-yard stingers and blitzing runs of old turned into decelerated counter-attacks; backwards passes even when opposition defences had plenty of space behind them to attack. Often you'd watch an entire match without seeing Bale on the pitch at all. The best version of him is the one who once gobbled up opposing wing-backs and nullified the winger he was marking with his defensive ability. Too often he'd go through the motions when his team desperately needed a jolt in the final third.
And this is a business. Zidane is within his rights to decide that Bale's energy – or lack of – needs to leave the team in order for him to fully implement his vision.
Zidane's post-game quotes were interpreted in different ways. The message was this: the club, Bale and his agent are all aware that work is going on behind the scenes to find the player a different club. Bale didn't want to play in the Bayern friendly – a sentiment shared by Zidane. When his manager said "we hope he can leave soon", he meant collectively – that all parties want to move on. He later said it wasn't personal, just a routine coaching decision to sell a player. That part, about it not being personal, is not as clear as Zidane makes it out to be.
What's more bizarre is the way this story has twisted over time. Bale wanted to leave last summer before Zidane's departure changed his fate. The two weren't close and didn't communicate. And yet, upon Zidane's return, the winger was promptly inserted into his starting lineup, scoring against Celta Vigo as one of the best players on the pitch that day. Zidane then moved away from Bale again and is now keener than ever on his departure. 
One year after Bale expressed disappointment at his lack of playing time, he's willing to stay in Madrid and ride out his time on the bench – an option that wasn't on the cards last summer. On Monday night Zidane went back full circle, stating to the press: "Gareth is a Real Madrid player. That's the most important thing. I'm not at all uncomfortable working with Bale. I will count on him once more."
Bale is training with the team normally. Zidane initially stated that he hoped a transfer would be finalised within a day or two. We've now crossed that 48-hour threshold and there are still no obvious deals on the table. We'll soon find out if Zizou will get his wish.
While you're here, why not take advantage of our brilliant subscribers' offer? Get 5 issues of the world's greatest football magazine for £5 – the game's greatest stories and finest journalism direct to your door for less than a pint in London. Cheers!
NOW READ
RANKED! The 101 greatest football players of the last 25 years
ADVICE 27 essential Fantasy Premier League tips from old winners and experts
OPINION Why Arsenal should become a selling club once again – for their own good
Quizzes, features and footballing fun
Get the best features, fun and footballing frolics straight to your inbox every week.
Thank you for signing up to Four Four Two. You will receive a verification email shortly.
There was a problem. Please refresh the page and try again.