Ranked! The 101 greatest football players of the last 25 years: full list
Since our debut issue in summer 1994, we've got you up close and personal with football's biggest superstars. Now, from Aguero to Zidane, we present the players we've been most privileged to watch since then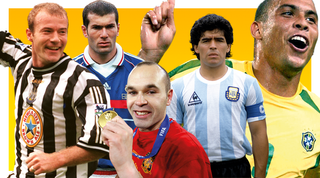 You can tell us what you think of the list over on Twitter @FourFourTwo...
101-81 • 80-61 • 60-41 • 40-21 • 20-1
101. Matt Le Tissier
"Our house was obsessed with him. A half-hour TV programme showed Premier League highlights and he was on. Every. Single. Week. Outrageous, sickening goals: top corner, a flick, an incredible free-kick. 'This guy, Le Tissier, is outrageous,' we used to say to each other. 'And he stays at Southampton. He could play for anyone.'" Xavi, FFT 263
100. Mohamed Salah
Some called Liverpool mad to pay a club-record £36.9m for the once-erratic winger known to Chelsea fans as 'Sally'. Nobody says that now. Mo's irrepressible verve, low centre of gravity and fearsome strike rate have led some fans to dare compare him against Kenny Dalglish – and at Anfield, no praise is higher.
99. George Weah
"I had the pleasure of playing against him. History shows he was one of the best players of the past 20 years. He was a complete player – a powerful striker who scored a lot of goals and was very hard to stop." Dietmar Hamann, FFT 183 (November 2009)
98. Miroslav Klose
What's the opposite of a flat-track bully? Ungainly and bang-average at club level, Klose hit 71 goals (16 at World Cups, a record) in his 137 caps for Germany. They never lost when he scored, and they rarely lost because he nearly always scored.
97. Paul Gascoigne
Gazza's brilliance was always about more than just the football. Sure, there was the wiggle of his hips, instinctive skill and basic love of the game, but it was Gascoigne's mischievous sense of fun which won every heart. The tears of Turin and Euro 96's dentist's chair remain English football's first crossover moments at a time when the beautiful game became cool again.
RECOMMENDED Gazza, the untold stories: the need-to-know tales that launched a legend
96. Tony Adams
"The way he walks, the way he talks, the way he lives his life – he is a born captain. I scored a remarkable goal past him against England at Wembley. The fact that in scoring such a goal I defeated Tony Adams made it all the more special." Dennis Bergkamp, FFT 126 (February 2005)
BETWEEN THE LINES Tony Adams' demons: "The sweats, hallucinations, terrors... the voices... this is not normal"
95. Fernando Hierro
"A leader. He has great positional sense and he is a fantastic passer. At Real Madrid he was a legend – the man who organised everything, pushed us forward and led us to so many trophies." Fernando Morientes, FFT 137
94. Lilian Thuram
"When I faced him, it was the only time I didn't win a single challenge with an opponent. That never happened before or again. He had great ability, he was a good tackler, he had good positioning and he never stopped running. Great longevity, too." Christian Ziege, FFT 185 (January 2010)
93. Yaya Toure
Manchester City were poor and flaky; then they were rich and flaky; then they signed Toure. City's own Eric Cantona, he made them into winners, because at his best he resembled a 16-year-old idly bossing an under-11s game. For a crucial half-decade there was nobody to touch him. They couldn't get near.
92. Juan Roman Riquelme
All Argentine No.10s live in a shadow – but Riquelme was nothing like Maradona. Languid (or lazy, if you weren't a fan) and fonder of the pass than the dribble, 'the bullfighter' was the last great enganche, directing operations with grace, flair, beauty, vision and maybe five tackles in two decades.
PROFILE Idle idol, divinely divisive, combative conundrum: Juan Roman Riquelme
91. Davor Suker
The career of the shotputter's son and future president of the Croatian FA can be reduced to mere fragments. That shirt, that chip, and that underwhelming Premier League spell. But throughout, he combined physicality with grace and a left foot like a cliché. At Sevilla, the striker was given a melon every time he scored for them. He got a lot of melons.
90. Diego Godin
With four Ballons d'Or in 63 years, defenders are rarely praised unless they're frustrated attackers. Godin, on the other hand, is admired universally for embodying Atletico Madrid's none-shall-pass rearguard, hovering on the laws' fringes and scoring the odd crucial goal – before scurrying back to mind the shop.
89. Carlos Tevez
'Tis a pity that scandals over ownership, billboards and a refusal to play has marred the memory of this fearsome competitor. Tevez tore apart defences with his vision and his strength, epitomising how our game at its best combines intelligence and presence, brains and brawn.
88. Filippo Inzaghi
Just the 313 goals, mostly for Juventus, Milan and Italy, with 46 of them coming in 81 (often vital) Champions League games – including both in the 2007 final. "He can't play football," said Johan Cruyff. "He's just always in the right position." But some knack to have.
87. Franck Ribery
Always watch the little ones. Ribery, 5ft 7in, stretched himself into one of the world's best wingers, an opinionated joker with élan and joie de vivre belying his hard start in life. Franz Beckenbauer bracketed Ribery with Messi and Ronaldo; Zinedine Zidane anointed him his successor.
86. Henrik Larsson
What if? What if the lethal Swede left Celtic at his early noughties peak? What if he hadn't waited until 2004 to join a giant the size of Barcelona? Valid questions, but irrelevant. Larsson's seven seasons in Scotland feel from a different era, a time when players stayed put even when bigger boys knocked. A striker who had it all – even loyalty.
BIG INTERVIEW Henrik Larsson – "I got letters from parents, upset that their kids were running around with their tongues out"
85. Oliver Kahn
"He had an aura about him: always in command, with very good positioning and reflexes. He controlled his area, and the team had confidence in him. We always felt sure that even if a shot did come his way, he would stop it." Dietmar Hamann, FFT 183
84. Didier Drogba
Many players excel. Few change the game. Drogba's pace, presence and goals enabled Jose Mourinho's sole-forward system to flourish and become the tactical standard. He topped a dozen league goals only twice in nine seasons at Chelsea, but it was enough to alter football forever: every manager since has wanted a Didier Drogba.
83. Gianfranco Zola
"The nicest man I've ever had to kick. I would apologise if I mistimed a tackle. And even though we won, he smashed Arsenal all over the place for Parma in the '94 Cup Winners' Cup Final." Lee Dixon, FFT 227
LIST Gianfranco Zola's 11 most magical Chelsea moments
82. Fernando Torres
"He was unplayable in his first season at Liverpool and was like nothing I'd ever seen before – strong, powerful, fast and able to finish. Chelsea didn't suit him, but he did find a nice house in Surrey. I once saw Scott Parker coming out of a flat and he said to me, "Torres has just bought my house!'" Peter Crouch, FFT 295
SERIES Year Zero: The season that made Fernando Torres (Atletico Madrid, 2002/03)
81. Xabi Alonso
He did win £25,000 for a fan who'd bet on him scoring from his own half, but Alonso's game was usually more discreet; his passing as unruffled as his action-figure hairdo. Often overlooked amid the clamour to praise Spain team-mate Xavi, the Liverpool and Real Madrid man was adored wherever he went.
101-81 • 80-61 • 60-41 • 40-21 • 20-1
80. Samuel Eto'o
"I devour football. I don't go out. I will ask my brother to prepare hundreds of videos on the precise aspects of Barcelona's attacking game, as I want to know everything my team-mates are thinking. It's my unseen training. For example, Messi always wants the ball inside because he never goes outside." FFT 153 (May 2007)
79. Manuel Neuer
"We're closely linked because of that goal at the 2010 World Cup. I bumped into him on holiday and we joked about it by the pool. He's fantastic, good with his feet, but it's the size of him: I took a penalty against him in the 2012 Champions League Final and he seemed to fill the goal." Frank Lampard, FFT 289
78. Eden Hazard
For too long, the buzzcut Belgian with the unshakeable balance was the only world-class performer at Stamford Bridge. Drifting through the melee like a fox in a graveyard, he gave Chelsea seven seasons and won two league titles. Now, in Real Madrid, he has the platform to shine before his Ballon d'Or window closes.
77. Wesley Sneijder
Still oozing class in Qatar, Holland's most-capped player was one of the world's best midfielders – man of the match in six of the Dutch's 11 games at Euro 2008 and the 2010 World Cup. Versatile and ambidextrous, Sneijder has won over a dozen trophies in five countries – most memorably Inter's 2010 treble.
76. Jurgen Klinsmann
Just as FourFourTwo drew its first breath in the summer of 1994, Klinsi was busy proving that the Germans do have a sense of humour, marking his first goal (on debut) at Sheffield Wednesday with a dive celebration. The Beetle-driving Klinsmann sniffed out goals for fun and was among the Premier League's first imports with genuine stardust. Not that Alan Sugar liked it.
ACTION REPLAYJurgen Klinsmann at Tottenham, 25 years on: dives, Maradona – and nearly dying
75. David Trezeguet
Only Alessandro Del Piero, Giampiero Boniperti and Roberto Bettega scored more for Juve, and the latter two lingered much longer with the Old Lady. Trezegol's Euro 2000-winning Golden Goal was one of 300 bagged across 22 countries by the opportunist French-Argentine, including one at Old Trafford clocked at a mere 97.6mph. Marksman.
74. Christian Vieri
"'Bobo' was one of Europe's best strikers during his playing career. He was never afraid to work hard to score his goals. He was great with his head and was very strong on the ball and in the box." Alessandro Nesta, FFT 223
73. John Terry
"The first time I saw John he was out on the training pitch practising 35-yard passes, long after the rest of the squad had disappeared. He wanted to better himself and he couldn't get enough of the game." Ray Wilkins, FFT 129
72. Michael Owen
He's no fantasy dinner guest, but then Stephen Fry doesn't score many goals. Until his hamstrings pinged, Owen combined unbelievable speed with unflappable finishing to break records. At France 98, Argentina suffered the ur-Owen goal: send it long and watch him fly.
BETWEEN THE LINESMichael Owen: "After France '98, I'd get home at 1pm every day and sit there until 11pm replying to mail"
71. Deco
A pantomime villain to some for his Machiavellian tactical fouls, Deco was nevertheless a sublimely gifted operative. Brazilian-born and blessed with Seleção skills, he was Porto's pivot – full of vision – as they won the Champions League, before excelling alongside Ronaldinho at Barcelona and winning it again. Nice.
70. Claude Makelele
You've got to be handy to have an entire position named after you. The Frenchman redefined how we thought about defensive midfielders, acting as a human shield in front of defence. Hardly anyone has done it better since big Claude's imperious mid-noughties spell at Chelsea.
RANKED!The 10 best central midfielders in Premier League history
69. Hristo Stoichkov
"He could change the course of a game at any given moment, thanks to his force of character as much as his ability. So unpredictable. He had a great left foot, and as a lefty myself I couldn't help but admire his skills." Emmanuel Petit, FFT 168 (August 2008)
68. Michael Ballack
"He got into the German national team at a young age and became a top player with Bayern Munich and Chelsea. He's a complete player, and the best German player of his generation." Christian Ziege, FFT 185 (January 2010)
67. Thomas Muller
"Ich bin ein Raumdeuter," said the Bayern man when asked to explain his role: "I am a space investigator". Indeed he is. Making space and exploiting threatening areas is what the Neil Armstrong of the game thrived at. In terms of football intelligence, awareness and leadership, there have been few better.
66. Sergio Aguero
Say what you like about the peroxide barnet: the Argentine has a case to being the Premier League's most underrated player. A natural-born predator whose backside could crack a Brazil nut, Aguero has averaged 0.68 goals a game in all competitions for Manchester City – a scarcely credible figure for a player who has only been in two Premier League teams of the year.
65. David Silva
Noel Gallagher's declaration that he'd let him spend a night with his wife sums up how Manchester City fans feel about the Spaniard. He's effective in a way that can't be expressed with stats: suffice to say that few others can use a yard of space better, and that Silva has been the soul of the greatest ever Premier League XI.
64. Juan Sebastian Veron
"The driving force behind Lazio's Scudetto season in 1999/2000. He's one of the most accomplished players of all time. Most notably, Seba's technique both with and without the ball was simply one of the best." Alessandro Nesta, FFT 223
STORYVeron: I should not have left Manchester United
63. Bastian Schweinsteiger
Now winding down his career as a calm centre-back for Chicago Fire, 'Basti' will always be remembered as a central midfield commander who bossed proceedings with defensive steel, peerless distribution, real guile and a German-made engine – which all came together in the 2014 World Cup Final.
62. Dani Alves
"A player of the highest quality. He never panics. Alves has had success at Sevilla, but he will move to a bigger club. He's very fast, and while everyone knows he gets forward, he gets back just as quickly. Exceptionally skilful; he's the new Cafu." Samuel Eto'o, FFT 167 (July 2008)
BIG INTERVIEWDani Alves on Pep, Barça and being part of something special
61. Edwin van der Sar
"Goalies are supposed to be crazy, but it's not true with this guy. His mind was always straight. He made so many saves for us at Ajax – he won us 10-15 points a season. I bet Alex Ferguson wishes he could have had him for longer." Ronald de Boer, FFT 192 (July 2010)
BIG INTERVIEWEdwin van der Sar - "After I'd pushed away Anelka's penalty, I felt like I was separated from the world for a couple of seconds"
101-81 • 80-61 • 60-41 • 40-21 • 20-1
60. Clarence Seedorf
There's no such thing as coincidence; certainly not when it comes to Seedorf being the only player to have won the Champions League with three different clubs. Whether for Ajax (1995), Real Madrid (1998) or Milan (2003 and 2007) the Dutchman was a consistent, composed midfield presence for every team he turned out for. Inconspicuous, maybe. Insignificant, never.
59. Gheorghe Hagi
"We were team-mates at Galatasaray in 1996, and he was one of the best left-footed players of all time. Gheorghe's technique was just amazing, especially striking the ball. He could see three pictures ahead of anybody else on the pitch – a true general on the field." Brad Friedel, FFT 287 (May 2018)
RECOMMENDEDWhy Gheorghe Hagi is a footballing icon
58. Marcel Desailly
"With some central defenders, you'll think, 'he's not strong' or, 'he's not so quick', but Desailly was virtually impossible to play against. I tried kicking him once and hurt my foot, which shows you what sort of game I had against him." Michael Owen, FFT 157
57. Frank Lampard
His 177 Premier League goals (the fourth-highest total ever and two more than Thierry Henry) is ludicrous for a central midfielder – but Lampard was just as gifted at picking passes as he was at finding the onion bag, and remained remarkably consistent under myriad Chelsea managers with wildly different systems.
BIG INTERVIEW Frank Lampard – "When an overweight woman in the chicken run shouted 'Fat Frank', that was when I realised it was getting ridiculous"
56. Ruud van Nistelrooy
Two-footed, majestic in the air and deadly in one-on-ones, the Dutchman was a nightmarish proposition for defenders. He was a poacher supreme, with just one of his 150 United goals coming from outside the area. But Ruud knew his strengths – hard graft and killer instinct – and exploited them to the limit.
55. Zlatan Ibrahimovic
The hair, the ink, the regal 'do I not amuse you?' posturing and the third-person bon mots ("Zlatan doesn't do auditions") makes it hard to separate footballer from myth. But we'd still be hailing a great: an intimidating physical presence married to speed, technique, artistry and acrobatic finishes.
LONG READ The making of Zlatan – friends and foes reveal the rise behind the legend
54. Robert Lewandowski
The Polish forward has always been effective but for Bayern he's been on another planet: 125 Bundesliga goals from 152 games, giving him a frankly silly strike rate of 0.82. Lew is mainly a penalty-box fox, but his pace, positioning and lethal finishing combine to form the ultimate modern marksman.
53. Rio Ferdinand
Ferdinand was at the vanguard of transforming how English players defend. While never shying away from a good battle, he went about his work in a European style: snuffing out danger quietly rather than through crunching tackles, and was a limousine of a player cruising upfield. Imperious.
52. Andriy Shevchenko
"Football chose me. Destiny pushed me in the direction of football and that's why I'm here today. I was meant to be a footballer. I was always told patience is the best of virtues, and that you will achieve your goals as long as you work very hard." FFT 127
LIST 11 world-class players who nearly joined unfashionable Premier League clubs
51. Alessandro Nesta
"Quite simply, he's the best defender in Italy, and that's saying something. He's quick and tall – two vital things for a centre-back – he puts his opponents under pressure all the time and has a quality touch with a ball at his feet." Roberto Carlos, FFT 119 (July 2004)
50. Alan Shearer
"Watch these and study what Shearer does," said Juventus boss Marcello Lippi, presenting his forward line with some video homework, after Newcastle beat Juventus in the 2002/03 Champions League. The Premier League's record marksman – and lover of creosote – really was that good at his late-90s peak that Alessandro Del Piero, David Trezeguet and Marcelo Salas had to study him. Nuff said.
49. Cafu
"An incredible athlete and warrior on the field, and a sincere and kind man off it. He is strong and powerful, and he possesses exceptional technique. Cafu's runs from defence resulted in numerous goals, and his jokes helped to ease the pressure during training and in matches." Andriy Shevchenko, FFT 195
BIG INTERVIEW Cafu: "It's true that Milan were celebrating at half-time against Liverpool in Istanbul"
48. Roy Keane
"Roy dictates the pace of play. He's a great tackler and he starts attacks, passes with metronomic accuracy and works tirelessly. When things are tough, as they were in the 1999 Champions League semi-final in Turin, Keaney gets going." Teddy Sheringham, FFT 93 (May 2002)
YEAR ZEROThe making of Roy Keane (Nottingham Forest, 1992/93)
47. Patrick Vieira
"Vieira had non-stop energy and athleticism, mixed with a delicate touch. He was a real presence and he couldn't half tackle. I can remember standing in the tunnel, looking up at him and then thinking, 'What am I going to do with you today?' A monster of a player." Danny Murphy, FFT 235
46. Matthias Sammer
For two years in the '90s, he was king of Europe. Oozing class in a libero role at Euro '96, Sammer scooped Player of the Tournament as Germany were crowned champions. He was Die Mannschaft's heartbeat, and 12 months later would captain Borussia Dortmund to Champions League glory too.
45. Peter Schmeichel
Manchester United's 1990s dominance could not have happened without the Dane's bear-like presence. One of the all-time goalkeeping greats, he left United in the best possible way – with the Treble. And, not content with dominating his own area, Schmeichel even scored 11 goals in his career.
BEST FOREIGNERSNo.9 Peter Schmeichel(by Henning Berg)
44. Arjen Robben
Knowing what Robben will do is one thing – stopping it is another. He perfected the art of cutting inside and finding the net, and scored the winner in the 2013 Champions League Final – one of nearly 150 goals he hit for Bayern Munich. He would be higher on this list but for injury; his arrival was key to Chelsea's first title in 50 years.
BIG INTERVIEW Arjen Robben: 'They called me the "man of glass" – but I had the last laugh'
43. Pavel Nedved
The midfielder's blond locks made him a style icon as well as one of the finest talents of his generation. A superlative passer, gliding across the pitch, Nedved helped his country to the Euro '96 final and Lazio to their only Scudetto since 1974 – then won the Ballon d'Or as a Juventus player in 2003. Also: the hair...
42. Javier Zanetti
The Tractor seemed to play on forever: with 1,114 career matches (mostly for Inter), he's seventh on the list of all-time appearances. How did he do it? Through versatility, unparalleled consistency and maximising his abilities with an ultra-diligent approach to training every single day.
BIG INTERVIEW Javier Zanetti – "The free-kick against England? We'd practised it for four years!"
41. Carles Puyol
"We met as teenagers, and it gave me great joy to see him turn into a huge player. He was strong and worked hard, but a Barcelona legend? No chance. Then he proved us all wrong! He was everything to Barça and the heartbeat of their success." Luis Garcia, FFT 249 & FFT 280
101-81 • 80-61 • 60-41 • 40-21 • 20-1
40. Iker Casillas
"He must be one of the best keepers ever in one-on-ones, and I should know – I faced him a lot in training! He is very, very difficult to beat, and he was an important part of Real Madrid's success while I was there." Fernando Morientes, FFT 137 (January 2006)
39. Edgar Davids
The only former Barnet player on this list (sorry, Giuliano Grazioli) was a midfielder formidable enough to live up to his nickname, 'The Pitbull'. It's little wonder Milan, Juventus, Barcelona and Inter all signed him after Ajax's Champions League win. His glasses were cool; that he had to wear them due to glaucoma, less so.
38. Roberto Carlos
That mesmerising free-kick against France is reason enough for his inclusion here. The left-back with tree-trunk thighs ("My dad's legs are the same – it's a family thing") won three Champions League titles with Real Madrid and the World Cup with Brazil, while rewriting the rule book of what a full-back must be and do.
37. Gareth Bale
"He began at left-back and had that run where Spurs never won when he played, but that was just coincidence. When I joined, he was becoming a winger. His ability to go past people was incredible." Eidur Gudjohnsen, FFT 294
36 Alessandro Del Piero
The Pinturicchio to Roberto Baggio's Raphael in bursting onto the scene at Juventus in 1993, Del Piero had overtaken his master in the hearts of Old Lady fans by the time he left Turin in 2012. The forward defined Italian football for two decades as a genuine fantastista, winning 17 major honours – including six Series A, a Champions League and the World Cup.
35. David Beckham
Beckham won the Treble with Manchester United, La Liga with Real Madrid and Ligue 1 with PSG, but the moment that typified Goldenballs' greatness came wrapped in an England shirt: that stoppage-time free-kick to reach the 2002 World Cup.
34. Gerard Pique
"Who's the best defender in the world?" Carles Puyol was asked recently. "Gerard Pique, without a doubt." Pique, with increasingly impressive leadership skills to go with his easy-on-the-eye style, has topped the impressive trophy haul of his former defensive partner and fellow Barcelona and Spain legend.
33. Steven Gerrard
"Stevie could win a game on his own. When the chips were down, you saw him in the dressing room and knew you had a chance. Look at the 2005 Champions League Final, or Liverpool's final group game against Olympiakos. A phenomenal passer, a great athlete and a great motivator." John Terry, FFT 270
32. Francesco Totti
The Golden Boy scored his first Roma goal in September 1994 – the same month FourFourTwo was launched – and went on to be the ultimate one-club man and perfect incarnation of the Italian centravanti di manovra: a metronomic, hard-grafting forward with outstanding vision as well as the ability to bag goals.
31. David Villa
Spain's all-time top goalscorer took home the Golden Boot as Spain won Euro 2008, then tied at the top with another five goals as they lifted the 2010 World Cup. A lethal finisher and big-game player, he scored in Barcelona's 2011 Champions League Final victory and even had a hand in Atletico Madrid's shock La Liga win.
30. Luis Suarez
No player adds bite to an attack quite like Suarez. While his win-at-all-costs mentality has won him few friends, his talent has never been in doubt: nobody else in the past decade has broken Messi and Ronaldo's duopoly on the European Golden Boot, yet Suarez did it with Liverpool and Barcelona. The latter's Champions League-winning MSN strikeforce made him unstoppable.
29. Dennis Bergkamp
"I'm an arrogant, selfish sort. I don't think there's a player in the world today who can play the role behind the main striker as well as I can! It suits me well. If a striker is willing to work for me, I can be very effective in that position." FFT 126 (February 2005)
28. Andrea Pirlo
"Pirlo spots a pass in a split-second that lesser players could spend a lifetime waiting to see," said Carlo Ancelotti. The midfield genius was a magical deep-lying playmaker for Milan and Juventus for 15 years, and pulled the strings in Italy's 2006 World Cup win.
27. Neymar
"We met after the 2014 World Cup and I really liked him – he's a very nice guy. He plays with his heart, enjoys the game and inspires those around him. It might sound controversial but, for me, he is the best player in the world at the moment." Bastian Schweinsteiger, FFT 279 (September 2017)
26 Philipp Lahm
When Pep Guardiola calls you "perhaps the most intelligent player I have ever trained", it's safe to say you're one of the all-time greats. World-class in three different positions – either full-back or in defensive midfield – the Magic Dwarf was the captain every coach dreams of. Dependable and unflinchingly honest.
25 Gianluigi Buffon
"I'll never forget his Italy debut. He came off the bench against Russia in a play-off for France 98. We were worried because he was just 19, so we went to give him some advice. He just told us to be calm! He was a young veteran." Alessandro Costacurta, FFT 276
24. Sergio Ramos
"At 29, Sergio has won the World Cup, the Euros twice, and more than 125 caps for Spain. He was a midfielder when he joined Real Madrid at just 19; now he's outstanding at right-back and in central defence, too." Jonathan Woodgate, FFT 255
23. Romario
"He was often criticised for doing nothing during a game, but then he would get you a goal out of nothing. His finishing was extraordinary and he would leave defenders for dead. There's no one like him today." Hristo Stoichkov, FFT 162 (February 2008)
22. Paul Scholes
"I know that everyone says Scholes was great, but he's still underrated. You only realise it when you play against him – you can't get close. He would play a one-two around you, then slide someone in for a shot." Emile Heskey, FFT 253
21. Raul
Pre-Messi and Ronaldo, Raul was unrivalled in Europe. In 2005 he was the first player to hit 50 goals in the European Cup, remaining its top scorer until 2014, and he won the trophy three times while amassing a record 741 Real Madrid appearances. "Raul may not be 10 out of 10 in anything," said Fernando Hierro, "but he's nine-and-a-half at absolutely everything."
101-81 • 80-61 • 60-41 • 40-21 • 20-1
20. Sergio Busquets
He rarely hogs the headlines – few holding midfielders do – but Busquets has quietly accumulated one World Cup, one European Championship, a trio of Champions Leagues and seven La Liga titles. His slick passing has proved integral to arguably the two best teams of the modern era.
19. Luka Modric
"Give the ball to Modric," was Harry Redknapp's Tottenham tactic – and it worked. Good things happen when the midfielder is in possession; that's why he's won four Champions League trophies in five years, helped Croatia to a surprise World Cup final appearance and won the Ballon d'Or after 10 years of Messi and Ronaldo.
18. Eric Cantona
"I don't care about being some sort of superior person. If I want to kick a fan, I do it. I'm not a role model. That's why I hit him again. But I didn't hit him strong enough. I should have hit him harder." FFT 171 (November 2008)
OPINIONWhy Eric Cantona meant so much to Manchester United fans
17. Gabriel Batistuta
Wembley, October 27, 1999. Batistuta shifts the ball to his right, then hammers a thunderbolt into the top corner from an impossible angle. This Champions League goal for Fiorentina against Arsenal epitomised Batigol's career – as a goalscorer, he was unstoppable. No other player in history has scored a hat-trick at two World Cup finals.
16. Luis Figo
"Great personality, great charisma, great talent. I was lucky, because I never faced him during his Real Madrid period. When the ball was at his feet, it literally disappeared. If you want to keep the ball, pass it to Luis." Franco Baresi, FFT 211
BIG INTERVIEWLuis Figo – "Barça weren't treating me properly – it was too late when they did, so I joined Real Madrid"
15. Wayne Rooney
Did Wazza live up to all that early-career promise? Probably not. Does that matter? Definitely not. Among the most naturally gifted players English football has produced, Rooney should be remembered as the primal juggernaut who first announced himself against Arsenal as a teenager or the more nuanced centre-forward he became. Remember the name.
14. Kaka
Unexpectedly quick, Kaka glided over the pitch with the grace of a gazelle and the vision and intellect of a footballing nuclear physicist. His assist for Hernan Crespo to put Milan 3-0 at half-time in the 2005 Champions League Final is a contender for the greatest pass of all time: it took four players out of the game, having already turned Steven Gerrard inside out. A Rolls-Royce playmaker.
STORYWhy Kaka didn't join Manchester City in 2009 – in his own words: "The situation messed me up..."
13. Ryan Giggs
Giggs was part of the reason a mag like FourFourTwo suddenly needed to exist: Manchester United's 1990s poster boy made football fashionable again as the Premier League age dawned. The winger pocketed a record 13 league titles in total, owing to his mercurial ability and approach to staying fit. "You look for players who have flair, or can cross, or can pass well or work hard," Teddy Sheringham told FFT in 2002. "Normally, you might get two of the four, but Giggsy has all those qualities."
12. Fabio Cannavaro
You also have to be some player to win the Ballon d'Or as a defender (none have managed it since Cannavaro in 2006), and to go up against Serie A's offensive brutes at 5ft 9in and emerge victorious. Cannavaro was just that: an incredible reader of the game who always seemed to be in the right place at the right time – fast, technical and one step ahead of the most skilful opponent. As Italy's most capped captain, Cannavaro's greatest glory arrived in the summer of 2006, as he led the Azzurri to World Cup victory in Germany.
11. Rivaldo
As the '90s drew to a breathless end, the bow-legged Barcelona winger was probably the best player in the world. Strong and skilful, Rivaldo combined the balance of a ballet dancer with an assassin's killer instinct. He had absolutely everything. Except a right foot. Most of the time, he didn't even need that.
10. Roberto Baggio
"I've lost three World Cups, all on penalties," Baggio once said. "If you'll allow me this… it really gets on my nerves." Unfortunately, the Divine Ponytail will always be known for blazing Italy's crucial spot-kick over the bar in the 1994 World Cup Final, handing the trophy to Brazil. It affected him for years.
It's a tremendous shame, because Baggio was one of history's most technically blessed attacking midfielders – a playmaking grandmaster for Juventus, Milan and the Azzurri. When he was on song, he possessed a cutting edge and vision that dazzled one and all.
ICONSRoberto Baggio: the miss that haunted a career
9. Paolo Maldini
"I always admired Italians' defensive excellence, even though they were often cheating buggers. But this lad wasn't. He was poised, decisive and also tall enough to be vital at the far post for inswinging corners. Like the Bank of England – hard to get past and get in. For such a handsome young man, he was never scared about picking up any bruises." Brian Clough, FFT 101
8. Andres Iniesta
Iniesta embodied a style of football responsible for the sport's biggest sea-change since FourFourTwo's inception: a receive-pass-offer-pass doctrine that conquered all for Barcelona and Spain. Suddenly, everyone wanted to keep the ball, and there was hope for little guys worldwide who wanted to get a game alongside six-footers.
His crowning glory? Capping a man-of-the-match display with the winning goal in extra time of Spain's 2010 World Cup Final victory over a Dutch side that had tried and failed to bully him.
7. Xavi
"In my very first training session at Barcelona in 2006, I tried to take the ball from Xavi but it was impossible," Gianluca Zambrotta told us in 2016. "I knew he could be the best player in the world. With Iniesta, he grew and matured in a team that got better and better."
Coaches saw it, too. They would tell young midfielders just to watch Xavi's movements in order to learn the game. He bagged eight league titles and four Champions Leagues while completing more passes than anyone on Earth, and for many he's the greatest Spanish footballer ever.
BIG INTERVIEWXavi: Inside the mind of a football genius
6. Thierry Henry
A chance meeting on a flight from Turin to Paris in early-summer 1999 was all it took to turn a frustrated Juventus wide man into the most feared centre-forward on the planet. "You're wasting your time on the wing," a wise old sage told the 21-year-old on the plane, "you're a No.9." Within a month, Arsene Wenger had signed Thierry Henry and Arsenal would never be the same again.
Deployed through the middle, feeding off the bullets Dennis Bergkamp loaded, the Frenchman usurped Ian Wright as the Gunners' all-time leading goalscorer, was twice voted PFA Player of the Year and won the football writers' accolade three times. Henry was quick, lethal and effortlessly cool, that right-footed side-foot across the goalkeeper from the inside left channel.
YEAR ZEROThe season that made Thierry Henry (1999/2000)
5. Ronaldinho
Blame the pooch. "As a kid, I honed my dribbling with my dog," Ronaldinho told FFT in 2012. "When my friends got tired, he ran after the ball." That mutt assisted in creating possibly the best technician in the history of football in Brazil. Brazil. Juninho declared Ronny "the most skilful player I've ever seen," adding, "There was no end to his tricks."
He did them at top speed, too, which felt almost disrespectful. It all added up to winner's medals at the World Cup and in the Champions League, La Liga and more, even if he will be remembered for that other Brazilian cliché: playing with a big, toothy grin.
LONG READRonaldinho – How the godfather of flair changed football forever
4. Ronaldo
"When I made my Brazil debut in 1999 he was my idol – and 18 years later it's the same. He was so welcoming to me. When I get praise from Messi for fostering his growth at Barça, it's largely thanks to the role model I had with Brazil. Even now, I find it hard not to feel shy around Ronaldo because he has such a presence." Ronaldinho, FFT 277 (July 2017)
"I was generally very calm and composed as a player – but never when I came up against O Fenomeno. He'd do a quick feint in and out and then run off in a completely different direction, which would leave you standing and unable to recover. Defenders knew he was going to embarrass them." Alessandro Costacurta, FFT 276
"Ronaldo is more than goals and titles. He overcame so much. He deserves to be treated as a hero. If not for his knees, he would've won five Ballons d'Or." Cafu, FFT 240
YEAR ZEROThe making of Ronaldo (Barcelona, 1996/97)
3. Zinedine Zidane
Study Zizou's bare statistics and they're not all that special – a goal every six games or so, just one Champions League title and another in La Liga for Real Madrid. He wasn't particularly quick or strong and was poor in the air (despite scoring twice in a World Cup final with his bonce). Some would question whether the Frenchman really warrants such a lofty position on our list.
To call such methodology reductive doesn't begin to scratch the surface and is the football equivalent of dismissing Vincent van Gogh because he only sold one painting in his lifetime. Put simply, watching Zidane conduct a football match was the closest thing to art the beautiful game has ever produced. The touch, skill amd mesmeric grace you never see, combined with a headbutting temper that made him human. Glorious.
100 GREATESTNo.8, Zinedine Zidane
2. Cristiano Ronaldo
Ronaldo is a freak of nature. His talent is ludicrous, yet it's the Portuguese's constant desire for self-improvement which stands CR7 apart from his peers.
Named after then-US president Ronald Reagan, Ronaldo was determined to escape what was an impoverished childhood. It's partly why he's managed to evolve from a fancy-dan winger who struggled for end product at Sporting and early on at Manchester United to the deadly wide-cum-centre-forward which got his move to Real Madrid and continued success at Juventus.
YEAR ZEROThe making of Cristiano Ronaldo (Manchester United, 2006/07)
1. Lionel Messi
If Cristiano Ronaldo is Rafael Nadal – never stopping in the relentless quest for perfection – then Messi is Roger Federer. The most naturally gifted athlete his sport has ever produced, the Argentine normalises the superhuman, achieving apparent perfection with an insouciant swish of his left foot.
"I feel sorry for those who want to compete for Messi's throne," Pep Guardiola once said. "It's impossible, this kid is unique."
Trying to make sense of Messi is to give up on football, to forget the reason why you first started watching in the first place, cross-legged in the front room or open-mouthed on the stands. Suspend your disbelief and follow what most opponents do. Admire.
IN HIS OWN WORDSLionel Messi: the 14 best moments of my career
101-81 • 80-61 • 60-41 • 40-21 • 20-1
While you're here, why not take advantage of our brilliant subscribers' offer? Get 5 issues of the world's greatest football magazine for £5 – the game's greatest stories and finest journalism direct to your door for less than a pint in London. Cheers!
NOW READ
LIST FourFourTwo's 100 Greatest Footballers EVER
TIPS 27 essential Fantasy Premier League tips from old winners and experts
GAMING FIFA 20 news: what we know so far about release date, demo, Volta and more
Thank you for reading 5 articles this month* Join now for unlimited access
Enjoy your first month for just £1 / $1 / €1
*Read 5 free articles per month without a subscription
Join now for unlimited access
Try first month for just £1 / $1 / €1