Which football manager would make the best Prime Minister?
With Theresa May having called a snap election, many voters are less than impressed with the choices on offer. Chas Newkey-Burden imagines an election contested by leading gaffers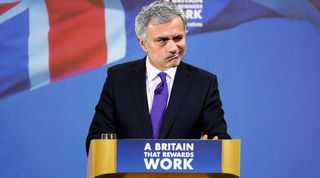 Jose Mourinho
Strengths: Say what you like about the controversial Manchester United gaffer, but he's solid as a rock in defence. So ISIS could sod off for a start. With his Portuguese wit and willingness to hurl insults around, he'd be great value at Prime Minister's Questions.
Weaknesses: Jose is a monumental spender, so his first budget alone would probably put us in the Greek zone. And with his shady contacts in Moscow, he'd be unlikely to risk reform of non-doms.
Campaign slogan: Because Britain deserves The Special One.
Brendan Rodgers
Strengths: Rodgers' ability to shake things up and blood young talent suggests he'd hit the ground running as PM, in the manner of Tony Blair's breathless first 100 days. His "death by football" philosophy could change our foreign policy for the better.
Weaknesses: Pompous and prone to overestimating his ability, the David Brent of football would probably run a good campaign with colour-coded files and corporate slogans but then fall flat on his face the moment he took office. For instance, the first thing a PM has to do is go to the Palace, and Rodgers has shown he's not very good at that in the past.
Campaign slogan: I can make that dream come true too, AKA, for you.
Pep Guardiola
Strengths: The Catalan's stoical manner would reassure a shaky nation. He loves movement in his teams, so would be big on transport policy. With close contacts in the Middle East after a loving spell at Al-Ahli, he could enhance our relations with that turbulent region.
Weaknesses: His ruthlessness towards players suggests he might not be able to form a stable front bench. With questions marks hovering over his recruitment policy at the Etihad, the mind boggles over what the collective age of his cabinet would be. No one wants old men with their fingers near the nuclear button.
Campaign slogan: Vote for this charming man.
Arsene Wenger
Strengths: Wenger, who has a degree in economics, has shown he can run a tight ship and keep things ticking over during prolonged austerity. He speaks six languages – French, German, Japanese, Spanish, Italian and English – so he'd go down a storm at the United Nations.
Weaknesses: Critics say he is out of touch with modern politics and that he will never live up to his best years, which were during the Blair era. A stubborn operator, he would make Maggie Thatcher seem a beacon of consultation and consensus politics.
Campaign slogan: A little bit of hope.
Harry Redknapp
Strengths: With his knee injury and a return to management sorted, Harry is fresh and ready for a tilt at No.10. After all, if you can't manage the national team, why not manage the nation itself? In this political era of spin, technology and focus groups, Hazza is an old-school delight.
Weaknesses: His insistence in 2008 that he is "absolutely one million per cent innocent" suggests he could be a liability with the economy, particularly when he takes one look at the nation's coffers and declares: "We're down to the bare bones here." And can we risk Marco Boogers at the Ministry of Defence?
Campaign slogan: Look, not even Jose could do a better job with these resources.
Alan Pardew
Strengths: A prudent manager, Pardew has shown a flair for getting a lot from a tight budget. He's hinted that he'd like a bigger job (any would do right now), and they don't come much bigger than PM. Having worked as a glazier, he has experience of the real world, which is more than you can say of career politicians. The fact he's not scared to headbutt opponents would turn parliamentary debates into must-watch affairs.
Weaknesses: A public relations nightmare, he has been described by the BBC as a "dangerous and distant animal". Diplomacy on the world stage could be a problem, too. When accused by Arsene Wenger of xenophobia, he replied: "A manager who is married to a Swede cannot be called racist." OK.
Campaign slogan: Flying the flag for Britain.
Sam Allardyce
Strengths: If old-school politics is what gets you moist, then put a cross next to Allardyce's name. The John Prescott of football, he's as outspoken as they come. If the Labour Party's extinct Clause Four were a football manager, it would be Big Sam.
Weaknesses: If you're modern enough to have heard of hi-fis, let alone iPhones, then this prehistoric colossus is not the man for you.
Campaign slogan: Vote Big Sam for a big Britain.
Jurgen Klopp
Strengths: As one who has previously fared better in Europe than at home, Klopp is the opposite of Nigel Farage. If he made a bid for election here he'd have solid hipster appeal, so the east London vote could be tied up for starters.
Weaknesses: He loves a joke, does Klopp, but the thought of him roaring with laughter as he slashes public services is a tad chilling. At least May has the manners to look sombre as she turns the screw on the vulnerable. He's shown himself to be a fairweather leader who will wash his hands of a project when it looks like going tits up. Plus – a German leading the UK? Too soon, people.
Campaign slogan: Don't mention the war! (No, seriously.)
Quizzes, features and footballing fun
Get the best features, fun and footballing frolics straight to your inbox every week.
Thank you for signing up to Four Four Two. You will receive a verification email shortly.
There was a problem. Please refresh the page and try again.