10 teams we want to be on Football Manager 2018 after the January update
The oh-so-addictive management sim has enjoyed its winter transfer refresh, providing some fresh opportunities – brought to you by Bradley Russell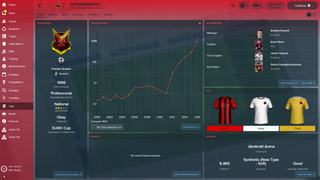 The closure of the January transfer window often brings fans newfound optimism – or an impending sense of doom.
For Football Manager 2018, however, it marks the moment where the ever-popular management sim undergoes the biggest overhaul since its release. Clubs are now closer to their real-life counterparts, and in-form players have been given a welcome boost.
So it's about time to surrender your life to FM 18. Again. But with so many options, who should you be? We're going to try these on for size…
1. Freiburg (Bundesliga)
Freiburg have all the makings of a long-term FM save. Not only do they carry the remarkable statistic of only sacking a manager once in their entire history, their squad is stacked with potential.
In fact, Mike Frantz is the only first-team player in his 30s, affording you the opportunity to build a real dynasty. If that wasn't enough, you could pick up where Freiburg failed in real life by having a crack at the Europa League.
2. Ostersund (Allsvenskan)
Oster-who? You'd have been forgiven for being unaware of Graham Potter's Swedish miracle-workers until the 2017/18 season, which has been kind to the Scandinavian club. After surging to the Europa League last 16, they recently recorded a famous victory over Arsenal at the Emirates.
Now the challenge is keeping the squad together and continuing the rise and rise of Ostersund. Next stop: Champions League?
3. Napoli (Serie A)
There's a reason why Napoli are the only team to have made it onto this list and our original back in November – they're just so good this year.
It would be tempting to sit back and watch Maurizio Sarri work his magic from afar, but as many of Napoli's leading lights have had their abilities bumped since the game's launch, now is as good a time as any to lead one of Europe's most entertaining teams right now.
4. Dalian Yifang (Chinese Super League)
If you're itching to see what Chinese football is all about, there's no better destination than Dalian Yifang (let's forget they lost 8-0 the other day). With new trio Yannick Ferreira Carrasco, Nicolas Gaitan and Jose Fonte, you'd be expected to get promoted at a canter.
There's only one issue: the rest of the team are a bit rubbish (see above). Having blown most of the budget on the likes of Carrasco, it'll be on you to either cash in on your big-name players or stop that bubble bursting another way.
5. Liverpool (Premier League)
In case you haven't heard, Liverpool are a very good football team. Trouble is, they've got very little to show for it right now.
That's where you come in. With well-deserved boosts for Roberto Firmino, Mo Salah and Sadio Mane, you should be able to take the Premier League by storm and do what serial nearly man (in England, at least) Jurgen Klopp hasn't done yet by bringing silverware back to Merseyside. You've also got £110m from the Philippe Coutinho sale to play with and Naby Keita arriving in the summer. Enjoy.
6. Bordeaux (Ligue 1)
Much like Freiburg, Bordeaux could reap dividends for a long-term career – should you be willing to put the effort in. With one of the finest young talents in world football (Malcom) who is ably backed up by a cast of hungry U21 players, everything is set for you to muscle in on silverware.
There's just one big problem, and their name is PSG. Can you overcome the Parisian giants and condemn Neymar & Co. to second-best? That's the task that lays ahead of you – and a pretty big one at that.
7. Fulham (Championship)
Those looking for a challenge away from the spotlight of Europe's top leagues might want to consider rocking up at Craven Cottage. Things haven't gone quite right for Fulham since they reached the Europa League final in 2010, but that could change under your stewardship.
A slightly below-average transfer budget of £5m is more than made up for by the mercurial talent of 17-year-old Ryan Sessegnon. If you can turn this team of 20-somethings (the oldest is 29-year-old Tim Ream) into a Premier League force, they might just commission a statue of you in west London. A good one this time.
8. Atletico Madrid (La Liga)
No money to spend, a transfer ban, a new stadium and the return of a historically feisty striker. What could go wrong? Oh, and there's the small matter of Real Madrid and Barcelona to contend with.
Players who want a proper challenge (and a chance to see just how well Diego Simeone has done) may want to try gracing the Wanda Metropolitano for a few hectic seasons.
9. Aberdeen (SPL)
Everyone knows the deal in Scotland: beat Celtic and you'll win the title. Given Aberdeen's relative lack of resources (400k transfer budget and 5k remaining on the wage bill), you'll be hard-pressed to find a career more suited to those who want to build a club up.
They've been runners-up to the Glaswegians three years in a row and are without a league title in 33 years – so can you upset the odds to end that barren spell?
10. Barnet (League Two)
Started from the bottom and, well, they're still there. Languishing at the foot of the Football League pyramid in real life, and scarcely expected to do much better in the virtual world, things don't get much tougher than a stint at The Hive.
Barnet have only reached the third tier of English football once (and immediately came straight back down), so it's your job to finally slap them out of their stupor. Your squad is filled with journeymen and lower-league mainstays and you've got a princely £10,000 to spend in your first window. Good luck – you're going to need it.
How to make awonderkidin Football Manager 2018
Football Manager 2018 tactics: what to do – and what to definitely avoid
The 20 best coaches in Football Manager 2018
Thank you for reading 5 articles this month* Join now for unlimited access
Enjoy your first month for just £1 / $1 / €1
*Read 5 free articles per month without a subscription
Join now for unlimited access
Try first month for just £1 / $1 / €1
Get FourFourTwo Newsletter
The best features, fun and footballing quizzes, straight to your inbox every week.