Borussia Dortmund's Reus replacement who's ready to create for Klopp
January signing Kevin Kampl was the driving force behind a dominant Red Bull Salzburg – and now he's arrived to help save Dortmund's season, writes Lucas Swain...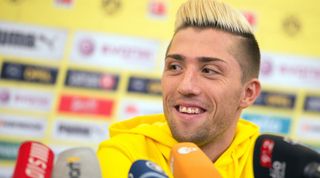 The 60-second story
FACT FILE
Date of birth: October 9, 1990
Place of birth: Solingen, Germany
Position: Attacking midfield
Height: 5ft 11in
Club: Borussia Dortmund (1 app, 0 goals)
International: Slovenia (14 caps, 1 goal)
After a disastrous 2014, Borussia Dortmund resumed the season second bottom of the Bundesliga. And after requiring a staggering 17 shots per goal in the first half of the campaign, it was clear that Jürgen Klopp's side needed attacking reinforcements.
Enter Kevin Kampl, the Slovenia international who has made his name playing for Austrian table-toppers Red Bull Salzburg. After beginning at Bayer Leverkusen before ending up in the lower echelons of German football with the likes of Greuther Fürth and VfL Osnabrück, affluent Austrians Salzburg activated Kampl's buy-out clause from VfR Aalen for €3 million in summer 2012.
The move worked wonders for Kampl, who went on to form a formidable attacking foursome with Alan, Sadio Mané and Jonathan Soriano under now-Bayer Leverkusen coach Roger Schmidt. But despite thriving in Schmidt's high-octane system, Kampl rejected the chance to work with his former manager again at Leverkusen. Instead, he chose the club he's supported since childhood, signing for €12m. 
Why you need to know him
Bought for an unusually-high fee for most Bundesliga clubs at this time of year, it's thought Kampl could be a replacement for Marco Reus, who is expected to leave in the summer. After recently conceding in a press conference that Dortmund are powerless to stop their key man from leaving, CEO Hanz-Joachim Watze said: "One of the challenges in football is to benefit from staff changes in any way and create new things."
Dortmund's lowly league position will certainly deter Reus from staying with the club, but new arrival Kampl spoke with Bild about his desire to drag BVB away from trouble. "I hope I can do my part to ensure that we fight our way out there quite quickly," he declared. "Of this I am sure."
Kampl was a key component for Salzburg throughout his stay in Austria, playing mostly out wide in a fluid 4-2-4 system. The Slovenian proved a fine serviceman to Soriano and Alan, while providing a few goals himself – 15 in all competitions. In 2013/14 alone, Kampl contributed directly to 27 goals in 33 league games.
The Germany-born midfielder largely finds himself in a No.10 role for the Slovenian national team. Because of this, Dortmund's new signing has claimed that he can play in "any position in midfield". In Saturday's goalless draw against first club Leverkusen he started on the right of Dortmund's 'three' in a 4-2-3-1. 
Strengths
As highlighted by his stats from last season, Kampl's clear strength is his creativity. Of those 27 goals he contributed to, 18 were assists. For a club with a striker worth a reported €20m struggling for goals in Ciro Immobile, the added creativity could fill the void Mario Götze left behind when he departed in summer 2013.
Under Schmidt in Salzburg, Kampl was used in a high-pressing, counter-attacking system. The 24-year-old has essentially been schooled in the Borussia Dortmund way of playing, after his experiences with a side that relied heavily on transitions and quick thinking.
Kampl brings a good work ethic to Signal Iduna Park, and should take little time adapting to Klopp's gegenpressing system. Indeed, on his debut against Leverkusen he outran every Dortmund player in an industrious display. Combined, these factors are enough to get Dortmund supporters excited. 
Weaknesses
At 5ft 11in, Kampl will certainly need to work on his heading now he's moved to North Rhine-Westphalia; playing on the right, the Slovenian will likely face a number of deep crosses from the opposition flank.
Meanwhile, the lack of top-level football could take some getting used to. While he has the credentials to succeed at Dortmund, Kampl had never featured in the Bundesliga before this season and has barely played much top-level football, but for Salzburg's Europa League run last season which saw them demolish Ajax.
However, he's one of few players who has entered the Rückrunde in form. Having already provided impressive performances this season, Kampl will have the confidence he can overcome any hurdles put in front of him.
They said...
Kampl has been at the centre of paper talk throughout the last year. Before joining Dortmund he was linked with Arsenal, Liverpool and Tottenham by the English press.
But after finally confirming Kampl's departure from Salzburg for a move north-west in December, Red Bull Salzburg's sporting director Ralf Rangnick couldn't have been more complimentary of the Slovenian. "For Kevin, a move to the German Bundesliga is the logical next career step," he told the club's official website.
"He is an extraordinary player with a wide range of abilities who has developed fantastically with us over the past two-and-a-half years. We wish him all the best, and we hope he is successful in his new challenge."
Did you know?
TALENTSPOTTER RATINGS
Shooting 7
Heading 4
Passing 7
Tackling 5
Pace 7
Dribbling 7
Creativity 8
Work-rate 8
Kampl was a Dortmund fanatic as a child, to the point of obsession. In an interview with Bild, the Slovenian admitted to having BVB-themed bed covers, shower gel and even a whole desk. He also wore a Borussia T-shirt on his first day of school. Superfan, indeed. His love for all things Dortmund derives from his childhood next-door neighbour, who he claims "infected me with it".
What happens next?
Dortmund are in a difficult position right now but fans – including Kampl – will be clutching onto the notion that it's only a bad spell. 
The obvious first step for Klopp's men is to get themselves out of the relegation zone, before targeting European football for next season. Kampl is here to stay for a while yet, but Dortmund's potential failure to finish in at least the top six may make it very difficult for the much-loved German side to keep hold of their other prized assets.
Quizzes, features and footballing fun
Get the best features, fun and footballing frolics straight to your inbox every week.
Thank you for signing up to Four Four Two. You will receive a verification email shortly.
There was a problem. Please refresh the page and try again.