"He just doesn't miss those": France superstar Kylian Mbappe skies chance from seven yards out at World Cup 2022
France forward Kylian Mbappe has skied the ball against Australia in Les Bleus' World Cup 2022 opener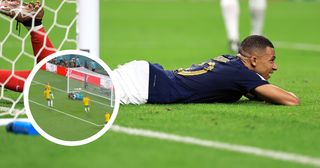 (Image credit: Buda Mendes/Getty Images)
Kylian Mbappe is France's golden boy and one of the stars of World Cup 2022 – but in the words of legendary Gallic group Daft Punk… he's "human after all".
Admittedly, it wasn't quite the sitter that Jonathan Pearce and Danny Murphy perhaps made it out to be. Still, when you get Mbappe within such close proximity of your goal, it's usually only going to end one way.
The Socceroos got off scot-free – and can count themselves extremely lucky. France dominated as the half went on and with Mbappe playmaking as much as getting in the area himself, that seemed like a banker after fabulous work from Ousmane Dembele to whip the ball into the danger area.
France initially went one down, too, when Craig Goodwin, who's only been capped 10 times by the Socceroos, wasted no time in capitalising on the holders' injury problems to score a stunning opening goal.
More woe followed for head coach Didier Deschamps, as Lucas Hernandez hit the deck despite not connecting with an opponent, looking to have twisted his knee.
Bayern Munich star Hernandez was replaced by his brother Theo, who plays for AC Milan, in an early change. The injury will come as a crushing blow to Deschamps, who is already missing a number of key stars.
The midfield pairing from 2018's triumph, both N'Golo Kante and Paul Pogba have been ruled out of the 2022 edition through injury. RB Leipzig forward Christopher Nkunku then had to withdraw from the squad after France had their named their 26-man roster. Ballon d'Or holder Karim Benzema is also sidelined for the entirety of the World Cup.
France equalised through Adrian Rabiot getting to a corner before anyone else before Olivier Giroud racked up his 50th goal in a France shirt. The AC Milan striker is now just a goal behind Thierry Henry, who holds the all-time goal record.
Les Bleus headed in 2-1 at the break.
Thank you for reading 5 articles this month* Join now for unlimited access
Enjoy your first month for just £1 / $1 / €1
*Read 5 free articles per month without a subscription
Join now for unlimited access
Try first month for just £1 / $1 / €1