Henrik Larsson at Manchester United: how a 10-week loanee made a major impact at Old Trafford
By Richard Jolly published
The Reds are linked with a January move for Sweden centre-back Andreas Granqvist – which wouldn't be the first time they'd signed a short-term stopgap from Helsingborgs. Richard Jolly recalls the short-term success of United's 2007 arrival...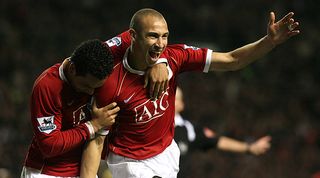 It felt like a roll call of the finest centre-backs at the World Cup: Raphael Varane, Diego Godin, Harry Maguire, Toby Alderweireld. Manchester United's summer search for a centre-back also took in one of the worst in Russia, Jerome Boateng.
Yet if it feels improbable that they will eventually settle for the least glamorous of the best, Andreas Granqvist has confirmed he has received contact (opens in new tab) from Old Trafford about a possible January move. His CV could yet feature Wigan, Groningen, Krasnodar, Helsingborgs and United.
Granqvist feels like an exception to the rule, but he wouldn't be a one-off: Old Trafford has seen almost as many ageing Swedes as an Abba reunion. There was Zlatan Ibrahimovic's eventual arrival in England, and still talk he will reprise his role as Jose Mourinho's closest ally at 37. And a dozen seasons ago, there was the last man United signed from Helsingborgs: Henrik Larsson.
Regrets
The footballer Ronaldinho used to address as idolo; the player who turned the 2006 Champions League Final Barcelona's way; and one of only two European Golden Boot winners to represent United (no prizes for identifying Cristiano Ronaldo as the other) was 35 when he signed, and indeed when he left two months later.
"That's the only regret I have in my career," Larsson told FourFourTwo (opens in new tab) last year. "I should've stayed, and I would have stayed for one more season." Instead he honoured his contract with Helsingborgs and his promise to his family, and returned to his homeland when his loan spell ended.
The statistics of a brief stint – three goals in 13 matches from a man who scored 242 times in 313 outings for Celtic – suggest it was undistinguished. The results – 10 wins, two draws and a solitary defeat – show a January arrival offered mid-season impetus. Even that loss was hardly his fault: United were leading Arsenal when Larsson was substituted.
There was the sense straight away that Larsson represented something special. After a debut goal, delivered with the outside of his foot against Aston Villa, Sir Alex Ferguson did something unusual: he invoked Eric Cantona. He saw a catalyst; a character; a player born to grace the grandest of stages, who reminded him of his most iconic signing. "We acquired a real aristocrat," Ferguson wrote in his most recent autobiography. "He looked a natural Man United player with his movement and courage.
"On arrival, he seemed a bit of a cult figure with our players. They would say his name in awed tones. Cult status can vanish in two minutes if a player isn't doing his job, yet Henrik retained that aura in his time with us."
Leftfield thinking
Landing Larsson – an idea proposed by United's chief scout Jim Lawlor – had long represented an ambition for Ferguson. He had been warned off Larsson by Dermot Desmond, Celtic's majority shareholder, when the forward was younger. His friend Harry Redknapp became infamous for signing players he had long coveted when they were well into their thirties. Ferguson copied the wheeler-dealer.
Larsson's recruitment was a piece of leftfield thinking. Viewed from a modern perspective, it may look like there was a vacancy in Ferguson's forward line. Ruud van Nistelrooy left in the summer of 2006, as the Scot shifted the emphasis to the younger generation of Wayne Rooney and Ronaldo. Carlos Tevez joined in 2007, accompanying the Englishman in an idiosyncratic partnership of like-minded scurriers.
Yet in the autumn of 2006, it looked like United had found the answer within. Louis Saha had scored 12 goals by Christmas. Van Nistelrooy's understudy seemed a fine replacement but the Frenchman was never a byword for fitness, and Ferguson's decision to take out an insurance policy in the form of a signing paid off – Saha only scored once in an injury-hit second half of the season.
United still had Alan Smith and Ole Gunnar Solskjaer in reserve but both were returning from long-term injuries. Nevertheless, the Norwegian, in trademark fashion, came off the bench to score a last-minute winner on Larsson's debut.
But as Martin O'Neill, the beaten Villa manager and one who benefited from the Swede's prowess when they were together at Celtic, presciently said then: "It's a great arrangement for both parties. Manchester United are going for everything at the moment and this is the stage of the season when you need as many bodies as possible."
Added class
Larsson was not merely a body, but a proven winner at a club that had gone three seasons without a league title and that, besides constants like Ryan Giggs, Gary Neville and Paul Scholes, featured a group of players unaccustomed to landing the major prizes. While Ferguson was developing his last great team, there were suspicions he was in terminal decline as Mourinho's Chelsea raised the bar.
Knocking them off their perch ranked among his most formidable achievements and Larsson's seven league appearances, which yielded 18 points, played a part: Chelsea also only dropped three in the same period but United sustained their form.
Mourinho's season ended with victory over United in the FA Cup final; perhaps, as O'Neill hinted, Ferguson ran out of fresh players, just as he did in their Champions League semi-final exit to Milan. Maybe, had Larsson stayed, United would have been double or even treble winners.
NOW READ
BIG INTERVIEW Henrik Larsson – "I got letters from parents, upset that their kids were running around with their tongues out" (opens in new tab)
As it was, his spell at Old Trafford ended with a hard-fought FA Cup quarter-final draw at Middlesbrough, the previous year's UEFA Cup runners-up, which offered evidence of the intelligence and unselfishness Ferguson so valued.
"Henrik went back to play in midfield and ran his balls off," Ferguson wrote. "On his return to the dressing room, all the players stood up and applauded him and the staff joined in. It takes some player to make that impact in two months."
And quite some to get the sort of tribute Ferguson afforded to few of his other 98 United signings.
SEE ALSO Ronaldinho – How the godfather of flair changed football forever
Thank you for reading 5 articles this month* Join now for unlimited access
Enjoy your first month for just £1 / $1 / €1
*Read 5 free articles per month without a subscription
Join now for unlimited access
Try first month for just £1 / $1 / €1