Is it time to acknowledge Sergio Busquets as the best midfielder in the world?
By Lee Roden published
The Barça pivot remains criminally underrated despite being integral to their free-scoring season, says Lee Roden...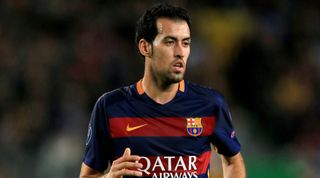 The persistent lack of recognition for Sergio Busquets' talents must be one of football's greatest unsolved mysteries.
Against Valencia on February 3, the Catalan produced an exhibition of offensive and defensive midfield play that was just as impressive as any showing from Barcelona's forwards. It was one of countless performances from him in that vein this season.
If the echo chamber of social media was taken as an indicator of truth, the conclusion would be that acknowledgment of the player's quality isn't in short supply. Yet Busquets is someone who is consistently ignored in the awards.
Denied a place in the FIFA/FIFPro World XI, he didn't even make the last 23 of the Ballon d'Or shortlist for 2015. Both prizes involve voting from fellow professionals, proving there is still a significant group of players and coaches who think he is nothing special.
With the way he is playing this season, the pivot surely can't be brushed off for much longer. The ultimate provider of balance for a team, he is also flourishing in a creative capacity, quietly becoming the heartbeat of Luis Enrique's Barcelona side in 2015/16.
On present form, Sergio Busquets is the best midfielder in the world.
This is even better in slo-mo. Busquets disguises the pass with his body shape. Gamez is so sure its going to Alves. pic.twitter.com/hYkwCkXIx9
— WM Formation (@TheWMformation) January 31, 2016
Exhibit A: The masterclasses
The No.5 was Gary Neville's worst nightmare at the Camp Nou in Barça's 7-0 rout, seemingly incapable of making a mistake. Covering an immense amount of ground, he effectively filled the entire triangle in Barcelona's midfield on his own, correcting mistakes at the back one minute then forcing them from the away team the next.
RECOMMENDED Neville allowing Peter Lim to think Valencia lost 1-0 to Barcelona
In numbers alone his evening was astounding. Of 106 passes attempted, 97 were completed, while he also won possession back 27 times – around 25% of the occasions that Barça recovered the ball. That ensured Valencia were under constant pressure, and even the solitary foul he made was the correct decision, a tactical effort that broke up a rare away move.
Always positioned in the right place and arriving at the right time, he kept Barcelona playing in the opposition half for most of the game, combining defensive solidity with ruthlessly effective use of possession.
Particularly noteworthy were what Catalans refer to as passades de merit: the most difficult kind of passes that break opposition lines and arrive at the feet of team-mates. Busquets completed five against Valencia, more than any other player on the pitch.
Two stood out in particular. The first was in the build-up to Barcelona's second goal; Busquets picked up the ball in the midfield then floated it perfectly over the opposition backline into the path of Aleix Vidal so that the right-back could take it in his stride and cut a pass back into Luis Suarez's path.
The second came just before the break, when the midfielder split Valencia open with a raking ball from inside his own half that allowed Lionel Messi to force a one-on-one with Shkodran Mustafi. A penalty and red card were the end products.
There was a time when Busquets was relatively conservative, focusing on keeping things simple then allowing other players to do the creative work. That time has long passed. These days, he regularly produces passes that would make Xavi proud, his consistency in a creative capacity allowing Barça to move on from the club legend's exit.
Exhibit B: The counterplots
While he attempted to pack bodies at the back to keep Barcelona's forwards quiet, one of Neville's biggest errors was failing to specifically target their deepest midfielder, and the end product of letting him play freely was clear for all to see.
Other, more experienced coaches have figured out that a specific gameplan is necessary to deal with Busquets, and the better performances against Barça this season have tended to come in those circumstances.
When Deportivo took a 2-2 draw from the Camp Nou on December 12, a huge part of their success was thanks to Victor Sanchez's anti-Busquets plan. The Depor coach instructed his three forwards to stay up the pitch throughout the game; Jonathan Rodriguez and Lucas Perez applied individual pressure to Barcelona's centre-backs, and Fayçal Fajr stuck with their midfield pivot.
As a consequence, there were rarely clear passing lines either to or from Busquets when starting play, and his influence was reduced significantly in comparison to other games.
Silencing the Sabadell native is easier said than done, however, as he is an excellent reader of the game. When Atletico Madrid visited the Camp Nou on January 30, Diego Simeone had clearly instructed Antoine Griezmann to drop off the forward line and pressure Barcelona's holding midfielder whenever possible.
It worked for about 25 minutes, until Busquets figured out that a combination of sharpening his touch and dropping deeper between Gerard Pique and Javier Mascherano would buy him the breathing space he needed. When that happened, his passing became much more fluid, and the home team's play improved considerably.
A priceless commodity
The biggest measure of Busquets' true quality is how irreplaceable he is for his team. Exhaustion is a potential problem for the playmaker just as it is for any other footballer, and in January that briefly threatened to take hold, with his performances dipping slightly and Barça's dropping with it.
The problem for Luis Enrique is that he is almost impossible to rest. When Mascherano is used in his position, Barcelona look like a completely different side, and not in a good way. Keep in mind that the Argentine has been a World Cup and Copa America finalist while playing in midfield – and his clear inferiority says something about the quality of his team-mate.
If Barcelona want to keep winning trophies, they need to keep Busquets in optimal condition. They also need to keep him happy. In contrast to the ignorance of some of the voters for football's awards, PSG are more than aware of his unique quality and willing to throw endless amounts of money at the Catalan.
Manchester City's next manager happens to know a thing or two about him too. If Barça are wise they will hurry up with a contract renewal that has been promised to the player, but yet to be put on the table. Signing a replacement for him wouldn't be costly – it would be impossible.
RECOMMENDED
What's left for Fernando Torres? Out with a whimper or a fitting end for an Atletico legend?
More features every day on FFT.com (opens in new tab)
Thank you for reading 5 articles this month* Join now for unlimited access
Enjoy your first month for just £1 / $1 / €1
*Read 5 free articles per month without a subscription
Join now for unlimited access
Try first month for just £1 / $1 / €1