Man United vs Man City tactical preview: Why aggression could help Jose pummel Pep
Guardiola's clubs have sometimes struggled when facing sides who press them straight from kick-off. Thore Haugstad explains why the Red Devils should adopt such a strategy at Old Trafford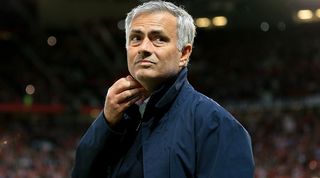 Jose Mourinho is not known for building fervent pressing machines like Jurgen Klopp, Mauricio Pochettino or Pep Guardiola are. The Portuguese tends to prefer compact sides who wait for opponents inside their own half and come armed with a gameplan based on transitions that catch defences off guard.
This reactive tendency has seen Manchester United cede the initiative to their rivals; across their first two league games, against Bournemouth and Southampton, they averaged less than 50% possession. But against Manchester City on Saturday, recent trends suggest Mourinho would be wise to adopt a more aggressive approach in the opening stages in a bid to take an early lead.
Flying out the blocks
The indications come from certain high-stakes games involving various Guardiola sides. While the Catalan is a master at conceiving strategies tailored to each opponent, his basic principles never change: press high, move the ball quickly, play it out from defence. The discarding of Joe Hart underlines the importance Guardiola places upon building from the back, as do the expensive acquisitions of John Stones (£47.5m) and Claudio Bravo (£15m).
The most common consequence of such a strategy is that Guardiola's men regularly overwhelm the opposition with their intensity, movement and precision, as they did in the first half against West Ham. But there have been times when teams press them high in the opening stages, taking advanting of the fact that Guardiola's passing game hasn't had chance to settle into a rhythm. At its best, this approach leads to an early opening goal, allowing teams to sit back and counter-attack while protecting their 1-0 lead.
The 20-second goal
There have been some notable examples. One was the 2009 Champions League Final, in which Sir Alex Ferguson told his players to close down all options whenever Victor Valdes had the ball. Within eight seconds, they'd forced the Barcelona goalkeeper into passing it over the touchline. Still inside 90 seconds, Cristiano Ronaldo's free-kick was nearly converted by Park Ji-sung on the rebound. After nine minutes, United led 5-0 on shots. Only then did Samuel Eto'o score. "We had been lucky to survive the opening minutes," Guardiola later said.
In December 2011, Mourinho followed suit with his own team. In a crucial Clásico at the Santiago Bernabeu, Real Madrid pressed Barça high up the pitch, closing down all options; Valdes duly played a short pass which was intercepted outside the box, leading Karim Benzema to score after just 20 seconds. Guardiola later made clever changes to win it 3-1, but the initial pressing strategy had paid off.
Another instance came last April, when Atletico Madrid faced Bayern Munich at home in the Champions League semi-finals. Diego Simeone launched intensive pressure in the first 15 minutes, with a rocking Vicente Calderon roaring every challenge. Bayern seemed stunned and, on 11 minutes, Saul Niguez slalomed past three players to score. Atletico then dropped deeper and sealed a 1-0 win.
A City under construction
Judging by the two most recent examples, it could work in United's favour that the first Manchester derby of the season takes place at Old Trafford; both Madrid and Atletico scored their early goals when inspired by a feisty home crowd, and the Red Devils will surely kick off the derby backed by a cauldron of noise.
Yet an even bigger advantage is the opposition itself. The three aforementioned examples have all been against glittering Guardiola sides who were well-accustomed to his methods. Barça had nearly played a full season under him by the 2009 final, and were even better drilled by late 2011. Bayern had worked with him for nearly three years by the time they visited the Calderon last season.
Saul scores against Bayern
Furthermore, the players were better. Valdes and Manuel Neuer were among the best goalkeepers on the ball in Europe. Guardiola could also count on slick defenders such as Gerard Pique and Jerome Boateng, playmakers such as Xavi and Thiago Alcantara, and, perhaps most crucially, defensive midfielders like Sergio Busquets and Xabi Alonso, who hardly ever lost the ball no matter how great the pressure.
For now, City fall short of such standards. The players are gifted but have only played three league games under Guardiola and will need months to fully master his complex ways, the process of playing out from the back being no exception. Bravo, who might make his debut against United, has never played with his team-mates before. The underlying relationships that united Barça and Bayern will not yet have been forged at City.
Neither is Stones at the level of Pique or Boateng, and the full-backs are still learning their new inverted roles. Anchorman Fernandinho, while an excellent all-round midfielder, is no Busquets or Alonso in possession. City are still building under Guardiola and would surely be far more vulnerable when playing out from the back than any of the sides mentioned above.
Signs of shakiness
Some nervy episodes have already taken place against more modest opposition. City started the season by conceding a free-kick to Sunderland just outside the box after a misplaced Aleksandar Kolarov pass had ruined an attempt to play their way out. On another occasion, Willy Caballero sent the ball straight to Duncan Watmore, who started a dangerous move.
The process did not look completely fluent at Stoke either, where Caballero had a pass-completion rate of just 58.3%.  
Such factors may tempt Mourinho into launching another offensive early on. His players have been impressively organised without the ball in United's first three league games and already seem to grasp the defensive structure. He rightly believed that Madrid could press Barça into errors back in 2011. On Saturday, a repeat of that strategy might well be worth a try.
NOW READ THESE
Quizzes, features and footballing fun
Get the best features, fun and footballing frolics straight to your inbox every week.
Thank you for signing up to Four Four Two. You will receive a verification email shortly.
There was a problem. Please refresh the page and try again.